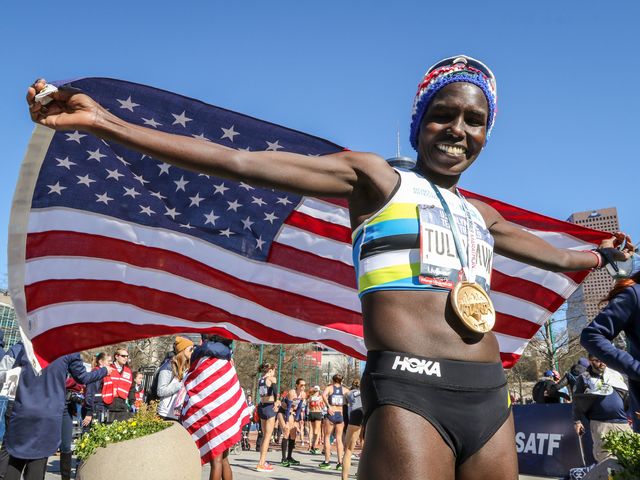 Kenyan-born Aliphine Tuliamuk booked her ticket to the Tokyo 2020 Olympic Games after churning out an impressive victory at the U.S. Olympic Team Trials Marathon in Atlanta over the weekend.
Contested in chilly and windy conditions on a challenging undulating course, the goal was straightforward: finish in the top-three and an Olympic berth would be yours.
A total of 11 women were in contention for win when they reached the half in 1:14:38 before the pack began to string out by mile 16. There, Kellyn Taylor, debutante Molly Seidel and Tuliamuk formed the leading triumvirate, with Laura Thweatt, Des Linden and Sally Kipyego running another second back.
That pack remained until the 21st mile when Tuliamuk and Seidel decided to take command. Running together, they built a seven-second lead over Kipyego a mile later and extended it to 22 seconds by mile 23. Tuliamuk then broke away in the 25th mile to finish unchallenged in 2:27:23, seven seconds ahead of Seidel.
Kipyego, who won Olympic 10,000m silver for her native Kenya in 2012 and became a US citizen last year, took the third spot in 2:28:52, 11 seconds ahead of one of the pre-race favourites, Des Linden.
"It was amazing," said Tuliamuk, a native of Kenya, who became a US citizen in 2016. "When we broke away, I kept saying 'Molly, let's go'. I knew it wouldn't happen by itself."
Seidel, who qualified for the trials by virtue of a 1:10:27 win at the Rock 'n' Roll San Antonio Half Marathon in December, suffered from eating disorders and injury during and since her successful college career at Notre Dame where she took NCAA titles in cross country and indoors and outdoors on the track.
She wasn't an unknown in Atlanta but was considered a long shot.
"I didn't think I was going to be here," she said. "I'm still in shock right now."
In partnership with ANA and Sports Leo