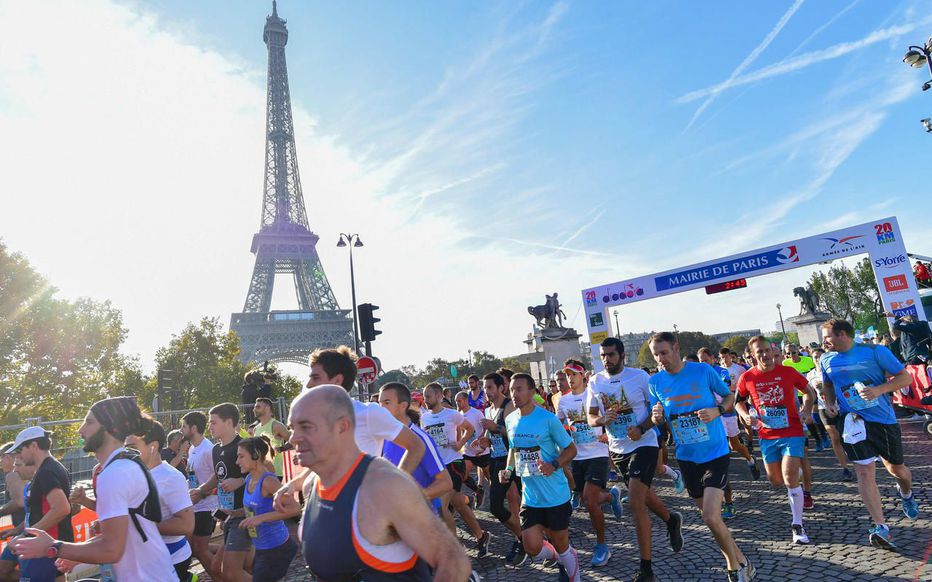 Kenyan pair Enos Kales and Naomi Jebet prevailed at the Paris 20km, an IAAF Silver Label road race, on Sunday.
The pace of the men's race was aggressive from the outset. "It was really fast. I decided to let it go with some others French runners," said Florian Carvalho afterwards. The Frenchman, third two years ago, then bridged the gap at about two kilometres into the race.
A group of 10 runners hit the 5km mark in 14:25, but the pace was irregular. Carvalho decided to take the lead after 10km, reached in 29:05, with eight other runners still in contention.
After the 15km mark, hit in 43:58, Kales, who entered the race at last minute, made a big move. His compatriots Shewalem Yergalem and Joseph Mbatha, as well as Ethiopia's Getinet Mele Gedamu, were able to stick to his stride as the French trio Carvalho, Michael Gras, and Nicolas Navarro struggled to sustain the pace.
In the closing stages, Yergalem and Mbatah couldn't handle the pace and Kales broke off. At about the same time, Carvalho and Gras drew level with the chasers.
Kales held on for the win and crossed the line in 58:28, following a 14:30 last 5km section, as Carvalho finished second in 58:56, 16 seconds outside his time from 2017.
Gras managed to hold off Yergalem and Mbatha to round the podium in a personal best of 59:02.
In contrast to the men's race, the women's race set out at a relatively slow pace. Nine runners hit the 5km mark in 17:52, suggesting a possible finish time of 1:11:30, far from the results of past editions. The group, spearheaded by Kenya's Naomi Jebet, ramped up the tempo during the next 5km section to reach the 10km checkpoint in 35:06.
With five kilometres to go (52:30 at 15km), there were still eight contenders for the win, including Jebet, Adawork Aberta, Chaltu Dida as well as the French pair Liv Westphal and Samira Mezeghrane.
Jebet made a big surge after 15km and only Dida and Aberta were able to follow her. Aberta then struggled to sustain the pace with two kilometres remaining, and Jebet sealed the win in 1:08:51, following a 16:21 5km section, the fastest of the race, six seconds ahead of Dida. Aberta finished third, 33 seconds adrift of the winner.
"I am very happy," said Jebet, who clocked a half marathon PB of 1:08:08 last month. "I didn't expect to win that race."
Leading results
Men: 1 Enos Kales (KEN) 58:28, 2 Florian Carvalho (FRA) 58:56, 3 Michael Gras (FRA) 59:02
Women: 1 Naomi Jebet (KEN) 1:08:51, 2 Chaltu Dida (ETH) 1:08:57, 3 Adawork Aberta (ETH) 1:09:24.
In partnership with ANA and Sports Leo