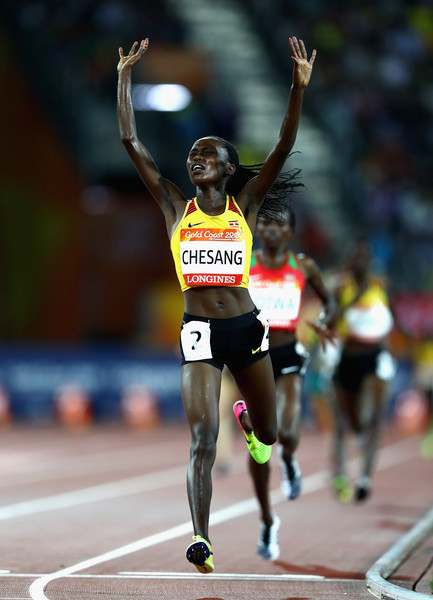 Uganda's Stella Chesang, the defending champion and course record-holder, has confirmed her appearance at the 2019 FNB Durban 10K on Sunday, October 13.
The 22-year-old said she was looking forward to defending her title and expects to be in the shape of her life.
"I will be coming from the World Championships, where I will be running the 10 000m," said Chesang from her training base in Kapchorwa in Uganda.
"My race in Doha is on the second day of the championships (September 28), which means I will have plenty of time to prepare for Durban."
Chesang has set personal bests in both the 5000m and 10 000m this year. Her 5000m run in Hengelo in the Netherlands on June 9 was a national record as she improved her time from 15:10.30 to 15:00.72. Her 10 000m time was 31:38.70.
"We think Stella will be in great shape for Durban," said Jurrie van der Velden of Global Sports Communication. "From her progress over the last few years, we definitely feel that her future lies on the road and we should expect something special on October 13."
Chesang was dominant in last year's Durban 10K, taking control of the race as early as the 4km mark and then gradually pulled away from Mercyline Chelangat. She finished in 31:14, a 30-second improvement on her previous best of 31:44 run earlier in 2018.
It was the perfect way to cap a spectacular 2018. Chesang had won both the 5000m and 10 000m titles at the Commonwealth Games in Brisbane in April and finished fifth at the Africa Cross Country Championships.
Chesang hopes to repeat the feat in this year's Durban race.
"I know the route, I know the corners, and I know that the race is fast. So I am looking forward to racing in Durban again and want to improve on my time."
While Chesang is the favourite for Durban, she can expect some stern competition from athletes like Gerda Steyn, Glenrose Xaba, Tadu Nare and Fortunate Chidzivo.
Steyn recently shaved 31 seconds off her 10km best, running 33:05 in a race in Middlesborough. She has said she wants to run her best-ever 10km in Durban, which means that a sub-33 could be on the cards.
Xaba's manager Rhyn Swanepoel believes the diminutive athlete is in 32:20 shape, but the runner has her eyes on a bigger prize – she is hoping for a sub-32. Her confidence is sky high, especially after her scintillating half-marathon performance in Buenos Aires on August 25. She clocked a 69:46, but her time at the 10km mark was 32:59.
Ethiopia's Nare has shown the South African women a clean pair of heels in a series of 10km races in South Africa this year. She ran 32:36 on two occasions. She will be a big factor come race day as will Zimbabwe's Chidzivo, who took 85 seconds off her 10km time last Sunday when she clocked 32:24. Her time was a Zimbabwean national record.
In partnership with ANA and Sports Leo