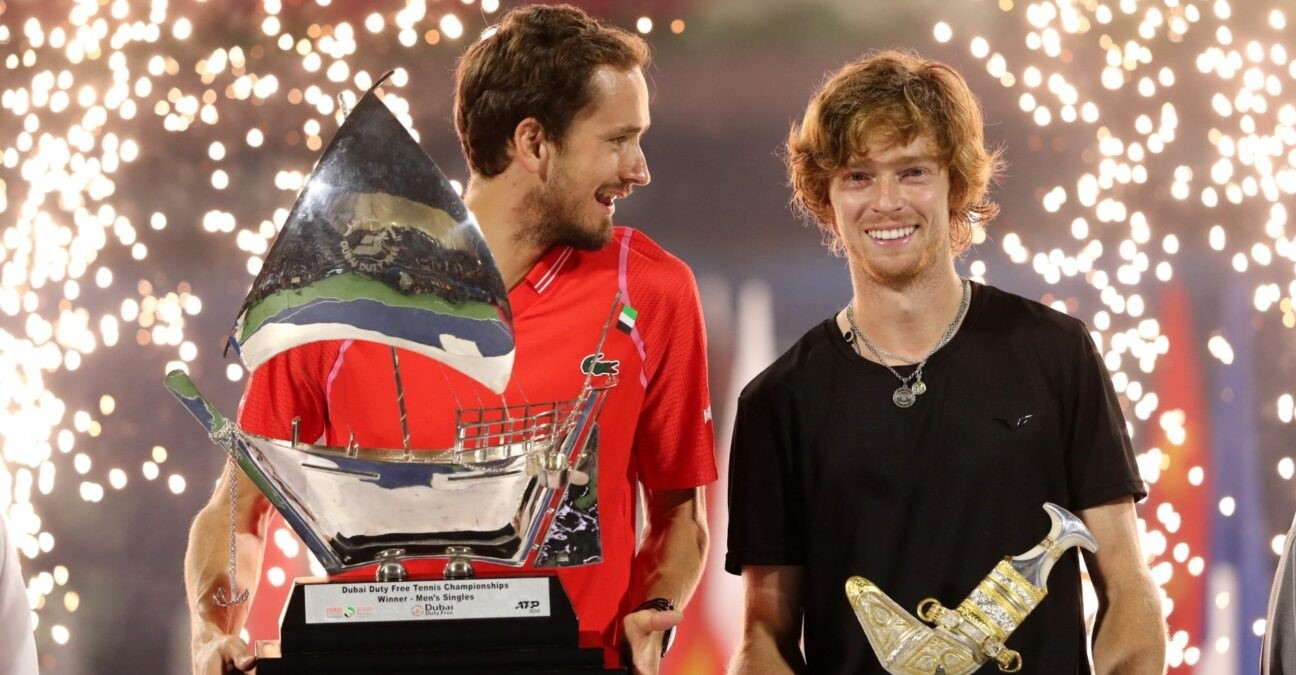 Friendships are often sacrificed at the altar of competition
Medvedev and Rublev's friendship is a perfect example
The two Russians are more than friends
In the cutthroat world of professional tennis, friendships are often sacrificed at the altar of competition and tennis icons Andrey Rublev and Daniil Medvedev attest to this.
Medvedev and Rublev's friendship is a perfect example that tennis courts have no enemies or friends, thanks to the ATP Tour.
The two Russians are more than friends since Rublev holds the title of godfather to Medvedev's daughter. Yet, they have managed to navigate the delicate balance between camaraderie and rivalry through nine intense encounters on the court.
Medvedev currently boasts a 7-2 lead in their Lexus ATP Head2Head series, the latest victory coming in a commanding straight-sets win at the Nitto ATP Finals.
Despite their deep connection off the court, Medvedev emphasized the ability to compartmentalize and focus solely on the game when the stakes are high.
"On court, I don't know how it is for him. For me, on the court, friends, enemies—it doesn't exist. I just try to win the match. I don't think about anything else," Medvedev told ATP Tour.
He also gave insight into the mental fortitude required to navigate a fiercely competitive environment such as his when playing against a tennis star he holds dearly in his heart.
The Russian star acknowledged the emotional toll of facing a close friend, admitting that there is a brief period of sympathy for the defeated opponent once the match concludes.
Reflecting on a past defeat to Rublev, Medvedev said that it was uncomfortable for both of them and they worked hard to make things normal between them.
"I felt for one or two days he was kind of shy to talk to me, taking care. It's the same. You always try to look at him and see if tomorrow we can talk like normal," Medvedev said.
He offers that post-match dynamics provide a window into the intricacies of athlete relationships, with both players expressing mutual understanding of the emotional aftermath.
"I'm going to say to him good luck, go for it the next matches, and he's probably going to say the same," Medvedev added, underscoring the sportsmanship that transcends the intensity of competition.
When questioned about his own recovery process after a defeat, Medvedev provided a glimpse into his temperament.
The recovery time varies from person to person and for him, it hinges on the specific match. Generally, he requires approximately one hour, give or take to take it all in.
Medvedev adds that how he feels after losing a match to Rublev or any other tennis player friend depends on the nature of the match. Sometimes it takes two hours, other times just 30 minutes.
While acknowledging that tennis is a "tricky sport," Medvedev analyzed the recent match between Zverev and Alcaraz, offering insights into the ebbs and flows of players' form and confidence.
Medvedev is now preparing for his upcoming clash against Alexander Zverev, while Rublev gears up to face Carlos Alcaraz bringing the tournament's unpredictable nature to the forefront.