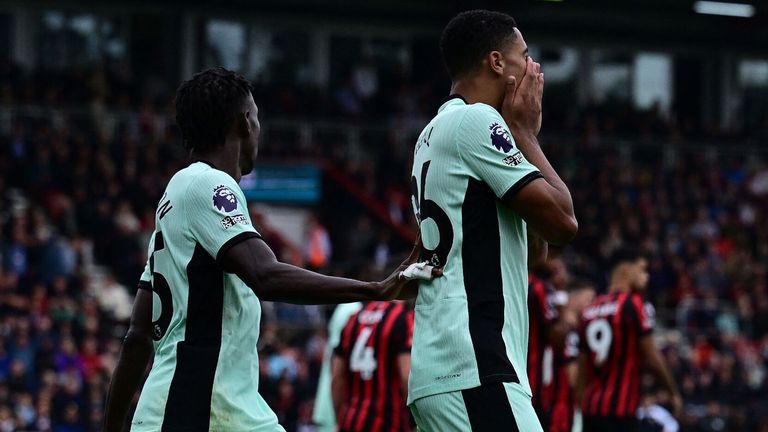 Chelsea did everything but score against Bournemouth in the Premier League on Sunday
The Blues ended up drawing 0-0 with Bournemouth at Vitality Stadium
The Blues manager Pochettino has lamented on Chelsea's issues in the final third
Chelsea manager Mauricio Pochettino expressed his disappointment at Chelsea's recent struggles in front of the goal following their goalless draw with Bournemouth on Sunday. This marked the second consecutive game in which the Blues failed to find the back of the net, despite registering 14 shots on goal and a 1.71 expected goals (xG). Chelsea has managed only five goals in five Premier League matches this season, with three of those goals coming against newly-promoted Luton Town.
In a post-match interview with the club's official website, manager Pochettino highlighted Chelsea's issues in attack as a central factor behind their inability to secure victories. He emphasized the need for the team to convert the chances they create, particularly in the early stages of matches:
"I think again we need to complete the chances that we create. In the first 20 or 25 minutes, we deserved to score but we did not score.
"At the end, the game was open, and in the last 15 or 20 minutes, I think we wanted to win. Sometimes, we started to disorganize our defensive line because the full-backs were pushed up, which allowed Bournemouth the chance to launch counter-attacks against us in transition.
"We need to stay composed. At times, our defenders want to contribute because we feel we are creating opportunities but not converting them. Then we need to be tactically astute, but many of our players are still in the learning phase of the game. This is expected when you are building a new team and there are several areas that need improvement.
"In games like these, where we keep pressing and trying to score but can't find the net, it's normal. However, if you can't win, you should ensure you don't lose. We are disappointed with the result because we aimed to win, but we understand the circumstances of the game. We deserved more, but we didn't get what we deserved."
Pochettino also attributed Chelsea's recent struggles to the numerous injuries the team is currently dealing with. He pointed out that Chelsea would be more competitive when they have a fully fit squad:
"We will become stronger when we have a full team. In normal circumstances, any team with all its players fit can compete. But what can we do? We have a strong belief, but we've been unlucky. We currently have 12 injured players, plus today we had young players and two goalkeepers on the bench.
"Am I going to complain or lament? No. I have to accept this challenge and remain positive. Every team will face competition, and it will be challenging, but whether it's fair or not, these are the circumstances. We need to accept them, stay positive, and be patient. We won't change our approach."