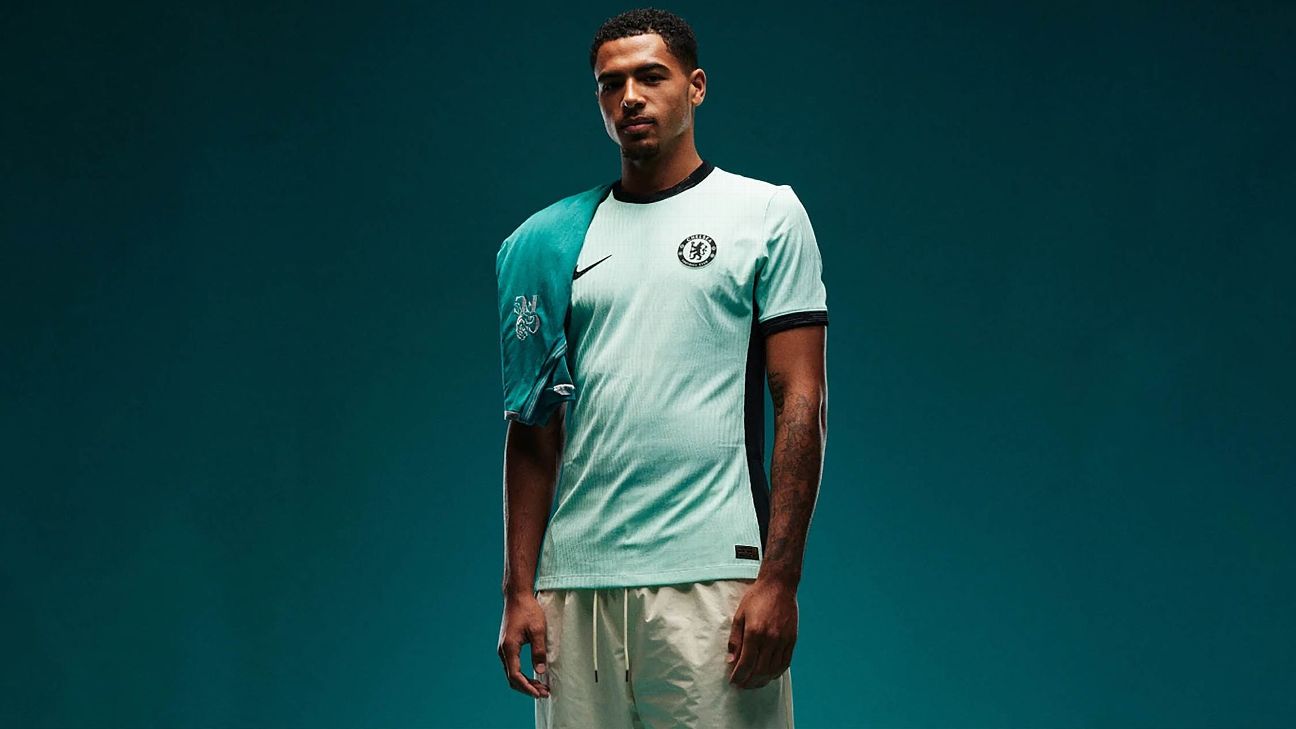 Chelsea have unveiled their new third kit for the 2023/24 season
The club has opted for an 'Eton Blue' strip based on the very first strip the club wore in 1905
The Blues are, however yet to confirm their new shirt sponsor 
Chelsea has revealed its new third kit for the upcoming 2023/24 season, a stylish tribute to the club's original attire from over a century ago. This kit, officially designated as 'Eton Blue,' serves as a heartfelt homage to the early uniforms worn by the club 118 years ago.
Chelsea proudly presented the 'Eton Blue' kit to the world through a social media unveiling. Their statement encapsulated the significance of this design, stating, "Eton Blue. A vision stemming from our past. A look that seamlessly blends with the contemporary era, yet deeply inspired by our roots. Our new third shirt for the season resonates with the essence of our glorious history, providing us with another opportunity to engrave a new chapter in the club's storied legacy."
Chelsea's connection to 'Eton Blue' traces its origins back to the club's inception in 1905 when they first adopted this distinctive color. This decision was influenced by the club's president, the Earl of Cadogan, who had a strong affiliation with Eton College.
However, this particular attire was only worn for a solitary season before Chelsea transitioned to their iconic royal blue jerseys in 1906. Over the years, these jerseys were paired with white shorts and black socks until 1964 when Chelsea introduced their now-iconic blue shorts and white socks combination.
While Chelsea has unveiled their new kit, they have yet to finalize a shirt sponsor for the upcoming season. The club's previous partnership with mobile network 3 came to an end at the conclusion of the 2022/23 campaign.
Chelsea has been engaged in discussions with the American technology firm Infinite Athlete, with talks revolving around a potential sponsorship agreement valued at over £40 million per season. In addition, there have been reports, as per The Athletic, that the club held discussions with Saudi Arabian airline Riyadh Air regarding a possible sponsorship arrangement.
With the unveiling of their 'Eton Blue' third kit for the 2023/24 season, Chelsea not only pays tribute to their rich history but also provides fans with a unique connection to the club's roots. While fans eagerly anticipate seeing the team wearing this new kit on the pitch, there is also keen anticipation surrounding the announcement of the club's official shirt sponsor for the upcoming campaign.
This sponsorship is a crucial element of Chelsea's commercial portfolio and adds another layer of excitement to the forthcoming season. The possibility of seeing the team don the 'Eton Blue' kit in their upcoming match against Bournemouth this weekend further fuels anticipation among fans.