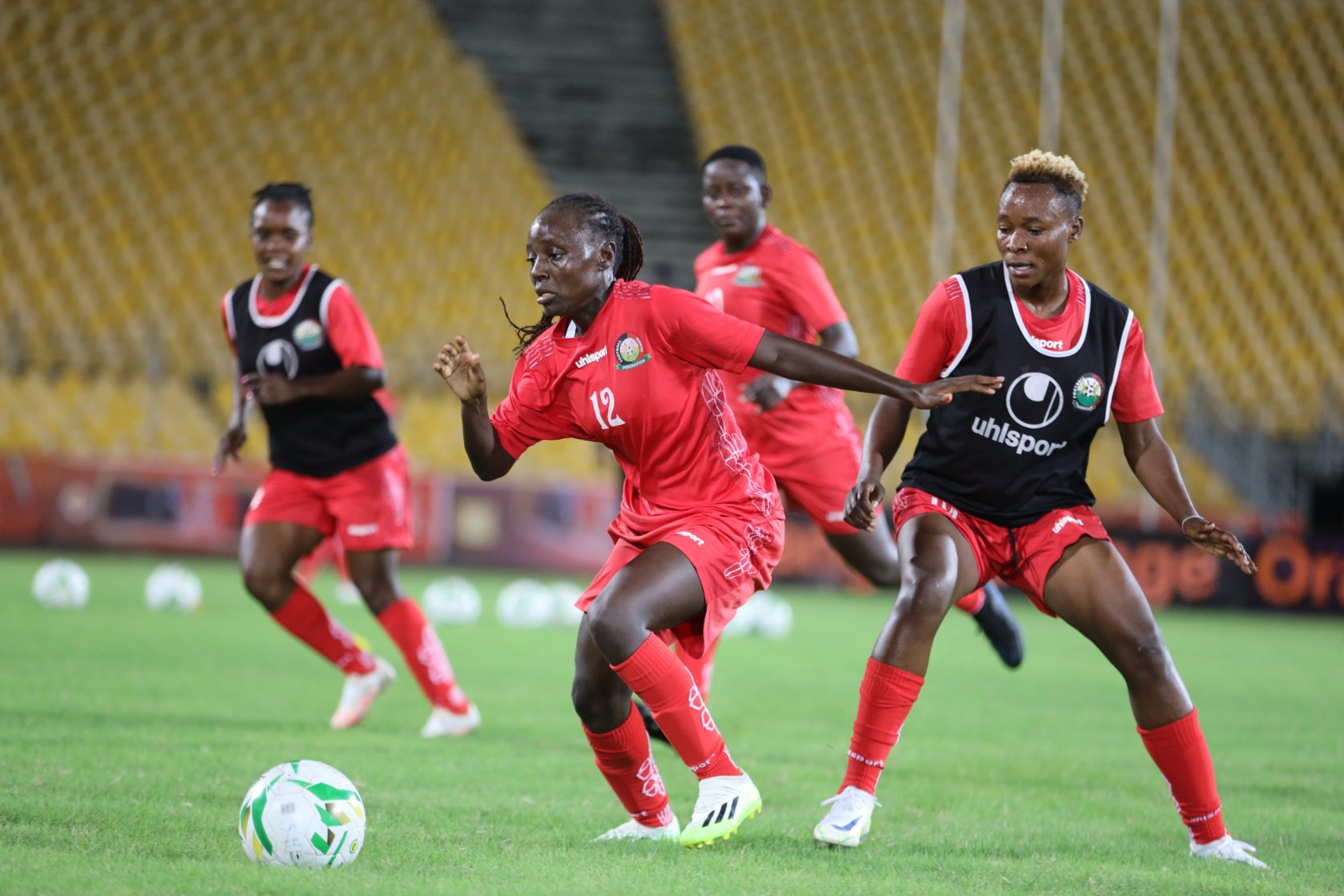 Starlets are looking to make their second WAFCON appearance
They play the first leg of the first round qualifier in Douala
Cameroon are perennial competitors at both the WAFCON and Women's World Cup
Kenya's women football team Harambee Starlets will take on Cameroon's Indomitable Lionesses in Douala on Friday evening in the first leg of their 2024 Women's Africa Cup of Nations qualifier.
The Kenyan Starlets are playing their first international match since 2021 when the country was suspended by FIFA, and are keen to ensure they pick a memorable win.
Then, the team were scheduled to play the second and last round of qualification for last year's Women's Cup of Nations against Uganda, but the chance went begging after Kenya was suspended by world football governing body FIFA due to government interference.
This year, due to their low ranking, Starlets are forced to come up against a tougher opponent.
Despite coming up against Cameroon, the team is upbeat they have what it takes to scrape off a result.
"We have trained very well and I trust in the girls. We have the ability and also players who have played at the big levels to bring us that experience. As a coach, I don't believe in names. I believe that football is all about the 90 minutes on the pitch. Cameroon might be bigger than us but we trust that we can beat them," said head coach Beldine Odemba.
Get best result away from home 
The sentiments are shared by skipper Ruth Ingotsi who said; "As a team we want to get the best result away from home. We want to ensure that when we come back for the return leg, we have something to protect. If we keep a clean sheet in Douala, we will have a good chance."
Starlets have played in the WAFCON only once before, in 2018, while Cameroon are perennial competitors at both the continental showpiece as well as the World Cup.
Despite the gap in class between the two sides, Starlets are more than determined to make history for themselves.
Coach Odemba has named an able squad that travelled for the match, with Esse Akida, part of the class of 2018 that qualified Starlets for their one and only WAFCON, back in the squad.
"I am delighted to have returned to the team and hopefully I can bring back the experience I have gathered over the years to be of help. We face a very strong team but we believe in ourselves," Akida, who plays in Greece with champions PAOK said.
Optimism around the team
She added; "There is a very big breathe of optimism in the team. We have a young squad with extremely talented players and I believe we can do something good."
The squad that travelled to Douala is made up of a huge chunk of foreign based players, a stark difference from 2018 when the team was majorly comprised of local based players, as not many of them had made the breakthrough to play professional football.
Coach Odemba believes this will be a huge advantage to them.
"These players have played at very high levels like Esse playing in the Champions League. They have come back to the team very fit and I am optimistic the experiences they have gathered there have helped them grow and they will bring an x-factor to the team," added the coach.