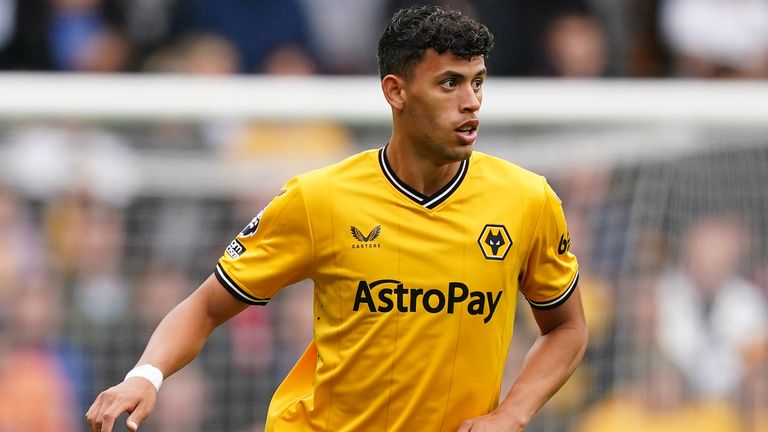 Wolves midfielder Matheus Nunes is close to joining Manchester City 
Nunes is set to complete a £53 million move to the Premier League champions 
Manchester City midfielder Tommy Dole is set to move to Wolves as part of the transfer
Wolves midfielder Matheus Nunes is on the verge of completing a transfer to Manchester City for a club-record transfer fee of £53 million. This significant development came after both clubs resolved minor issues in the final negotiations, amending the initial deal of £47.3 million late Wednesday night.
Notably, no additional clauses or add-ons are included in this transfer agreement. However, there is a provision for a 10 per cent sell-on fee, which would be applicable if Manchester City profits from any future sale of the 25-year-old player.
Matheus Nunes became Wolves' record signing last summer when he moved from Sporting Lisbon for an initial fee of £38 million. Moreover, his contract with Wolves was set for five years with the option to extend it for another 12 months. During his debut season with the club, Nunes featured in 34 matches, contributing one goal and one assist.
However, upon learning of Manchester City's interest in acquiring him, Nunes decided to take matters into his own hands. He chose to distance himself from training, a move aimed at pushing through the transfer to Manchester City.
In a related transfer development, Manchester City's 21-year-old midfielder, Tommy Doyle, is also part of the equation. He is expected to undergo a medical examination as he prepares for a season-long loan move to Molineux, the home stadium of Wolves. As part of this deal, Wolves will have the option to purchase Doyle for £4.2 million, and Manchester City will retain a 50 per cent share of any profit made from the player's future transfer.
It's worth noting that Tommy Doyle has some impressive footballing lineage as he is the grandson of Manchester City legends Mike Doyle and Glyn Pardoe. During the previous season, Doyle made a significant impact while on loan at Sheffield United, where he scored four goals and provided seven assists in 38 appearances. His contributions played a vital role in helping Sheffield United secure promotion to the Premier League.
The impending transfer of Matheus Nunes to Manchester City and Tommy Doyle's loan move to Wolves highlight the dynamic nature of the transfer market in modern football. These transactions reflect the ever-evolving strategies and financial considerations clubs undertake to strengthen their squads and maximize their potential for success.