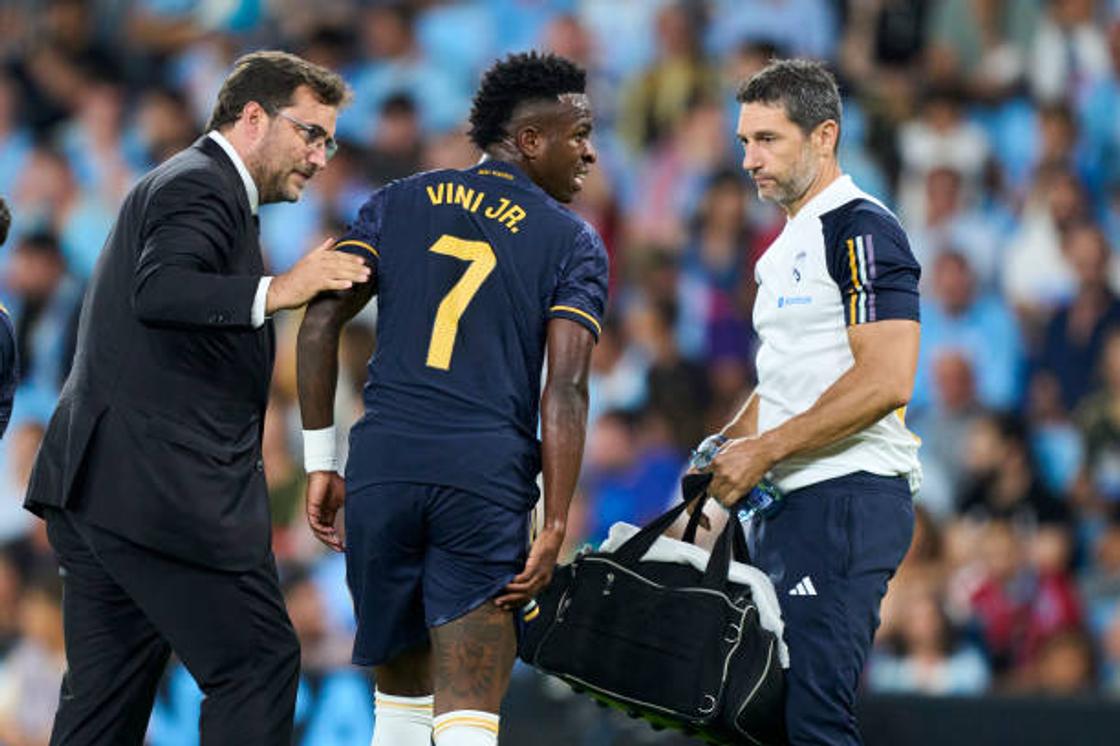 Real Madrid carried out medical tests on Vinicius Junior after he was injured at the weekend
The forward is set to miss at least six games for Real Madrid in all competitions
Carlo Ancelotti is already is already struggling for depth in his attacking options
Real Madrid has officially confirmed that Vinicius Junior is nursing a right hamstring injury, which had been suspected following medical examinations. The young Brazilian forward suffered this injury mere minutes into Madrid's La Liga clash with Celta Vigo over the weekend. Initially, he attempted to continue playing, giving hope to coach Carlo Ancelotti that it might not be a severe issue. However, Vinicius was eventually forced to leave the game before the first 20 minutes had passed.
The club issued a statement regarding the injury, stating, "After the tests carried out on our player Vini Jr. by the Real Madrid Medical Services, he has been diagnosed with an injury to the right biceps femoris muscle. Evolution pending."
Although Real Madrid has not provided a specific timeframe for Vinicius Junior's recovery, various estimates suggest that the Brazilian could be sidelined for approximately five to six weeks. This would mean that he may not be available until the start of October.
The injury comes at a crucial time for Real Madrid, as Vinicius would likely miss six games in various competitions. These include a city derby against Atletico Madrid and the first Champions League group match of the season. Additionally, he would not be able to represent Brazil in a pair of 2026 World Cup qualifiers scheduled for this month.
Vinicius Junior's absence was palpably felt during Madrid's recent match against Celta Vigo, where Carlo Ancelotti's team struggled to create scoring opportunities. Only a late goal from Jude Bellingham secured a victory, preserving their perfect start to the season.
This injury has significant implications for Real Madrid's attacking options. Vinicius and Rodrygo have already been operating in different roles this season to compensate for the lack of a direct replacement for Karim Benzema, who transferred to Al Ittihad. The depth in attacking positions now faces a considerable challenge.
During the match against Celta Vigo, the only true forward option available on the bench was veteran loan player Joselu, who replaced Vinicius. Mariano Diaz had departed from Madrid at the end of the previous season. While Brahim Diaz has returned after a three-year loan spell at AC Milan, he is more of an attacking midfielder and not known for prolific goal-scoring. Additionally, Sergio Arribas, a home-grown attacker, was recently sold to Almeria.
As it currently stands, Jude Bellingham has played a pivotal role for Real Madrid this season, contributing to four out of the team's six goals in La Liga with four goals and an assist. This means that he has been directly involved in a remarkable 84% of the team's total output.
In conclusion, Vinicius Junior's hamstring injury has significant implications for Real Madrid, impacting their attacking options and strategy. The absence of a key player like Vinicius presents a challenge for the team's performance and creativity. Madrid will need to adapt and find solutions to maintain their strong start to the season in various competitions.