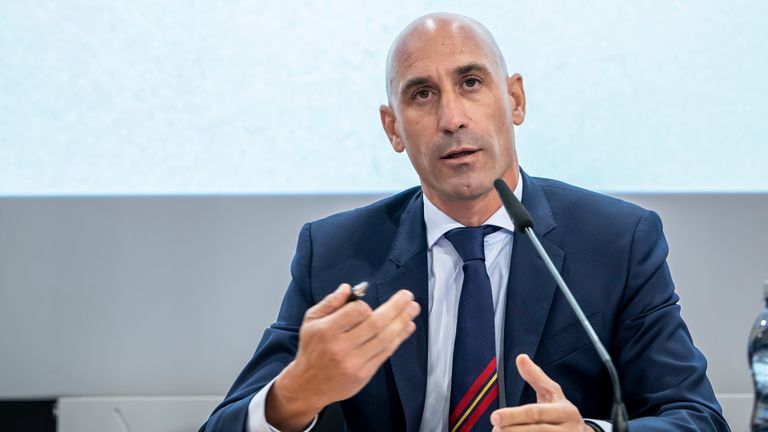 Luis Rubiales has been suspended by FIFA for any football-related activity for 90 days
The RFEF is supporting Pedro Rocha, Rubiales' current interim replacement
Players in La Liga have been supporting Jennifer Hermoso in the ongoing saga
The presidents of the regional soccer federation in Spain are currently demanding the resignation of Luis Rubiales due to his actions during the Women's World Cup final. Following an emergency meeting, the RFEF (Royal Spanish Football Federation) unanimously expressed their support for Pedro Rocha, with the aim of ushering in a new era of dialogue and reconciliation within football institutions.
This decision was prompted by a series of events that unfolded after the Women's World Cup final. Luis Rubiales, who was the president of RFEF at the time, faced disciplinary action by the FIFA Disciplinary Committee. They provisionally suspended him from all football-related activities at both national and international levels for a period of 90 days. The final decision regarding Rubiales' future in football leadership hinges on the outcome of the disciplinary proceedings initiated against him on August 24th.
Furthermore, FIFA imposed restrictions on Rubiales, preventing him from making direct or third-party contact with Jennifer Hermoso, the player at the centre of the controversy.
The RFEF, acting on behalf of a committee of regional presidents, expressed their demand for Rubiales' immediate resignation. This demand follows an incident in which Rubiales kissed Jennifer Hermoso on the lips without her consent after Spain's victory over England in the Women's World Cup final. Rubiales did issue a public apology in response to the widespread backlash against his actions, pledging to "learn from this." However, he steadfastly refused to step down from his position as RFEF president.
In a press conference, Rubiales defended his actions, stating, "The time has come to say something. I was wrong, and it was not the time to make that gesture. Do you think it is serious enough for me to suffer through this hunt? Is it serious enough for me to leave? I am not going to resign, I am not going to resign, I am not going to resign. What have I done? I'm going to fight until the end. I want to explain this peck, not a kiss, a peck. The feeling behind that kiss was the same with which I would give my daughter a kiss. There was no dominance."
During the same press conference, Rubiales insisted that the kiss was "spontaneous, mutual, and consensual," asserting that "she told me, 'You are a star,' and I said, 'A little peck?' and it happened."
Jennifer Hermoso responded to Rubiales' statement by refuting its accuracy: "I felt vulnerable and a victim of an impulse-driven, sexist, out-of-place act without any consent on my part. Simply put, I was not respected."
The entire Spanish national team has rallied behind Jennifer Hermoso, signing a petition refusing to play for the country until Luis Rubiales resigns from his position as president of the football federation. Players from the men's national team have also expressed support by signing and sharing similar declarations. Several presidents of La Liga teams have issued statements opposing Rubiales.
This controversy has gained international attention, with players worldwide using hashtags such as #ContigoJenny and #SeAcabo to show their solidarity with Jennifer Hermoso. It underscores the significance of consent and respectful behaviour in sports and the broader social context. The demand for change within the Spanish football leadership reflects the commitment to upholding values of respect, dignity, and equality in the world of sports.