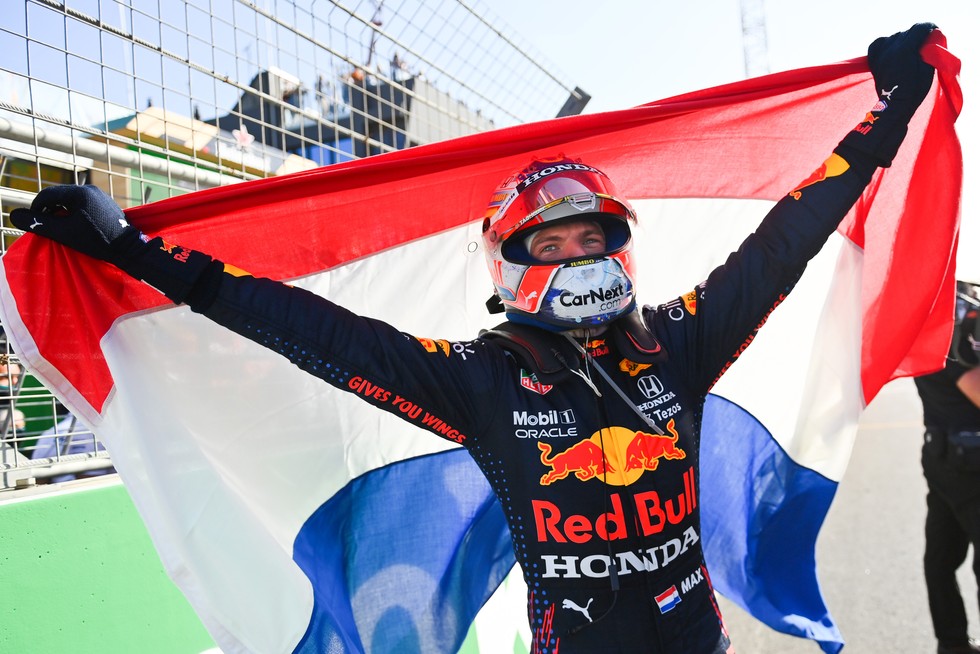 Max Verstappen equaled Sebastian Vettel's nine-race wins at the previous weekend's Dutch Grand Prix.
We look at the longest Formula One winning streaks.
Max Verstappen equaled Sebastian Vettel's nine-race wins at the previous weekend's Dutch Grand Prix.
We look at the longest Formula One winning streaks.
Nico Rosberg – 7 wins
In contrast to Verstappen's current run, Nico Rosberg's span across two seasons, and he was assigned the interview responsibilities for the top three drivers in Hungary.
The German driver won the final three grand prix of the season after going eight races without a victory in 2015 and giving Lewis Hamilton the upper hand in the title fight.
One of the tightest inter-team confrontations in recent memory was Nico Rosberg's quest for the win against Lewis Hamilton. And although Hamilton may have the statistics that make headlines, Rosberg will always be remembered for his seven-race winning streak that started at the Mexican Grand Prix in 2015 and continued through the Russian Grand Prix in 2016—the year he won his first championship.
That streak was a portent of things to come and it carried over into 2016, as Rosberg won the first four races. During that time, Rosberg proved he was a serious challenge to Hamilton's dominance, setting the stage for the title race.
Michael Schumacher – 7 wins
Michael Schumacher, another German on this list, tied the previous record with his own streak of seven straight victories.
While his time at Benetton had played a significant role in Schumacher's development, it was his time at Ferrari that would ultimately define the iconic driver, and 2004 saw Schumacher at the pinnacle of his abilities.
With seven straight victories, the 2004 season was undoubtedly the best of Michael Schumacher's illustrious career.
He began his winning run by taking the top step of the podium at the European Grand Prix, and he didn't leave it until Spa 2004. But at that point, he had already won his sixth world title.
After Kimi Räikkönen ended that streak, Schumacher won yet another race that year to set a new record for most victories in a calendar year during his final title-winning season.
Alberto Ascari – 7 wins
Another Ferrari driver wouldn't win back-to-back championships until Schumacher, but Ascari's achievement is even more amazing considering how unreliable the sport was at the time.
F1 cars nowadays might have their own issues, but in the 1950s, things were very different.
In the 1952 Belgian Grand Prix, the first race of this run, Ascari was one of just seven drivers to finish out of a field of 54 competitors. Five of the seven retirements were caused by technical issues.
Nevertheless, Ascari drove his Ferrari 500 to seven straight triumphs, setting a record at the time for the most consecutive victories, and became the driver with the best winning percentage (75%).
Ascari won the first of two championships thanks to a string of victories that also served as the catalyst for the second. Another driver wouldn't achieve the feat for 51 years.
Sebastian Vettel – 9 wins
Sebastian Vettel's name appears among the top, as is typical with any Formula 1 record involving sustained domination.
In the early 2010s, Vettel was an unstoppable force for Red Bull, much like Schumacher was for Ferrari.
In 2010, he won his first championship, and by 2013, he had surpassed Michael Schumacher to become the fourth-most successful driver in history.
From the Belgian Grand Prix through the season-ending Brazilian Grand Prix, Vettel won every race while competing for his fourth and final world championship.
Max Verstappen – 9 wins
With yet another P1 finish in his home race, Verstappen increased his winning streak to nine, tying the previous mark established by Sebastian Vettel.
In Miami, Verstappen overtook teammate Sergio Perez to start what would turn out to be a streak of 248 consecutive laps that the Dutchman would lead.
Charles Leclerc finally ended that streak in Austria, falling 57 laps shy of the total, but the record for consecutive race victories is still up for grabs.
Verstappen has put on a powerful series of performances since his US triumph, winning every trophy along the way and giving himself a strong chance to win the World Championship for a third time.
All eyes will now focus on Monza to see if he can secure a record-breaking winning run by securing 10 straight victories.