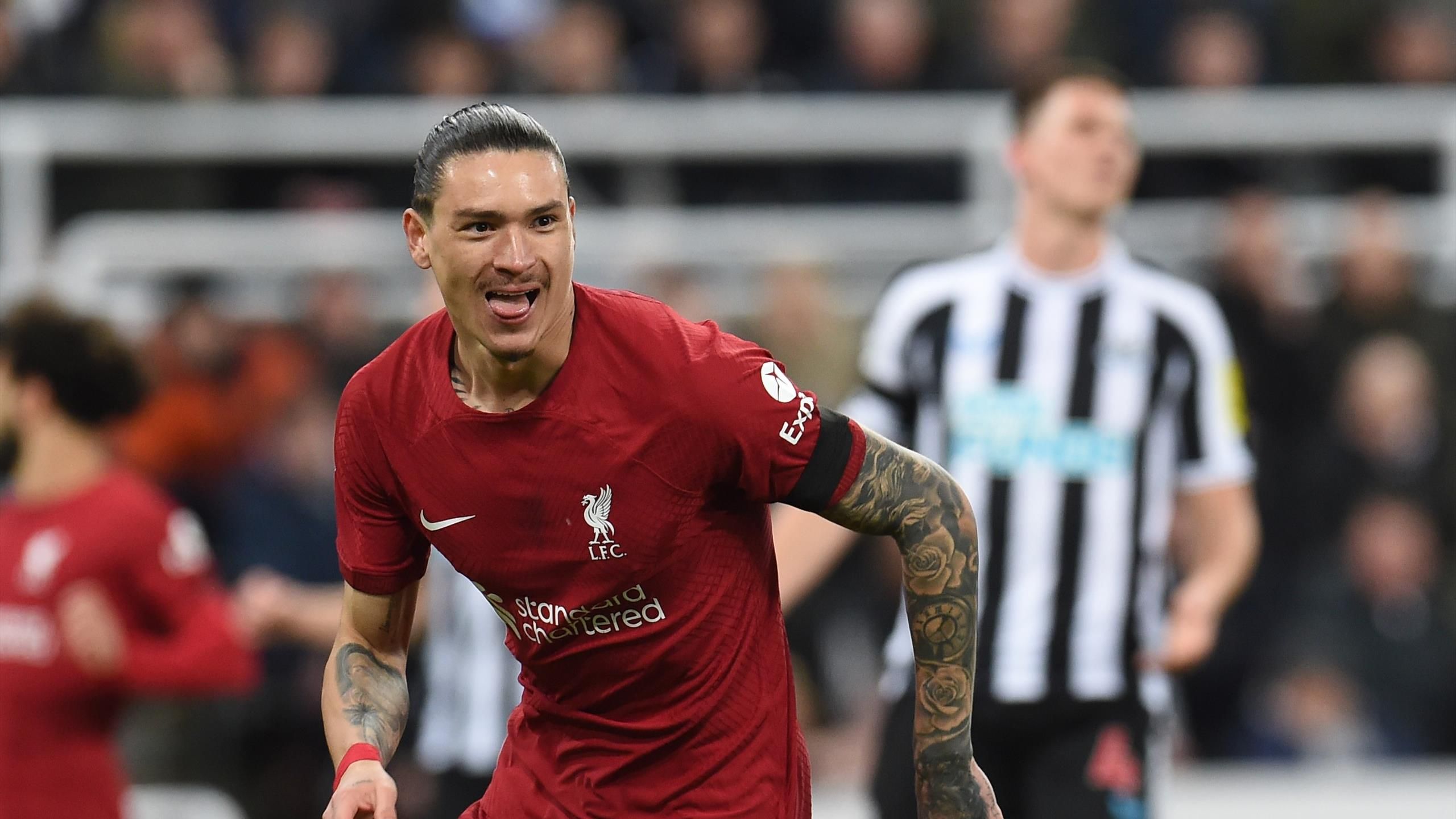 Jurgen Klopp has a variety of choices up front for the striker position
Darwin Nunez, Cody Gakpo, and sometimes Diogo Jota have been fronted as strikers in recent times
But who should be Liverpool's number nine first choice for Jurgen Klopp
Darwin Nunez made a considerable impact in his first season with Liverpool, scoring 15 goals in 42 appearances while providing four assists. This translated to an impressive average of a direct goal contribution every 124.5 minutes across all competitions. Some notable moments from his debut campaign included a remarkable cameo in the Premier League against Fulham, a match-winning performance against West Ham at Anfield, a two-goal display from the left flank against Southampton, a brace in a 7-0 demolition of Manchester United, and a sublime touch and finish in a 6-1 victory over Leeds in the Premier League.
In the Champions League, the Uruguayan forward found the back of the net in four consecutive games, with his standout moment being a stunning flicked goal past Thibaut Courtois in the first leg of the last-16 tie against Real Madrid, even though Liverpool eventually lost the game 5-2.
However, despite his promising performances, moments during the closing weeks of the 2022/23 season indicated that Darwin Nunez had not completely earned the trust of Liverpool manager Jürgen Klopp. During this period, Núñez started only three out of 12 possible games, with three missed due to injury. Klopp emphasized that the "ticket" into his starting lineup was not just about on-ball contributions but also about application and diligence off the ball. The signing of Cody Gakpo in January served as a prime example of this approach.
Nunez's journey took an intriguing turn during a match against Newcastle, where he came off the bench to score two goals, sealing a 2-1 win for Liverpool despite the team playing with 10 men. This outstanding performance sparked discussions about Núñez potentially regaining his starting position.
In comparing Núñez and Gakpo, it's apparent that they offer distinct playing styles. Núñez is known for his dynamic and aggressive center-forward play, while Gakpo is characterized by his calm and controlled approach, often playing as a deep-dropping false nine. Standing at 6'4″, Gakpo combines his height with delicate touches, close control, and a keen eye for goal, contrasting Núñez's bulldozing style.
Both Núñez and Gakpo have shared the field on 18 occasions for Liverpool, yet they have not combined for a goal, leading to the belief that Klopp may have to choose one over the other for his starting lineup. This situation has raised the debate about who should be the first-choice central forward for Liverpool in the 2023/24 season, a role previously occupied by Roberto Firmino.
Liverpool's attacking depth is arguably among the best in Europe, featuring players like Mohamed Salah, Luis Díaz, and Diogo Jota, in addition to Núñez and Gakpo. Each of these forwards possesses unique skills, making Klopp's selection challenging yet exciting.
In the early stages of the season, Díaz and Salah have consistently started on the flanks in Liverpool's front three, while Jota initially took up the central forward role until Gakpo transitioned into that position. Núñez's drop in the pecking order is evident, but his impactful performance against Newcastle has reignited the conversation about his potential role.
However, it's essential to recognize that the choice between Núñez, Gakpo, or even Jota for the central forward role should not be a binary one. Núñez shouldn't necessarily replace Gakpo; instead, his brace against Newcastle serves as a reminder of the unique qualities he brings to the team, both as a starter and as a substitute. Klopp's ability to rotate and adapt his attacking trio based on the specific challenges posed by opponents will be crucial in the season ahead.
Núñez's explosive pace and his ability to exploit space may be better suited against teams that employ a high defensive line and offer room to run into. For instance, the upcoming match against Aston Villa, who play with a progressive, high line under Unai Emery, could be an ideal scenario for Núñez.
In contrast, Gakpo's calm and controlled approach may be the preferred choice for games requiring intricate interplay and structured build-up. The combination of Salah and Díaz making runs off Gakpo could be highly effective in such situations.
Having both Darwin Núñez and Gakpo as options is of paramount importance, especially considering the tight fixture schedule, with matches scheduled from Thursdays to Sundays. This season, Liverpool will also return to the Europa League, where Núñez's playing style could be particularly advantageous. In contrast, Gakpo may be favored in high-profile clashes against top-tier opponents like the Manchester clubs.
Liverpool's wealth of attacking talent allows Klopp to tailor his lineup to meet the specific demands of each game. Rather than identifying a singular "first choice" forward, Klopp possesses multiple solutions, each offering a unique set of attributes and abilities. This depth and versatility in Liverpool's attacking ranks are invaluable assets for the manager as he navigates the challenges of the 2023/24 season.
As Klopp emphasized, this is a new team with new key players, and it will take time to find stability and establish a cohesive formation.