Darwin Nunez Biography and Networth 2022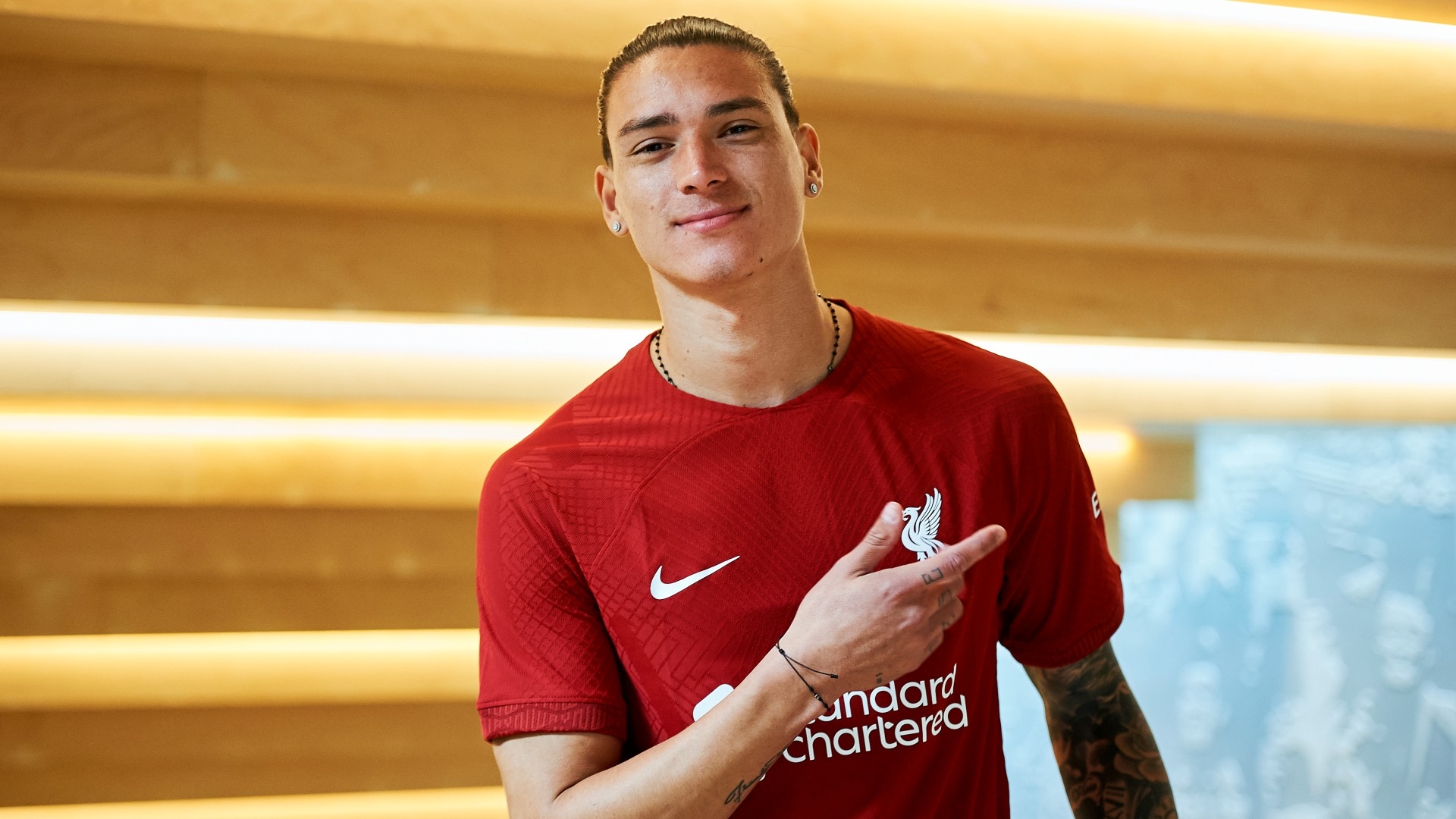 Darwin Nunez recently moved to Liverpool on a six-year deal

The former Benfica star was raised in a poor family, and in most cases, he would go to bed 

 

His mother would gather bottles on the streets of Artigas to buy food for Nunez and his brother by selling them
Darwin Nunez is a professional football player who currently plays for the Premier League club Liverpool FC and the Uruguay men's national team. In the 2022 summer, he moved from Benfica to the Reds.
Biography
Full Name                Darwin Gabriel Núñez Ribeiro
Age                            23 years
Place of Birth          Artigas, Uruguay
Height                      6'1'
Nationality              Uruguayan
Date of Birth           24/6/1199
Occupation             Footballer
Source of wealth   Soccer
Marital Status       Unmarried
Early life
 on June 24, 1999, Darwin Nunez was born in Artigas, Uruguay. His parents are t Bibiano Nunez and Silvia , Uruguay. His mother worked selling milk bottles, while his dad was a constructor.
According to sources, Nunez hails from quite a poor household where they were constantly short of food, " "His parents gave up a lot just to provide for the family."
The young Darwin was initially a bashful child with a remarkable drive to make it in life. Nunez's timidity and silence did compensate for his great desire to relieve his family of misery.
Everyone back then relied on Darwin Nunez's mother to provide for the family's needs when his father was short on money.
She would then go out and gather bottles on the streets of Artigas to buy food for her children by selling them.
The most heartbreaking memory of Darwin's youth was how frequently he would go to bed hungry.
The child did attend school, but most of the time, he didn't have anything to eat.
Nunez's Dad and Mom could not afford to purchase him a snack, unlike many other students whose families could.
Darwin managed to survive by stealing food from his classmates. When he was in school, he used to leave right away for football practice.
At 14, he moved to Montevideo, leaving his family behind in Artigas, according to an Uruguayan journalist.
Career
 The ambitious football player also picked up the sport from Junior, his older brother. The eager Lad woke up twice if he failed while learning.
He started to consider giving up football. But he made the decision to engage in combat. Sadly, Junior stopped playing football because of an unidentified family situation.
Darwin eventually felt willing to attempt a football academy after improving his talents with street football.
Darwin Nunez decided to join his local club La Luz after a fair trial. The young player is shown here without a jersey because he had only recently joined the club.
 San Miguel de Artigas Academy had a method of introducing young children to more established clubs in Montevideo, the nation's capital.
2013, Darwin Nunez's career changed when the Uruguayan football great and scout José Perdomo paid a visit to his academy.
From the field side, he observed all the children playing, but Darwin drew his attention. he then took Darwin to Montevideo. 
The striker joined the team for four years and made his major professional debut 2017–18 season. For the team against River Plate Montevideo in the Primera Division of the 
UD Almera of Spain's Segunda División signed Darwin Nez on August 29, 2019, to a five-year contract.
 As the striker proceeded to score for both national teams, the Old Continent soon favoured him. 
Benfica
Darwin sparked interest in Europe's best clubs before COVID-19. Benfica ultimately prevailed over the other competitors in the battle for his signing. On September 4, 2020, the club purchased him for €24 million.
Darwin became one of the team's most valuable assets in less than a year of playing for The Eagles.
On October 22, 2020, e scored his first goals for Benfica, tallying a fantastic hat-trick in a 4-2 match victory against Poznan.
Nunez had a productive debut season in Portugal, tallying 14 goals in 44 games played for the team.
But in his second season with Benfica, Nunez really started to click, tallying an incredible 34 goals in 41 games for the Portuguese team, notably six goals in the Champions League.
Nunez was soon on his way to the Premier League after dazzling displays for Benfica drew Liverpool FC's attention.
Liverpool
Nunez was heavily linked to Liverpool FC during the 2022 summer, and his arrival at Anfield was formally announced on June 14 of that year.
Nunez reportedly agreed to a six-year deal with Liverpool, at a transfer fee of £85 million, marking him a club-record acquisition.
The upfront payment of £64 million was said to increase to £85 million if Nunez met specific targets specified in his contract.
In a preseason against Leipzig on the 21st of July, he scored four goals as part of the club's 5-0 victory.
Darwin Nunez networth and salary
According to the contract,  Liverpool will pay him a staggering salary of £ 5.1 million pounds a year and £140,000 per week.
As a result of Nez's five-year contract with the Reds, his estimated net worth will increase to £28,700,000.
Is Nunez Married?
Nunez will fit very well in Merseyside because he is a true family man. His partner is Lorena Maas, and the striker has been blessed with a baby named Darwin.