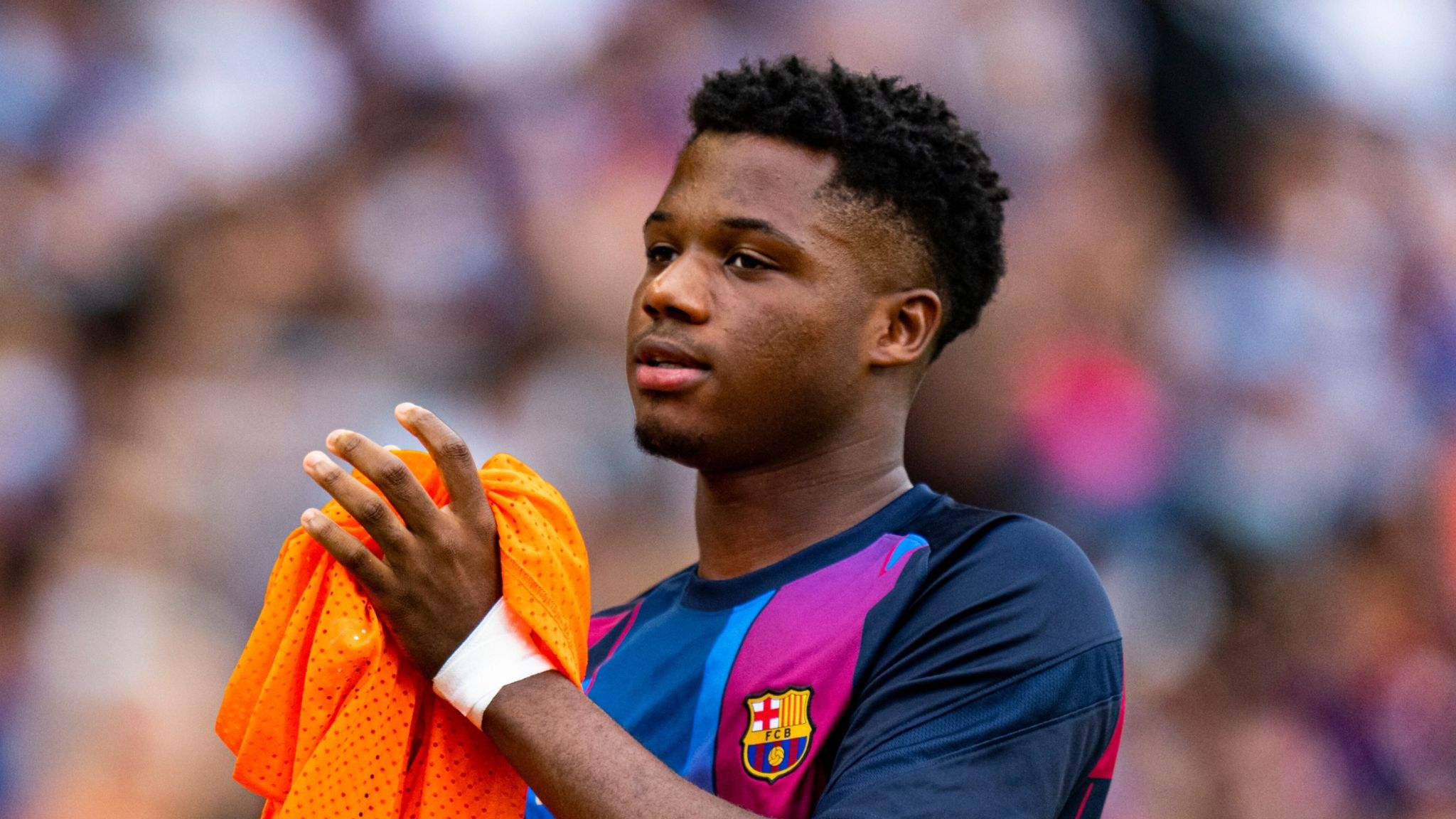 The transfer deadline day is Friday, and clubs are in the last-minute rush
Barcelona is looking to sell/loan Ansu Fati before Friday's deadline day
Arsenal, Chelsea, and Tottenham Hotspur are showing interest in the winger
Barcelona is making a concerted effort to offload Ansu Fati before the looming transfer window deadline, and a number of Premier League clubs have expressed interest in acquiring the talented winger.
Ansu Fati's fortunes at Barcelona have taken a downturn over the past few seasons, primarily due to a series of injury setbacks. Moreover, he recently found himself relegated down the pecking order by head coach Xavi, who favoured the emergence of the young 16-year-old prodigy, Lamine Yamal. This situation has prompted Barcelona, currently treading on a precarious financial tightrope, to actively explore transferring some of their fringe players. This strategic move would not only help them alleviate their wage bill but also provide much-needed flexibility in the transfer market, which is approaching its closing stages. The Catalan giants are actively pursuing key targets like Joao Cancelo from Manchester City and Joao Felix from Atletico Madrid, which could significantly bolster their squad.
Recent reports have suggested that Ansu Fati is one player Barcelona might be willing to part with in order to free up resources. His agent, Jorge Mendes, has reached out to some of Europe's top clubs, indicating that Fati is open to the idea of a move before the transfer window slams shut. This news has piqued the interest of several Premier League teams, including Arsenal, Chelsea, Tottenham Hotspur, and Aston Villa. However, these clubs are proceeding with caution, as they are not entirely convinced that the 20-year-old winger is committed to leaving Barcelona. Consequently, they are taking measured steps towards potentially securing his services.
Arsenal, who have secured a coveted spot in this season's Champions League for the first time in six years, are actively seeking additional attacking options. Ansu Fati's arrival would provide valuable depth to their squad, enhancing their prospects in both domestic and European competitions.
Tottenham, Arsenal's North London rivals, is also looking for a winger. They are currently leading the race to sign Nottingham Forest's Brennan Johnson and are considering Jota, who previously played under head coach Ange Postecoglou at Celtic. Ansu Fati's name has emerged as a potential target for Tottenham as well, particularly after he scored against them in a pre-season friendly earlier this August.
Meanwhile, in West London, Chelsea is intensifying its search for another forward. On Tuesday, it was revealed that they might even compete with Barcelona for the signature of Joao Felix, who spent the latter half of the previous season on loan at Stamford Bridge. This indicates Chelsea's determination to bolster their attacking options, and Ansu Fati could also be on their radar as they seek to strengthen their squad further.
The transfer saga surrounding Ansu Fati is gaining momentum as Barcelona looks to trim its squad and accommodate new arrivals. Premier League clubs, including Arsenal, Chelsea, Tottenham Hotspur, and Aston Villa, have expressed varying degrees of interest in the young winger. However, his ultimate destination remains uncertain, with clubs proceeding cautiously due to doubts about his willingness to leave Barcelona. As the transfer window deadline draws near, the footballing world eagerly awaits the resolution of this intriguing transfer saga.