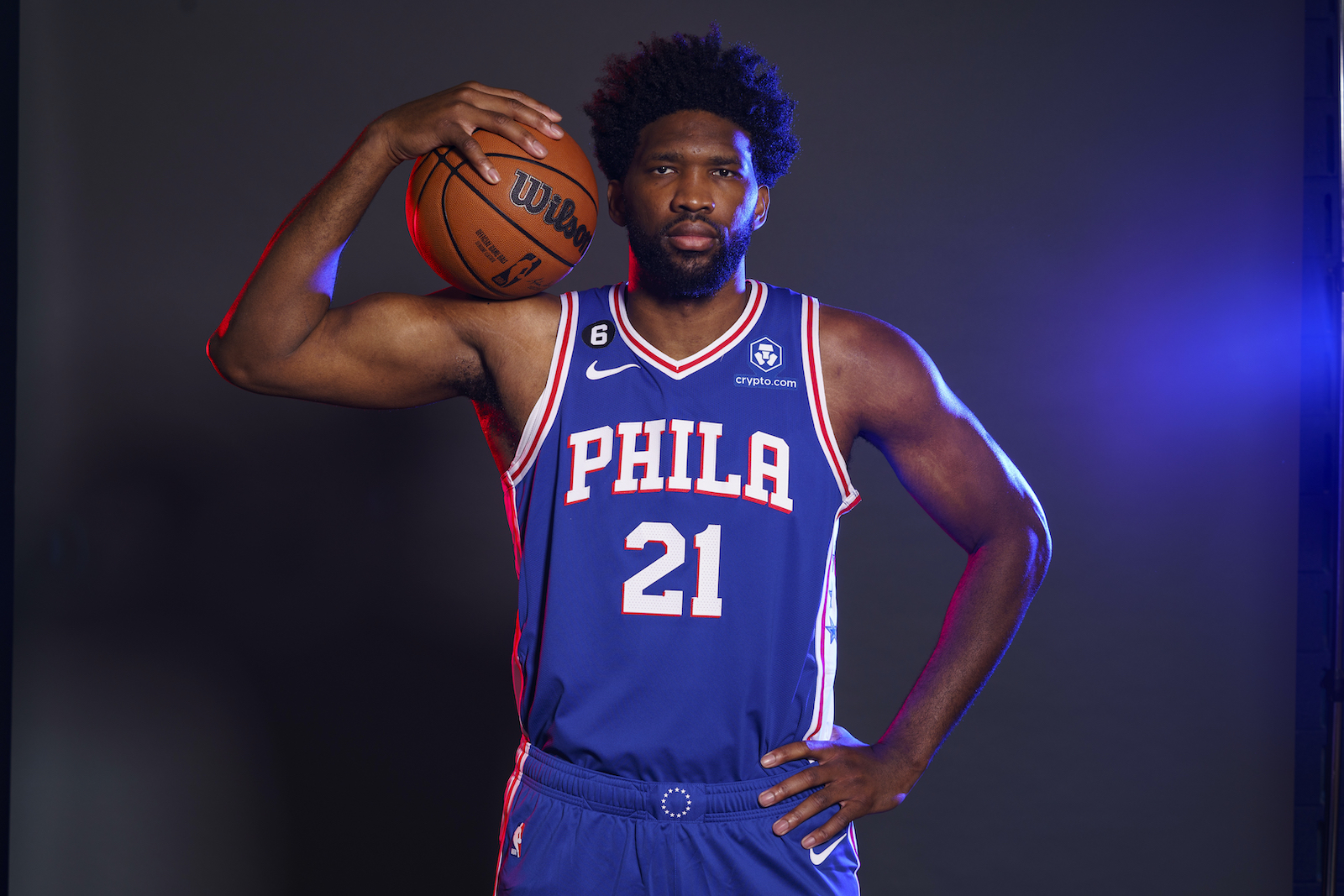 He is a Cameroonian professional basketball player
He holds French and American citizenship
He is currently the NBA Most Valuable Player
Who is Joel Embiid?
Joel is a Cameroonian professional basketball player who was born on March 16, 1994, in Yaoundé, Cameroon and his net worth is a whopping amount of $35 million in 2023.
Embiid holds dual citizenship for French and America and is thus eligible to play for both countries. After one year of college basketball, he was drafted third overall in the 2014 NBA draft.
Joel Embiid Biography
| | |
| --- | --- |
| Full name | Joel Hans Embiid |
| Age | 29 years |
| Height | 2.13m |
| Place of birth | Yaoundé, Cameroon |
| Date of birth | March 16 1994 |
| Nationality | Cameroonian, French, American |
| Occupation | Basketball player |
| Source of wealth | Basketball earnings |
| Marital status | married |
Net Worth
Joel Embiid has an estimated net worth of around $35 million in 2023. In the last season, Embiid reportedly earned about $34 million playing for the Philadelphia 76ers.
In his nine years in the league so far, the player has earned over $166 million in NBA salaries. He also makes a lot of money from his endorsement deals and investments.
Personal Life
Joel was born on March 16 1994 in Yaoundé, Cameroon to his parents Thomas Embiid and Christine Embiid. His father was a military officer and the couple had three children Joel the eldest, his younger sister Muriel and his youngest brother Arthur who unfortunately passed away in a car crash.
Born in Cameroon, Embiid spent most of his childhood there and since then, he was always drawn towards sports.
However, he did not pick up a basketball until he was 15 years. He then moved to the United States the following year to play basketball. After one year at Montverde Academy, he transferred to the Rock School in Gainesville, Florida where he developed into the best player in the country.
He graduated from high school and committed to the University of Kansas where he played for one year of college basketball for the Jay Hawks before declaring for the NBA draft.
Embiid has been in a relationship with Brazilian model Anne de Paula and they welcomed their first child three years ago whom they named Arthur in memory of his late brother.
Career
During his childhood years, Embiid played soccer and volleyball and his dream was on playing volleyball in Europe.
He started playing basketball at 15 years and was discovered by NBA Veteran Luc Mbah a Moute, who is from his native region Yaoundé, during a basketball camp.
With Mbah Moute's mentorship, Embiid moved to the United States when he was 16 to pursue a career in basketball and his start in the game was not in any way easy.
After he began playing basketball at 15 years in Cameroon, he lacked some physical abilities and skills required for the game when he moved to the US one year later. That is where his fortune came in giving him an impressive net worth.
He struggled to get game time when he attended Montverde Academy, also facing criticism from his teammates. However, he was so determined and worked hard than ever.
During his time with the Rock School, Embiid developed remarkably and helped the team clinch the state championship, garnering a lot of attention and becoming a five-star recruit.
Embiid joined Kansas University and had major performances for the Jay Hawks in his one year though he missed out on the NCAA tournament due to an injury. He was then declared for the NBA draft the following year.
The Philadelphia 76ers selected the player from the 2014 NBA though he missed two seasons due to an injury on his foot. He averaged over 20 points per game on coming back from recovery in his first season in the league and earned a spot in the All-Rookie First Team.
He clinched a spot in the All-Star team the following year and in the following seasons, he established himself as the best player in the league.
In 2022, he was the first centre to win a scoring title and has been running for the NBA MVP award for three seasons in a row, finally winning the award this season.
Luxury Collection
Despite his big net worth of millions, Embiid owns a luxurious apartment in Philadelphia and has only one car, a Land Rover Range Rover Sport contrary to what most of us would own with that kind of wealth.
FAQs
1. How old is he?
29 years old.
2. What is his nationality?
Cameroonian/French/American.
3. What is his current net worth?
$35 million
4. Is he married?
Yes.
5. Does he have children?
Yes.