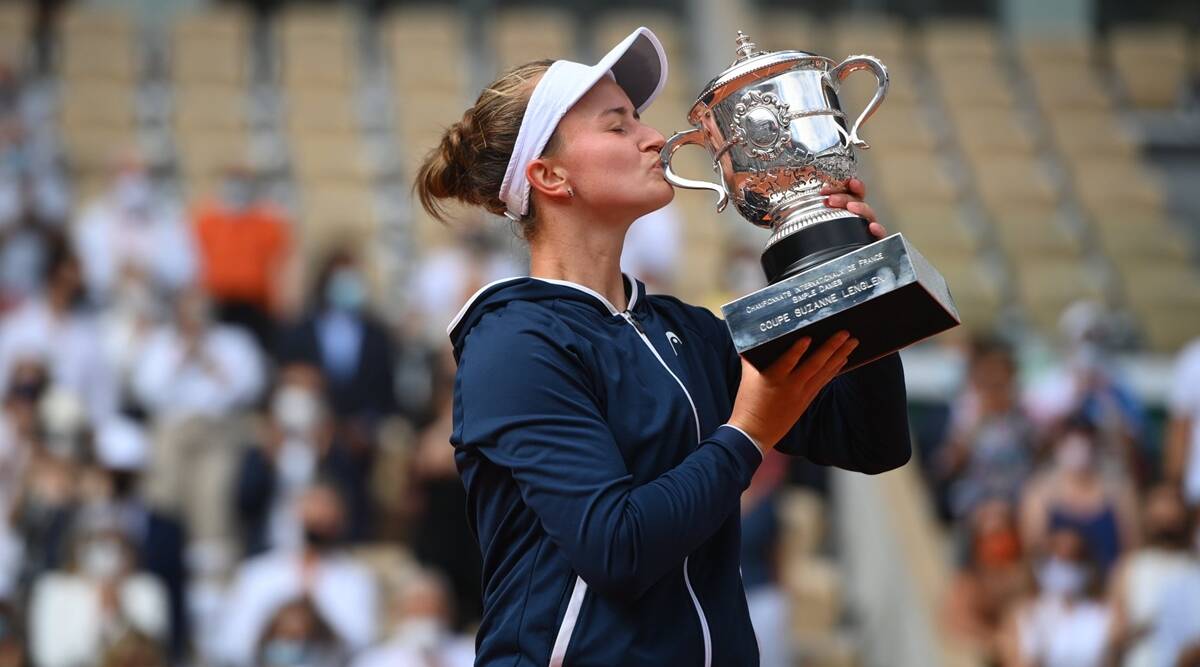 Barbora Krejcikova is a professional tennis player from Czech Republic
Krejcikova started playing tennis at the age of six and has since achieved great success
The Czech player, who has so far received prize money totalling $10,131,535, has an estimated net worth of $12 million
Barbora Krejcikova is one of the most popular players in the tennis world; however, not every fan has read her biography.
Krejcikova started playing tennis at the age of six and has since achieved great success on the sport. The 27-year-old is one of the few players who can boast of winning a Grand Slam singles title and major doubles titles.
Krejcikova, who was the winner of the 2021 French Open, remains to be one of the only two active female players to have won a major title in all three disciplines. Keep reading to find more info about the Czech on our Barbora Krejcikova biography.
Barbora Krejcikova Biography
| | |
| --- | --- |
| Full Name | Barbora Krejcikova |
| Source of wealth | Tennis |
| Date of Birth | 18 December 1995 |
| Place of Birth | Brno, Czech Republic  |
| Height | 1.78 m |
| Nationality | Czech |
| Age | |
| Occupation | Tennis player |
| Marital Status | Unmarried |
Career 
Barbora Krejcikova's success on the court began during her junior years as she reached the finals of all four junior majors in 2013 with Katerina Sinjakova. The duo won three of the finals.
Krejcikova's journey on the ITF Tour began in 2010 and she won her first ITF doubles title the following year. In 2012, the Czech won her first singles title.
Krejcikova got the opportunity to compete in WTA doubles competition in 2015 and won her first tour-level doubles later that year in Luxembourg. In 2016, she reached the semifinals in Paris and quarterfinals in New York. She would reach her first WTA Finals the following year in Nuremberg where she lost to Kiki Bertens.
Barbora Krejcikova's career took a different turn in 2021 as she won her first WTA title in Strasbourg. She continued her impressive performance at Roland Garros, winning both singles and doubles title. She ended the year as world No. 5.
In 2022, Krejcikova had a disappointing campaign at Roland Garros. She was eliminated from singles in the first round and couldn't continue in doubles because of her COVID-19 diagnosis. At Wimbledon a few weeks later the Czech claimed her second career doubles title. She would also win the next two major tournaments.
In 2023, Barbora Krejcikova claimed the Australian Open doubles title. In singles, she made it to the fourth round but lost to Jessica Pegula. She won her first singles tournament of the year at Dubai Tennis Championships where she defeated top seeds like Petra Kvitova, Aryna Sabalenka and Iga Swiatek.
Prize Money 
To further your interest in reading Barbora Krejcikova biography we take a look at her prize money on this part. According to Wikipedia, the Czech player has so far received prize money totalling $10,131,535. She is among active female players with the highest prize money as of 2023.
Net Worth 
With such a huge prize money, you expect Barbora Krejcikova's net worth to be massive. Well, the 27-year-old Czech has an estimated net worth of $12 million as of 2023. We expect her fortune to increase in the coming years as she continues to win prize money.
Besides tennis prize money, endorsements have also played a role in Krejcikova's staggering net worth. She is endorsed by Head for racquets and Fila for clothing, apparel and footwear. Roko-Motor, the Czech division of Jaguar, also endorses Krejcikova.
Personal Life 
When you are talented and famous like Krejcikova, people want to know everything about you, including your personal life. Well, that's what we will be looking at on this part of Barbora Krejcikova biography.
To begin with, Barbora Krejcikova was born on 18 December 1995 in Brno, Czech Republic. She was raised and brought up by her parents Karel Hradecky (Father) and Pavla Hradecka (Mother).
Moving onto her love affairs, Krejcikova is neither married nor has a boyfriend. Her priority at the moment is playing tennis and winning titles.
FAQs 
How old is Barbora Krejcikova?
Krejcikova is currently 27 years.
Where is Barbora Krejcikova from?
Barbora Krejcikova is from Brno, Czech Republic.
Is Krejcikova in a relationship?
Krejcikova is believed to be single at the moment.
What is the net worth of Barbora Krejcikova? 
Barbora Krejcikova has an estimated net worth of $12 million.
When did Barbora Krejcikova turn pro?
The tennis player turned pro in 2011 at the ITF tournaments.