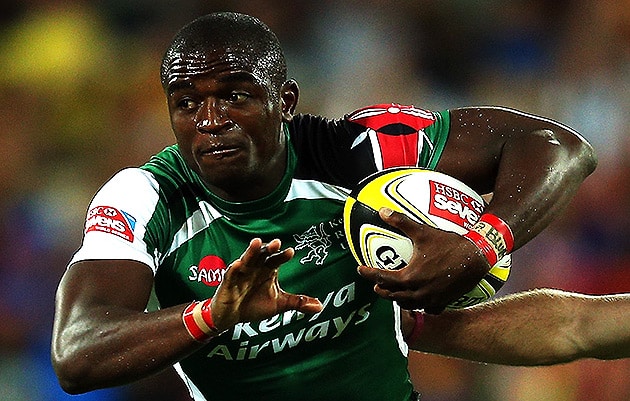 Who is Willy Ambaka?
He is a Kenyan Rugby player
He plays as a winger
He previously played for Kenya Harlequins
Willy Ambaka is a Kenyan rugby player currently playing for the Kenya national Sevens team and Manawatu in New Zealand's Mitre 10 Cup. Ambaka has garnered a net worth of about $5 million from his rugby career.
Willy previously played professionally for the French Rugby Pro D2 team, Lyon OU, and the African Currie Cup side, Western Province.
Willy Ambaka's Biography
| | |
| --- | --- |
| Full name William | William  Ambaka Ndaraya |
| Age | 33 years |
| Height | 1.94m |
| Place of birth | Wundanyi, Kenya |
| Date of birth | May 14 1990 |
| Nationality | Kenyan |
| Occupation | Rugby player |
| Source of wealth | Rugby earnings |
| Marital status | Married |
Willy Ambaka's Net Worth in 2023
The player has garnered an impressive amount of net worth in his rugby career, estimated to be about $5 million presently. His primary source of earnings is primarily from his rugby career.
Personal Life
William Ambaka Ndaraya was born on May 14 1990 in Wundanyi, Taita Hills, on the Southern side of Kenya. He was brought up in Eldoret but the family later relocated to Nairobi.
On relocating, he found new friends Brian Omino and Stephen Mbaya. Growing up, he played soccer and his new friends introduced him to rugby. It was challenging but he came to love it with time.
It all started at the RFUEA grounds on Ngong Road where he met coach Geoffrey Kimani. His family was so supportive especially the mum and in addition, he is forever indebted to his coach for giving him a shoulder to cling onto.
Willy begins his day with sessions from the gym, speed sessions, team meetings, individual match reviews and pitch sessions which he has adapted to.
However, his journey was not all smooth as he once suffered an injury that he thought was ending his career. He sustained the injury on training with the national fifteen's side.
His rehabilitation journey was one of a kind as his teammates were helpful and gave him full recovery support.
While away, Ambaka says he misses his mum's cooking, his friends and family, not forgetting his fans who have made every game worth looking to.
Ambaka is a Christian believer who strongly holds onto his religious beliefs and is married to the love of his life, Nadja. The two got married in a beautiful ceremony in Melbourne, Australia.
Career
Ambaka began his rugby career for Kenya Harlequins in 2010. The then strength and conditioning coach for the Harlequins' Geoffrey Kimani recommended him to Kenya Sevens team head coach Benjamin Ayimba.
He made his debut for the Kenya national Sevens team at the Hong Kong Seven Tournament in 2011 and also represented them in the 2011-12 and 2012-13 IRB Sevens World Series.
Based on his performance, Ambaka was chosen to be part of the 2012-13 HSBC Sevens World Series Dream Team. He was nominated amongst three players for the IRB Sevens Player of the Year award in 2013 though he lost it to Tim Mikkelson of New Zealand.
Ambaka also played for the Kenya Sevens at the 2013 Rugby World Cup Sevens held in Moscow.
The same year, the player signed a professional contract with Lyon for the 2013-14 Rugby Pro D2 season. In addition, Ambaka became the first Kenyan rugby player to play for a team in the top two divisions in France.
At Lyon, he played in ten matches scoring six tries. Lyon won the title and promotion to the Top 14 for the next season.
The player was included in the Kenya national team squad that played in the 2014 Africa Cup competition which led them to the next year's World Cup qualifying tournament.
Later that year, Jerome Paarwater, the coach of the Kenya national team and former coach of South African Currie Cup Side Western Province recommended his sign-up.
His net worth has grown tremendously since he began his career as a rugby player.
Willy's Luxury collection
The rugby player has garnered a good amount of net worth that can give him a posh life as he would wish. In his garage, Willy has several sleeky cars among them a Mercedes Benz with the latest technology.
FAQs
How old is Willy?
33 years old.
What is his religious belief?
He is a practising Christian.
Is he married?
Yes.
Does he have children?
No.
What is his nationality?
Kenyan.