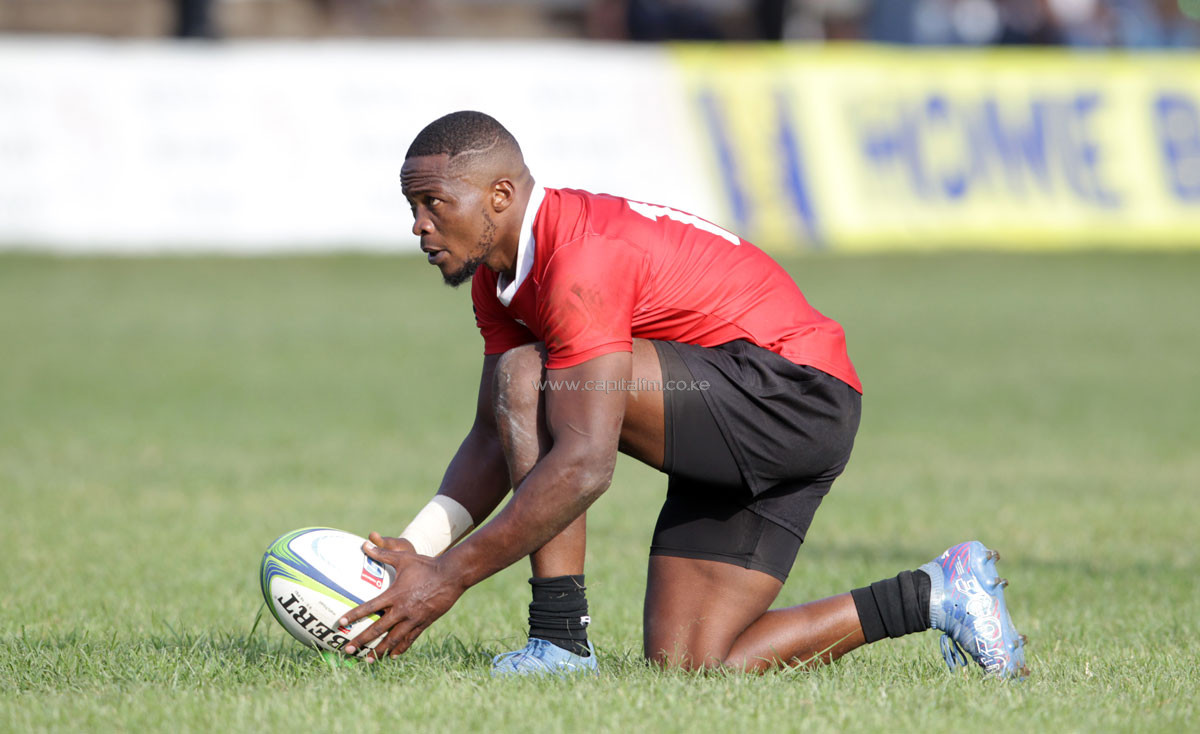 He is a rugby player
He plays for KCB as a full back
He played for Kenya Simbas
Darwin Mukidza is a 35-year-old former rugby player who played for Kenya Simbas and  KCB  RFC as a fullback. During his time in the sport, he was so committed and will be missed by rugby fans upon his retirement.
Darwin Mukidza Biography
| | |
| --- | --- |
| Full name | Darwin Mukidza |
| Age | 35 years |
| Height | 1.82m |
| Place of birth | Kenya |
| Date of birth | December 31 1988 |
| Nationality | Kenyan |
| Occupation | Rugby player |
| Source of wealth | Rugby earnings |
| Marital status married married | Married |
Darwin Mukidza Career
Mukidza has been playing for Kenya Simba for eight years and made his debut against Portugal in 2015.
His last assignment with Kenya Simbas was during the 2023 Rugby World Cup final Qualification tournament held in Dubai, in November 2022.
During his time at Kenya Simbas, Mukidza was among the best players with an audience back up. He was the Simbas all-time point and try scorer, making him the second-highest-capped player with a total of 47 international caps in the national team.
He also earned a few call-ups to the sevens team, Shujaa. Reflecting on his shining career, Mukidza said he could not have made the great achievements he has so far if it was not for the love he has for rugby.
He still remembers every moment he has had in his career not only playing the game at the highest level but also representing the country across the world.
At the Kenya Simbas, his wish was to see the team qualify for their first rugby cup though it never came to be. However, he hopes that those currently in the team have what it takes to steer the national team to greater heights.
Mukidza's Retirement From International Career
Darwin has finally announced retirement from his international career in rugby after involvement in the sport for a long time. He says that he wants to focus on his family, which is the main reason for his retirement.
His retirement comes a few months after Collins Injera and Willy Ambaka also retired from their international career.
In his social media accounts, he expressed his gratitude to his former teammates, coaches and the teams that gave him a platform to showcase his talent locally and worldwide.
Mukidza debuted for the Simbas in 2015 against Portugal featuring 47 times while presenting the national team colours. He earned a few call-ups to the Sevens team-Shujaa.
He attributes every move that he has made in his career and says such success wouldn't have been achieved if it was not for the great love of rugby.
His move is based on focusing on his family and club life where he plies his trade with KCB RFC.
His retirement comes when the Kenya Rugby Union appointed Jerome Paarwater, a South African tactician who will lead the fifteen's side ahead of the season as their head coach.
In addition, Jerome and his team have already called up a team of 100 players to be shortlisted for the final squad. This squad will kick-start its preparations ahead of the assignments.
Though already far from the pitch, it's evident that his heart still holds rugby football dearly.