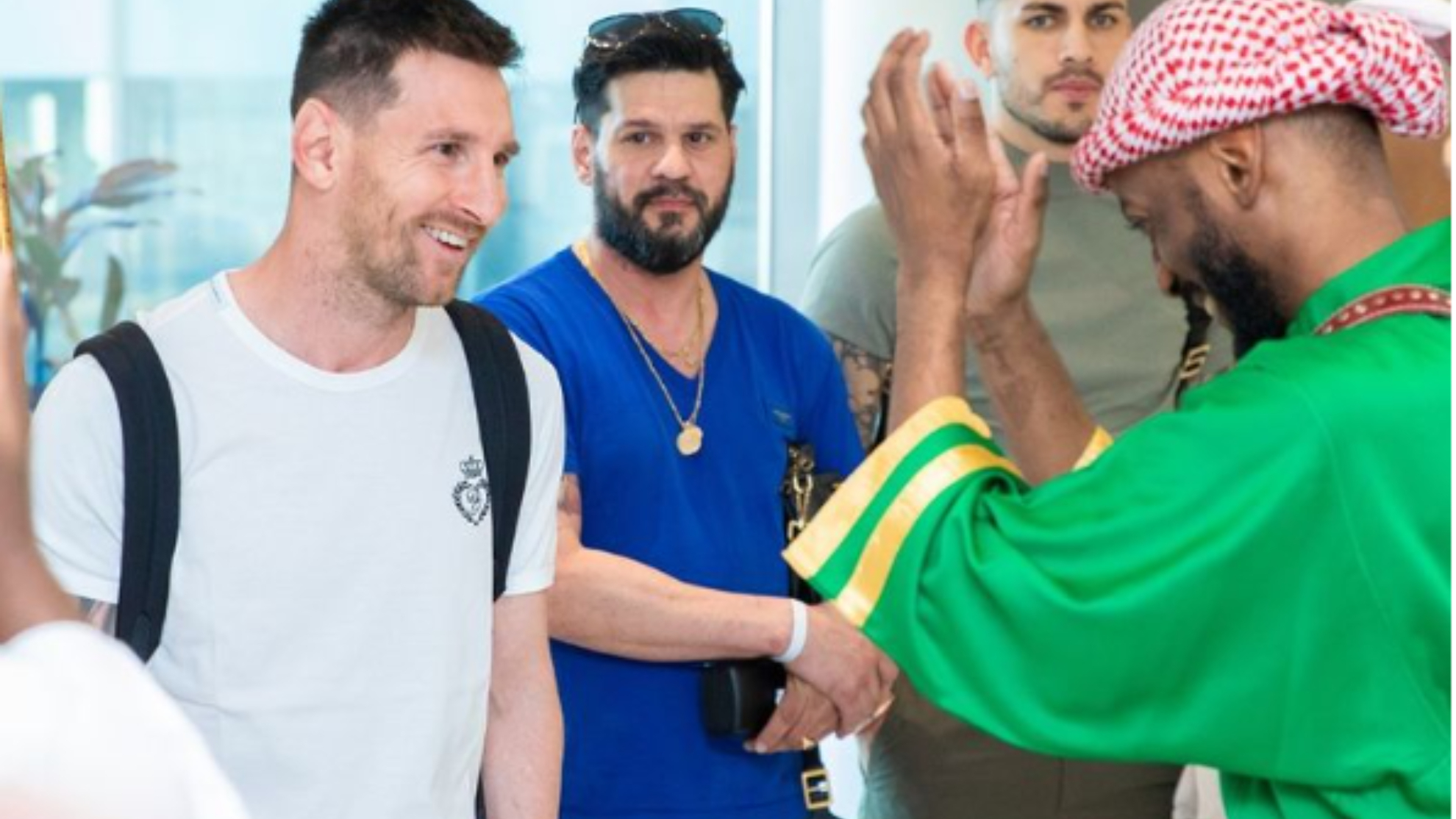 Paris Saint-Germain (PSG) has suspended Lionel Messi for two weeks
He flew to Saudi Arabia for an individual promotional trip
The club had not permitted him to do so
Paris Saint-Germain (PSG) has suspended Lionel Messi for two weeks over an unauthorized individual promotional trip to Saudi Arabia without the club's permission.
Reports indicate that Messi engaged the club asking for permission to travel to Saudi but the club turned his request down.
He, however, flew to Saudi on Sunday night following a double cancellation of his scheduled business trip to the Gulf nation after PSG defeat.
The Argentine star player did not get the necessary authorization from PSG. As a result of his decision to travel to Saudi against his club's will, Parc des Princes suspended him from playing in two games and a further fine from his two-week pay.
This followed a day of talks between the club's officials on Tuesday.
On Monday, the 35-year-old was photographed in Riyadh and announced his visit on social media. Messi already represents Saudi Arabia's tourism industry as a brand ambassador.
Given PSG's public silence on the matter so far, it indicates the club's new strategy to wade off negative press under its president Nasser Al-Khelaifi.
Al-Khelaifi's leadership dictates that every player will be subject to the same laws and no one will get special treatment.
Messi will now be absent from the Ligue 1 games against Troyes and Ajaccio, although he might be available for the match against Auxerre later on.
The World Cup champion is nearing the end of a two-year contract with the Ligue 1 front-runners. He maintains that before agreeing to a new contract, he has to see what plan PSG has for the club.
The former Barcelona player jetted back to France on Tuesday and posted images of his time in Saudi.
He posted a line of palm trees with well-trimmed grass lawns beneath. Messi captioned this image: "Who thought Saudi has so much green? I love to explore its unexpected wonders whenever I can. #visitsaudi."
Over 5.68 million fans liked the post on his Instagram page.
Saudi Arabia's Tourism Minister Ahmed Al Khateeb on Monday lauded Messi's visit to Riyadh as its tourism brand ambassador.
He wrote on his official Instagram handle: "I am happy to welcome #Messi and his family to Saudi to enjoy the magical tourist destinations and authentic experiences. We welcome visitors from all around the world to experience a unique trip to Saudi Arabia and its hospitality."
Saudi Tourism Authority (STA) named Messi its official brand ambassador in May 2022. This was his second visit to Riyadh in the capacity of a tourism ambassador.
His tight Ligue 1 schedule doesn't allow him to travel much for business but pundits expect him to tour the width and breadth of Saudi Arabia after the season's end.
He could take his family for a vacation in an Arab country and tour extensively without any limitations by his club.