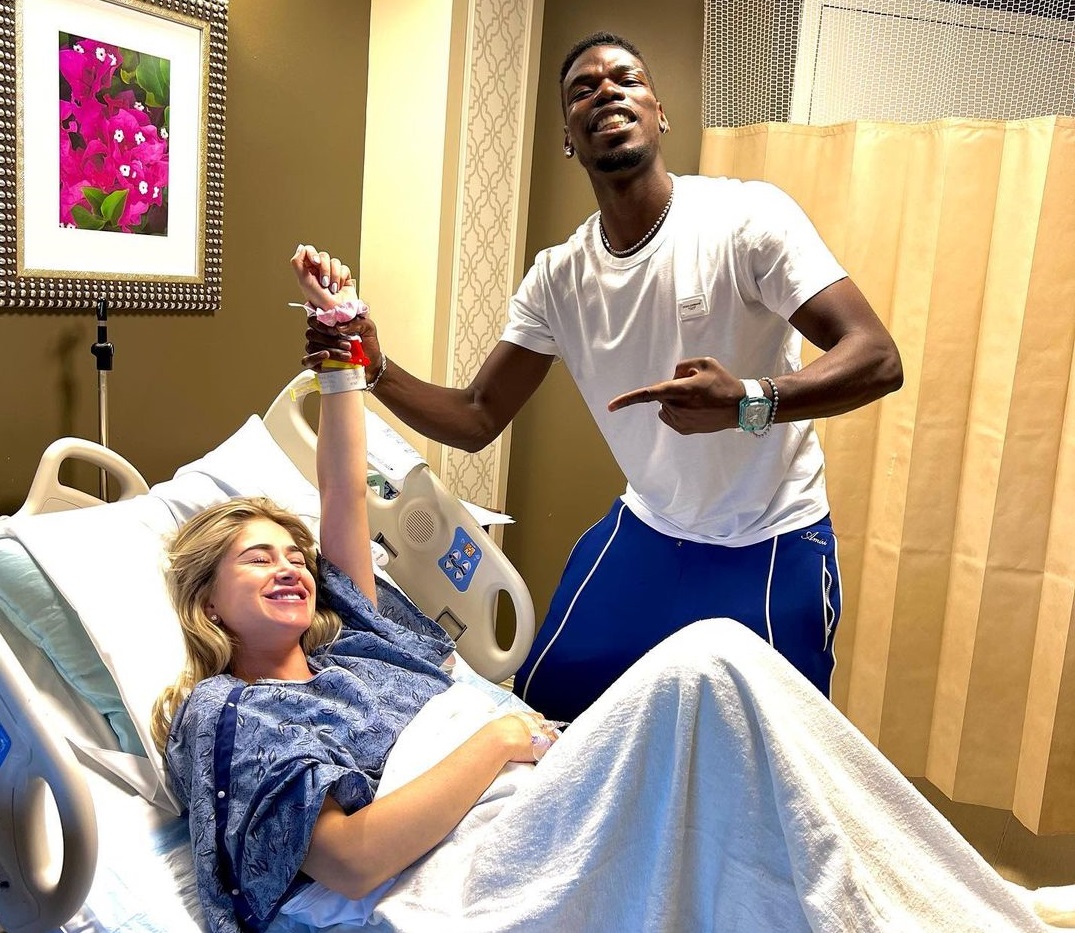 French footballer Paul Pogba is now a father of three
His wife Maria Zulay gave birth to their third born on Wednesday
She is a Bolivian model
French footballer Paul Pogba is now a father of three following the successful delivery of his newly-born child on Wednesday. He shared the news via his Instagram page showing his wife Maria Zulay Pogba smiling excitedly following the successful delivery.
"Al Hamdullilah a new Pogba member has arrived… so proud of my Queen @zulaypogba I'm so so so happy #Daddyofthree," he captioned the photo.
HOW MANY CHILDREN DOES PAUL POGBA HAVE?
The Juventus player is a father of three. His firstborn son Labile Shakur Pogba was born in 2019, and his second son Keyaan Zaahid Pogba was born in 2020. The former Manchester United player met his wife Zulay in 2017 in Los Angeles.
Pogba was recovering from a hamstring injury at the time but he still flew to Los Angeles together with other United team members. The team was in the US to compete in the International Champions Cup (ICC). Zulay was also in the US at the time furthering her modelling career.
They instantly connected and fell in love while Zulay worked in Miami. She flew to Manchester on multiple occasions to be with Pogba. She attended several matches at Old Trafford and accompanied Pogba to Russia during the 2018 FIFA World Cup. The model, alongside Pogba's mother watched France play and win the World Cup.
WHO IS PAUL POGBA'S WIFE MARIA ZULAY?
Paul Pogba's wife, Maria Zulay is a Bolivian model working with leading fashion houses and modelling firms. Besides, she is an experienced real estate agent and an interior designer. Zulay first enrolled for a degree in business administration at the University of Bolivia but she dropped out. She chose to concentrate on her real estate job instead.
Modelling then happened and she flew to the US for further studies which is when she met Pogba. The Bolivian has a large global fan base and was crowned Miss Expobelleza in 2012. She has 863,000 Instagram followers and she never shies from showing her modelling work and the perfect family life.
WHEN DID PAUL POGBA MARRY MARIA ZULAY?
In 2019, Pogba and Zulay wedded in a private ceremony in Paris that only close family members and friends attended. He welcomed his firstborn son Labile the same year and Keeyan, his second-born son came in 2020.
Christian by birth and upbringing, Zulya converted to Islam after wedding Pogba who is a Muslim. The mother of three has an estimated net worth of over $1 million. Meanwhile, Pogba who plays as a midfielder for Juventus has an estimated net worth of $125 million as of 2022. His wealth is all from his football career making him one of the richest football players in the world.
IS PAUL POGBA LEAVING JUVENTUS?
After six seasons at Old Trafford, the French midfielder returned to Juventus in June 2022 from Manchester United. With United, Pogba won the EFL Cup and the Europa League in his early seasons, but he was unable to keep his standards in the following seasons.
In 2016, he moved from Juventus to United. The dynamic midfielder also took home the 2018 FIFA World Cup trophy with the France national football team which he plays for.
Since Pogba's returned to Italy, he has fallen short of expectations, according to his agent who says they disagree a lot. The Frenchman has only played 108 minutes in Serie A this year due to injury, which has kept him out for the majority of the campaign.
His injury woes come at a difficult time for the Old Lady, who are currently eighth in Serie A after being docked 10 points for financial irregularities with their transfer activities.
Following the expiration of his Manchester United contract, Pogba returned to Juventus on a free transfer last summer. However, he has struggled with a string of ailments and was unable to participate in the 2022 FIFA World Cup in Qatar.
He hit the headlines recently after suffering a new injury during his first game of the season earlier in May pushing him to sob uncontrollably as he left the pitch.
Pogba and his agent, Rafaela Pimenta have occasionally clashed, and his lack of discipline sparked rumours that he would leave the team this summer. In the midst of ongoing negotiations over his future Pimenta, disclosed that they fight and make up.
"We have a very profound relationship. We often argue but then make up immediately. It happens all the time. We can tell the truth to each other, and that's very important. People tend to always side with footballers, so they get mad when somebody says 'no' to them. Our agency does that, even though we risk losing clients," The Mirror reports.