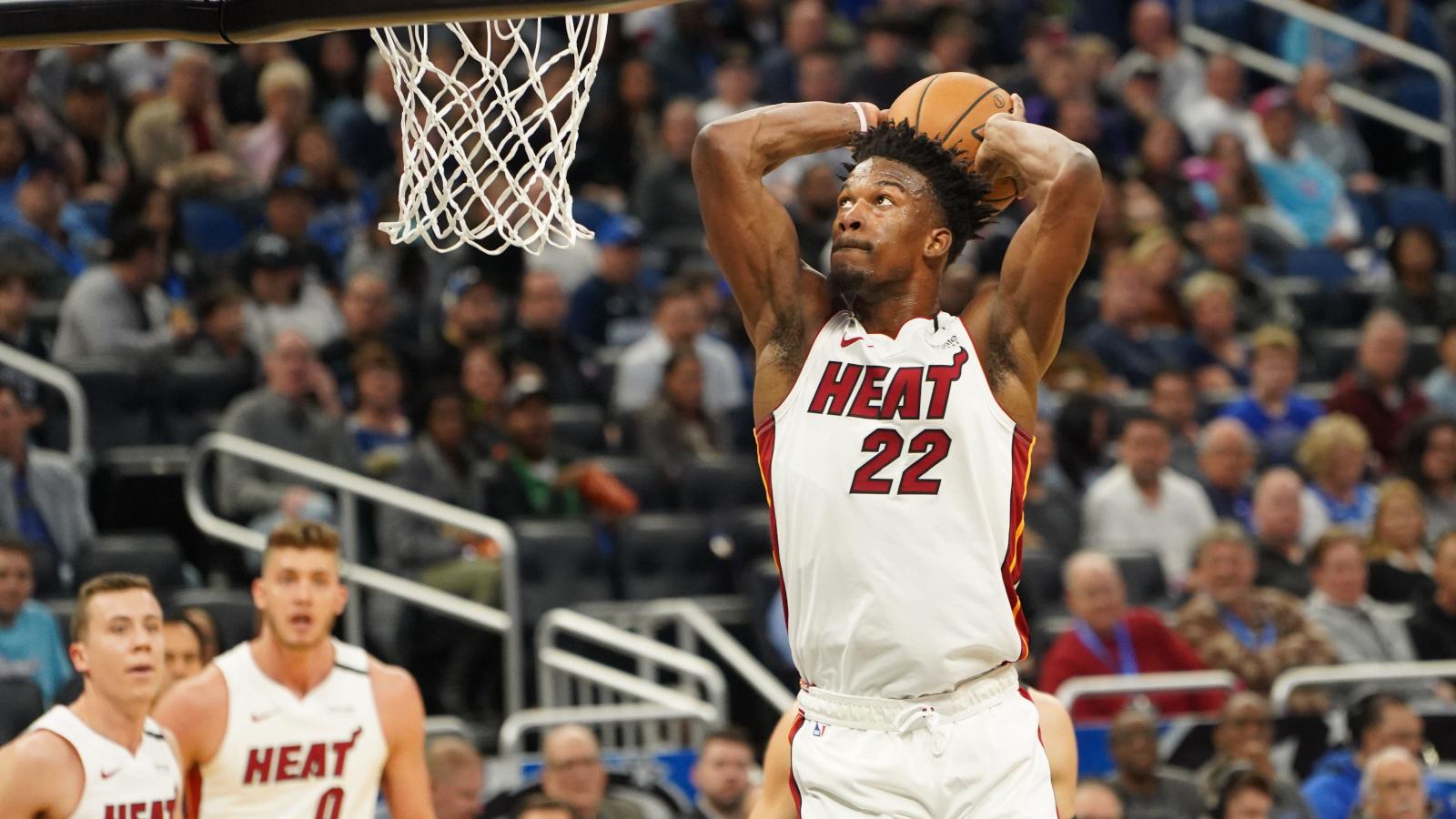 Jimmy Butler managed to tilt the scales and is now a 2023 NBA MVP frontrunner
Miami Heat defeated Boston Celtics in Game 7
He rose from a homeless teenager to a top NBA player
Miami Heat star player Jimmy Butler managed to tilt the scales and is now a 2023 NBA MVP frontrunner as playoffs enter the home stretch.
His postseason is a fairytale following Heats superb game where they defeated Boston Celtics in Game 7 and booked an NBA season finals. Butler drew attention and got more eyes since his first postseason game against the Milwaukee Bucks.
He is demonstrating that playing with force and drive has a similar impact as being a sharpshooter from beyond the arc, despite the fact that he lacks a real three-point shot. Given his performance this season, here are reasons why he is the perfect fit for the 2023 NBA MVP awards.
1. HIS ASSIST AND STEAL GAME IS TOP NOTCH
Butler has excelled in a variety of other arenas in addition to basketball. The Miami Heat star is currently ranked top in both total steals and assists throughout the postseason. As a result, Butler is an all-around performer for the Miami Heat, representing his club in historic NBA Finals.
It is only fair to include a player among the NBA's top players when they have such a significant impact on a team's chances of winning. And Butler has undoubtedly strengthened his case for becoming the playoffs' most important player although some quarters may disagree with this.
2. JIMMY BUTLER RANKS SECOND IN THIS POSTSEASON IN TERMS OF POINTS SCORED
Only Jayson Tatum has scored more points overall throughout the 2023 playoffs than Jimmy Butler, who is presently in second place. Butler currently seconds the Boston Celtics star in playoff points with 875, while Tatum finished with 1,023.
As a result, Butler has a chance to finish the playoffs as the tournament's leading scorer. He only needs 148 points to tie Jayson Tatum's record and 149 to surpass Tatum's mark for the 2023 postseason.
Being among the top scorers in the competition is an amazing feat for the 33-year-old given the strain he is under.
3. HE IS THE BEST PLAYER MIAMI HEAT HAS
Jimmy Butler has been the Miami Heat's line leader, serving as both an emotional and on-court motivator for a group of high performers. He gives Miami's rotation, which includes a substantial percentage of undrafted talent, and the ability to perform at a high level.
Butler has so far contributed 91 assists to his teammates in 17 postseason games while serving as both their greatest defender and key offensive threat. Without a doubt, he is, the driving force behind all the success Miami Heat has had so far.
His 2023 success is nothing compared to the struggle he has had in life. Butler had a difficult childhood, growing up in poverty and at some point, became homeless. His mother Londa Butler kicked him out when he was a teenager for being hard-headed.
She struggled with drug addiction and had a strained relationship with her son. Despite the challenges they faced, Butler has spoken publicly about his love and respect for his mother and the sacrifices she made to raise him.
MVP Award
MVP Award
MVP Award
MVP Award
MVP Award
MVP Award
MVP Award
MVP Award
MVP Award
MVP Award
MVP Award
MVP Award
MVP Award
MVP Award
MVP Award
MVP Award
MVP Award
MVP Award
MVP Award
MVP Award
MVP Award
MVP Award
MVP Award
MVP Award
MVP Award
MVP Award
MVP Award
MVP Award
MVP Award
MVP Award
MVP Award
MVP Award
MVP Award
MVP Award
MVP Award
MVP Award
MVP Award
MVP Award
MVP Award
MVP Award
MVP Award
MVP Award
MVP Award
MVP Award
MVP Award
MVP Award
MVP Award
MVP Award
MVP Award
MVP Award
MVP Award
MVP Award
MVP Award
MVP Award
MVP Award
MVP Award
MVP Award
MVP Award
MVP Award
MVP Award
MVP Award
MVP Award
MVP Award
MVP Award
MVP Award
MVP Award
MVP Award
MVP Award
MVP Award
MVP Award
MVP Award
MVP Award
MVP Award
MVP Award
MVP Award
MVP Award
MVP Award
MVP Award
MVP Award
MVP Award
MVP Award
MVP Award
MVP Award
MVP Award
MVP Award
MVP Award
MVP Award
MVP Award
MVP Award
MVP Award
MVP Award
MVP Award
MVP Award
MVP Award
MVP Award
MVP Award
MVP Award
MVP Award
MVP Award
MVP Award
MVP Award
MVP Award
MVP Award
MVP Award
MVP Award
MVP Award
MVP Award
MVP Award
MVP Award
MVP Award
MVP Award
MVP Award
MVP Award
MVP Award
MVP Award
MVP Award
MVP Award
MVP Award
MVP Award
MVP Award
MVP Award
MVP Award
MVP Award
MVP Award
MVP Award
MVP Award
MVP Award
MVP Award
MVP Award
MVP Award
MVP Award
MVP Award
MVP Award
MVP Award
MVP Award
MVP Award
MVP Award
MVP Award
MVP Award
MVP Award
MVP Award
MVP Award
MVP Award
MVP Award
MVP Award
MVP Award
MVP Award
MVP Award
MVP Award
MVP Award
MVP Award
MVP Award
MVP Award
MVP Award
MVP Award
MVP Award
MVP Award
MVP Award
MVP Award
MVP Award
MVP Award
MVP Award
MVP Award
MVP Award
MVP Award
MVP Award
MVP Award
MVP Award
MVP Award
MVP Award
MVP Award
MVP Award
MVP Award
MVP Award
MVP Award
MVP Award
MVP Award
MVP Award
MVP Award
MVP Award
MVP Award
MVP Award
MVP Award
MVP Award
MVP Award
MVP Award
MVP Award
MVP Award
MVP Award
MVP Award
MVP Award
MVP Award
MVP Award
MVP Award
MVP Award
MVP Award
MVP Award
MVP Award
MVP Award
MVP Award
MVP Award
MVP Award
MVP Award
MVP Award
MVP Award
MVP Award
MVP Award
MVP Award
MVP Award
MVP Award
MVP Award
MVP Award
MVP Award
MVP Award
MVP Award
MVP Award
MVP Award
MVP Award
MVP Award
MVP Award
MVP Award
MVP Award
MVP Award
MVP Award
MVP Award
MVP Award
MVP Award
MVP Award
MVP Award
MVP Award
MVP Award
MVP Award
MVP Award
MVP Award
MVP Award
MVP Award
MVP Award
MVP Award
MVP Award
MVP Award
MVP Award
MVP Award
MVP Award
MVP Award
MVP Award
MVP Award
MVP Award
MVP Award
MVP Award
MVP Award
MVP Award
MVP Award
MVP Award
MVP Award
MVP Award
MVP Award
MVP Award
MVP Award
MVP Award
MVP Award
MVP Award
MVP Award
MVP Award
MVP Award
MVP Award
MVP Award
MVP Award
MVP Award
MVP Award
MVP Award
MVP Award
MVP Award
MVP Award
MVP Award
MVP Award
MVP Award
MVP Award
MVP Award
MVP Award
MVP Award
MVP Award
MVP Award
MVP Award
MVP Award
MVP Award
MVP Award
MVP Award
MVP Award
MVP Award
MVP Award
MVP Award
MVP Award
MVP Award
MVP Award
MVP Award
MVP Award
MVP Award
MVP Award
MVP Award
MVP Award
MVP Award
MVP Award
MVP Award
MVP Award
MVP Award
MVP Award
MVP Award
MVP Award
MVP Award
MVP Award
MVP Award
MVP Award
MVP Award
MVP Award
MVP Award
MVP Award
MVP Award
MVP Award
MVP Award
MVP Award
MVP Award
MVP Award
MVP Award
MVP Award
MVP Award
MVP Award
MVP Award
MVP Award
MVP Award
MVP Award
MVP Award
MVP Award
MVP Award
MVP Award
MVP Award
MVP Award
MVP Award
MVP Award
MVP Award
MVP Award
MVP Award
MVP Award
MVP Award
MVP Award
MVP Award
MVP Award
MVP Award
MVP Award
MVP Award
MVP Award
MVP Award
MVP Award
MVP Award
MVP Award
MVP Award
MVP Award
MVP Award
MVP Award
MVP Award
MVP Award
MVP Award
MVP Award
MVP Award
MVP Award
MVP Award
MVP Award
MVP Award
MVP Award
MVP Award
MVP Award
MVP Award
MVP Award
MVP Award
MVP Award
MVP Award
MVP Award
MVP Award
MVP Award
MVP Award
MVP Award
MVP Award
MVP Award
MVP Award
MVP Award
MVP Award
MVP Award
MVP Award
MVP Award
MVP Award
MVP Award
MVP Award
MVP Award
MVP Award
MVP Award
MVP Award
MVP Award
MVP Award
MVP Award
MVP Award
MVP Award
MVP Award
MVP Award
MVP Award
MVP Award
MVP Award
MVP Award
MVP Award
MVP Award
MVP Award
MVP Award
MVP Award
MVP Award
MVP Award
MVP Award
MVP Award
MVP Award
MVP Award
MVP Award
MVP Award
MVP Award
MVP Award
MVP Award
MVP Award
MVP Award
MVP Award
MVP Award
MVP Award
MVP Award
MVP Award
MVP Award
MVP Award
MVP Award
MVP Award
MVP Award
MVP Award
MVP Award
MVP Award
MVP Award
MVP Award
MVP Award
MVP Award
MVP Award
MVP Award
MVP Award
MVP Award
MVP Award
MVP Award
MVP Award
MVP Award
MVP Award
MVP Award
MVP Award
MVP Award
MVP Award
MVP Award
MVP Award
MVP Award
MVP Award
MVP Award
MVP Award
MVP Award
MVP Award
MVP Award
MVP Award
MVP Award
MVP Award
MVP Award
MVP Award
MVP Award
MVP Award
MVP Award
MVP Award
MVP Award
MVP Award
MVP Award
MVP Award
MVP Award
MVP Award
MVP Award
MVP Award
MVP Award
MVP Award
MVP Award
MVP Award
MVP Award
MVP Award
MVP Award
MVP Award
MVP Award
MVP Award
MVP Award
MVP Award
MVP Award
MVP Award
MVP Award
MVP Award
MVP Award
MVP Award
MVP Award
MVP Award
MVP Award
MVP Award
MVP Award
MVP Award
MVP Award
MVP Award
MVP Award
MVP Award
MVP Award
MVP Award
MVP Award
MVP Award
MVP Award
MVP Award
MVP Award
MVP Award
MVP Award
MVP Award
MVP Award
MVP Award
MVP Award
MVP Award
MVP Award
MVP Award
MVP Award
MVP Award
MVP Award
MVP Award
MVP Award
MVP Award
MVP Award
MVP Award
MVP Award
MVP Award
MVP Award
MVP Award
MVP Award
MVP Award
MVP Award
MVP Award
MVP Award
MVP Award
MVP Award
MVP Award
MVP Award
MVP Award
MVP Award
MVP Award
MVP Award
MVP Award
MVP Award
MVP Award
MVP Award
MVP Award
MVP Award
MVP Award
MVP Award
MVP Award
MVP Award
MVP Award
MVP Award
MVP Award
MVP Award
MVP Award
MVP Award
MVP Award
MVP Award
MVP Award
MVP Award
MVP Award
MVP Award
MVP Award
MVP Award
MVP Award
MVP Award
MVP Award
MVP Award
MVP Award
MVP Award
MVP Award
MVP Award
MVP Award
MVP Award
MVP Award
MVP Award
MVP Award
MVP Award
MVP Award
MVP Award
MVP Award
MVP Award
MVP Award
MVP Award
MVP Award
MVP Award
MVP Award
MVP Award
MVP Award
MVP Award
MVP Award
MVP Award
MVP Award
MVP Award
MVP Award
MVP Award
MVP Award
MVP Award
MVP Award
MVP Award
MVP Award
MVP Award
MVP Award
MVP Award
MVP Award
MVP Award
MVP Award
MVP Award
MVP Award
MVP Award
MVP Award
MVP Award
MVP Award
MVP Award
MVP Award
MVP Award
MVP Award
MVP Award
MVP Award
MVP Award
MVP Award
MVP Award
MVP Award
MVP Award
MVP Award
MVP Award
MVP Award
MVP Award
MVP Award
MVP Award
MVP Award
MVP Award
MVP Award
MVP Award
MVP Award
MVP Award
MVP Award
MVP Award
MVP Award
MVP Award
MVP Award
MVP Award
MVP Award
MVP Award
MVP Award
MVP Award
MVP Award
MVP Award
MVP Award
MVP Award
MVP Award
MVP Award
MVP Award
MVP Award
MVP Award
MVP Award
MVP Award
MVP Award
MVP Award
MVP Award
MVP Award
MVP Award
MVP Award
MVP Award
MVP Award
MVP Award
MVP Award
MVP Award
MVP Award
MVP Award
MVP Award
MVP Award
MVP Award
MVP Award
MVP Award
MVP Award
MVP Award
MVP Award
MVP Award
MVP Award
MVP Award
MVP Award
MVP Award
MVP Award
MVP Award
MVP Award
MVP Award
MVP Award
MVP Award
MVP Award
MVP Award
MVP Award
MVP Award
MVP Award
MVP Award
MVP Award
MVP Award
MVP Award
MVP Award
MVP Award
MVP Award
MVP Award
MVP Award
MVP Award
MVP Award
MVP Award
MVP Award
MVP Award
MVP Award
MVP Award
MVP Award
MVP Award
MVP Award
MVP Award
MVP Award
MVP Award
MVP Award
MVP Award
MVP Award
MVP Award
MVP Award
MVP Award
MVP Award
MVP Award
MVP Award
MVP Award
MVP Award
MVP Award
MVP Award
MVP Award
MVP Award
MVP Award
MVP Award
MVP Award
MVP Award
MVP Award
MVP Award
MVP Award
MVP Award
MVP Award
MVP Award
MVP Award
MVP Award
MVP Award
MVP Award
MVP Award
MVP Award
MVP Award
MVP Award
MVP Award
MVP Award
MVP Award
MVP Award
MVP Award
MVP Award
MVP Award
MVP Award
MVP Award
MVP Award
MVP Award
MVP Award
MVP Award
MVP Award
MVP Award
MVP Award
MVP Award
MVP Award
MVP Award
MVP Award
MVP Award
MVP Award
MVP Award
MVP Award
MVP Award
MVP Award
MVP Award
MVP Award
MVP Award
MVP Award
MVP Award
MVP Award
MVP Award
MVP Award
MVP Award
MVP Award
MVP Award
MVP Award
MVP Award
MVP Award
MVP Award
MVP Award
MVP Award
MVP Award
MVP Award
MVP Award
MVP Award
MVP Award
MVP Award
MVP Award
MVP Award
MVP Award
MVP Award
MVP Award
MVP Award
MVP Award
MVP Award
MVP Award
MVP Award
MVP Award
MVP Award
MVP Award
MVP Award
MVP Award
MVP Award
MVP Award
MVP Award
MVP Award
MVP Award
MVP Award
MVP Award
MVP Award
MVP Award
MVP Award
MVP Award
MVP Award
MVP Award
MVP Award
MVP Award
MVP Award
MVP Award
MVP Award
MVP Award
MVP Award
MVP Award
MVP Award
MVP Award
MVP Award
MVP Award
MVP Award
MVP Award
MVP Award
MVP Award
MVP Award
MVP Award
MVP Award
MVP Award
MVP Award
MVP Award
MVP Award
MVP Award
MVP Award
MVP Award
MVP Award
MVP Award
MVP Award
MVP Award
MVP Award
MVP Award
MVP Award
MVP Award
MVP Award
MVP Award
MVP Award
MVP Award
MVP Award
MVP Award
MVP Award
MVP Award
MVP Award
MVP Award
MVP Award
MVP Award
MVP Award
MVP Award
MVP Award
MVP Award
MVP Award
MVP Award
MVP Award
MVP Award
MVP Award
MVP Award
MVP Award
MVP Award
MVP Award
MVP Award
MVP Award
MVP Award
MVP Award
MVP Award
MVP Award
MVP Award
MVP Award
MVP Award
MVP Award
MVP Award
MVP Award
MVP Award
MVP Award
MVP Award
MVP Award
MVP Award
MVP Award
MVP Award
MVP Award
MVP Award
MVP Award
MVP Award
MVP Award
MVP Award
MVP Award
MVP Award
MVP Award
MVP Award
MVP Award
MVP Award
MVP Award
MVP Award
MVP Award
MVP Award
MVP Award
MVP Award
MVP Award
MVP Award
MVP Award
MVP Award
MVP Award
MVP Award
MVP Award
MVP Award
MVP Award
MVP Award
MVP Award
MVP Award
MVP Award
MVP Award
MVP Award
MVP Award
MVP Award
MVP Award
MVP Award
MVP Award
MVP Award
MVP Award
MVP Award
MVP Award
MVP Award
MVP Award
MVP Award
MVP Award
MVP Award
MVP Award
MVP Award
MVP Award
MVP Award
MVP Award
MVP Award
MVP Award
MVP Award
MVP Award
MVP Award
MVP Award
MVP Award
MVP Award
MVP Award
MVP Award
MVP Award
MVP Award
MVP Award
MVP Award
MVP Award
MVP Award
MVP Award
MVP Award
MVP Award
MVP Award
MVP Award
MVP Award
MVP Award
MVP Award
MVP Award
MVP Award
MVP Award
MVP Award
MVP Award
MVP Award
MVP Award
MVP Award
MVP Award
MVP Award
MVP Award
MVP Award
MVP Award
MVP Award
MVP Award
MVP Award
MVP Award
MVP Award
MVP Award
MVP Award
MVP Award
MVP Award
MVP Award
MVP Award
MVP Award
MVP Award
MVP Award
MVP Award
MVP Award
MVP Award
MVP Award
MVP Award
MVP Award
MVP Award
MVP Award
MVP Award
MVP Award
MVP Award
MVP Award
MVP Award
MVP Award
MVP Award
MVP Award
MVP Award
MVP Award
MVP Award
MVP Award
MVP Award
MVP Award
MVP Award
MVP Award
MVP Award
MVP Award
MVP Award
MVP Award
MVP Award
MVP Award
MVP Award
MVP Award
MVP Award
MVP Award
MVP Award
MVP Award
MVP Award
MVP Award
MVP Award
MVP Award
MVP Award
MVP Award
MVP Award
MVP Award
MVP Award
MVP Award
MVP Award
MVP Award
MVP Award
MVP Award
MVP Award
MVP Award
MVP Award
MVP Award
MVP Award
MVP Award
MVP Award
MVP Award
MVP Award
MVP Award
MVP Award
MVP Award
MVP Award
MVP Award
MVP Award
MVP Award
MVP Award
MVP Award
MVP Award
MVP Award
MVP Award
MVP Award
MVP Award
MVP Award
MVP Award
MVP Award
MVP Award
MVP Award
MVP Award
MVP Award
MVP Award
MVP Award
MVP Award
MVP Award
MVP Award
MVP Award
MVP Award
MVP Award
MVP Award
MVP Award
MVP Award
MVP Award
MVP Award
MVP Award
MVP Award
MVP Award
MVP Award
MVP Award
MVP Award
MVP Award
MVP Award
MVP Award
MVP Award
MVP Award
MVP Award
MVP Award
MVP Award
MVP Award
MVP Award
MVP Award
MVP Award
MVP Award
MVP Award
MVP Award
MVP Award
MVP Award
MVP Award
MVP Award
MVP Award
MVP Award
MVP Award
MVP Award
MVP Award
MVP Award
MVP Award
MVP Award
MVP Award
MVP Award
MVP Award
MVP Award
MVP Award
MVP Award
MVP Award
MVP Award
MVP Award
MVP Award
MVP Award
MVP Award
MVP Award
MVP Award
MVP Award
MVP Award
MVP Award
MVP Award
MVP Award
MVP Award
MVP Award
MVP Award
MVP Award
MVP Award
MVP Award
MVP Award
MVP Award
MVP Award
MVP Award
MVP Award
MVP Award
MVP Award
MVP Award
MVP Award
MVP Award
MVP Award
MVP Award
MVP Award
MVP Award
MVP Award
MVP Award
MVP Award
MVP Award
MVP Award
MVP Award
MVP Award
MVP Award
MVP Award
MVP Award
MVP Award
MVP Award
MVP Award
MVP Award
MVP Award
MVP Award
MVP Award
MVP Award
MVP Award
MVP Award
MVP Award
MVP Award
MVP Award
MVP Award
MVP Award
MVP Award
MVP Award
MVP Award
MVP Award
MVP Award
MVP Award
MVP Award
MVP Award
MVP Award
MVP Award
MVP Award
MVP Award
MVP Award
MVP Award
MVP Award
MVP Award
MVP Award
MVP Award
MVP Award
MVP Award
MVP Award
MVP Award
MVP Award
MVP Award
MVP Award
MVP Award
MVP Award
MVP Award
MVP Award
MVP Award
MVP Award
MVP Award
MVP Award
MVP Award
MVP Award
MVP Award
MVP Award
MVP Award
MVP Award
MVP Award
MVP Award
MVP Award
MVP Award
MVP Award
MVP Award
MVP Award
MVP Award
MVP Award
MVP Award
MVP Award
MVP Award
MVP Award
MVP Award
MVP Award
MVP Award
MVP Award
MVP Award
MVP Award
MVP Award
MVP Award
MVP Award
MVP Award
MVP Award
MVP Award
MVP Award
MVP Award
MVP Award
MVP Award
MVP Award
MVP Award
MVP Award
MVP Award
MVP Award
MVP Award
MVP Award
MVP Award
MVP Award
MVP Award
MVP Award
MVP Award
MVP Award
MVP Award
MVP Award
MVP Award
MVP Award
MVP Award
MVP Award
MVP Award
MVP Award
MVP Award
MVP Award
MVP Award
MVP Award
MVP Award
MVP Award
MVP Award
MVP Award
MVP Award
MVP Award
MVP Award
MVP Award
MVP Award
MVP Award
MVP Award
MVP Award
MVP Award
MVP Award
MVP Award
MVP Award
MVP Award
MVP Award
MVP Award
MVP Award
MVP Award
MVP Award
MVP Award
MVP Award
MVP Award
MVP Award
MVP Award
MVP Award
MVP Award
MVP Award
MVP Award
MVP Award
MVP Award
MVP Award
MVP Award
MVP Award
MVP Award
MVP Award
MVP Award
MVP Award
MVP Award
MVP Award
MVP Award
MVP Award
MVP Award
MVP Award
MVP Award
MVP Award
MVP Award
MVP Award
MVP Award
MVP Award
MVP Award
MVP Award
MVP Award
MVP Award
MVP Award
MVP Award
MVP Award
MVP Award
MVP Award
MVP Award
MVP Award
MVP Award
MVP Award
MVP Award
MVP Award
MVP Award
MVP Award
MVP Award
MVP Award
MVP Award
MVP Award
MVP Award
MVP Award
MVP Award
MVP Award
MVP Award
MVP Award
MVP Award
MVP Award
MVP Award
MVP Award
MVP Award
MVP Award
MVP Award
MVP Award
MVP Award
MVP Award
MVP Award
MVP Award
MVP Award
MVP Award
MVP Award
MVP Award
MVP Award
MVP Award
MVP Award
MVP Award
MVP Award
MVP Award
MVP Award
MVP Award
MVP Award
MVP Award
MVP Award
MVP Award
MVP Award
MVP Award
MVP Award
MVP Award
MVP Award
MVP Award
MVP Award
MVP Award
MVP Award
MVP Award
MVP Award
MVP Award
MVP Award
MVP Award
MVP Award
MVP Award
MVP Award
MVP Award
MVP Award
MVP Award
MVP Award
MVP Award
MVP Award
MVP Award
MVP Award
MVP Award
MVP Award
MVP Award
MVP Award
MVP Award
MVP Award
MVP Award
MVP Award
MVP Award
MVP Award
MVP Award
MVP Award
MVP Award
MVP Award
MVP Award
MVP Award
MVP Award
MVP Award
MVP Award
MVP Award
MVP Award
MVP Award
MVP Award
MVP Award
MVP Award
MVP Award
MVP Award
MVP Award
MVP Award
MVP Award
MVP Award
MVP Award
MVP Award
MVP Award
MVP Award
MVP Award
MVP Award
MVP Award
MVP Award
MVP Award
MVP Award
MVP Award
MVP Award
MVP Award
MVP Award
MVP Award
MVP Award
MVP Award
MVP Award
MVP Award
MVP Award
MVP Award
MVP Award
MVP Award
MVP Award
MVP Award
MVP Award
MVP Award
MVP Award
MVP Award
MVP Award
MVP Award
MVP Award
MVP Award
MVP Award
MVP Award
MVP Award
MVP Award
MVP Award
MVP Award
MVP Award
MVP Award
MVP Award
MVP Award
MVP Award
MVP Award
MVP Award
MVP Award
MVP Award
MVP Award
MVP Award
MVP Award
MVP Award
MVP Award
MVP Award
MVP Award
MVP Award
MVP Award
MVP Award
MVP Award
MVP Award
MVP Award
MVP Award
MVP Award
MVP Award
MVP Award
MVP Award
MVP Award
MVP Award
MVP Award
MVP Award
MVP Award
MVP Award
MVP Award
MVP Award
MVP Award
MVP Award
MVP Award
MVP Award
MVP Award
MVP Award
MVP Award
MVP Award
MVP Award
MVP Award
MVP Award
MVP Award
MVP Award
MVP Award
MVP Award
MVP Award
MVP Award
MVP Award
MVP Award
MVP Award
MVP Award
MVP Award
MVP Award
MVP Award
MVP Award
MVP Award
MVP Award
MVP Award
MVP Award
MVP Award
MVP Award
MVP Award
MVP Award
MVP Award
MVP Award
MVP Award
MVP Award
MVP Award
MVP Award
MVP Award
MVP Award
MVP Award
MVP Award
MVP Award
MVP Award
MVP Award
MVP Award
MVP Award
MVP Award
MVP Award
MVP Award
MVP Award
MVP Award
MVP Award
MVP Award
MVP Award
MVP Award
MVP Award
MVP Award
MVP Award
MVP Award
MVP Award
MVP Award
MVP Award
MVP Award
MVP Award
MVP Award
MVP Award
MVP Award
MVP Award
MVP Award
MVP Award
MVP Award
MVP Award
MVP Award
MVP Award
MVP Award
MVP Award
MVP Award
MVP Award
MVP Award
MVP Award
MVP Award
MVP Award
MVP Award
MVP Award
MVP Award
MVP Award
MVP Award
MVP Award
MVP Award
MVP Award
MVP Award
MVP Award
MVP Award
MVP Award
MVP Award
MVP Award
MVP Award
MVP Award
MVP Award
MVP Award
MVP Award
MVP Award
MVP Award
MVP Award
MVP Award
MVP Award
MVP Award
MVP Award
MVP Award
MVP Award
MVP Award
MVP Award
MVP Award
MVP Award
MVP Award
MVP Award
MVP Award
MVP Award
MVP Award
MVP Award
MVP Award
MVP Award
MVP Award
MVP Award
MVP Award
MVP Award
MVP Award
MVP Award
MVP Award
MVP Award
MVP Award
MVP Award
MVP Award
MVP Award
MVP Award
MVP Award
MVP Award
MVP Award
MVP Award
MVP Award
MVP Award
MVP Award
MVP Award
MVP Award
MVP Award
MVP Award
MVP Award
MVP Award
MVP Award
MVP Award
MVP Award
MVP Award
MVP Award
MVP Award
MVP Award
MVP Award
MVP Award
MVP Award
MVP Award
MVP Award
MVP Award
MVP Award
MVP Award
MVP Award
MVP Award
MVP Award
MVP Award
MVP Award
MVP Award
MVP Award
MVP Award
MVP Award
MVP Award
MVP Award
MVP Award
MVP Award
MVP Award
MVP Award
MVP Award
MVP Award
MVP Award
MVP Award
MVP Award
MVP Award
MVP Award
MVP Award
MVP Award
MVP Award
MVP Award
MVP Award
MVP Award
MVP Award
MVP Award
MVP Award
MVP Award
MVP Award
MVP Award
MVP Award
MVP Award
MVP Award
MVP Award
MVP Award
MVP Award
MVP Award
MVP Award
MVP Award
MVP Award
MVP Award
MVP Award
MVP Award
MVP Award
MVP Award
MVP Award
MVP Award
MVP Award
MVP Award
MVP Award
MVP Award
MVP Award
MVP Award
MVP Award
MVP Award
MVP Award
MVP Award
MVP Award
MVP Award
MVP Award
MVP Award
MVP Award
MVP Award
MVP Award
MVP Award
MVP Award
MVP Award
MVP Award
MVP Award
MVP Award
MVP Award
MVP Award
MVP Award
MVP Award
MVP Award
MVP Award
MVP Award
MVP Award
MVP Award
MVP Award
MVP Award
MVP Award
MVP Award
MVP Award
MVP Award
MVP Award
MVP Award
MVP Award
MVP Award
MVP Award
MVP Award
MVP Award
MVP Award
MVP Award
MVP Award
MVP Award
MVP Award
MVP Award
MVP Award
MVP Award
MVP Award
MVP Award
MVP Award
MVP Award
MVP Award
MVP Award
MVP Award
MVP Award
MVP Award
MVP Award
MVP Award
MVP Award
MVP Award
MVP Award