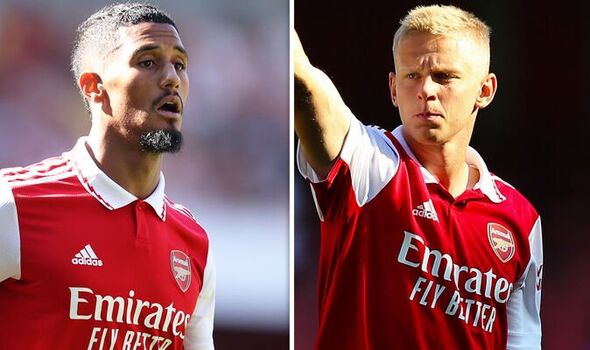 Arsenal's Premier League season is yet to come to an end with their title race against Manchester City
Arsenal have to win the rest of their matches if they are to win the 2022/23 Premier League title
The Gunners will however have to finish the season without defenders Oleksandr Zinchenko and William Saliba
Arsenal and their aspirations for the Premier League title have been dealt a significant blow as William Saliba and Oleksandr Zinchenko will not feature for the remainder of the season.
Despite mounting a surprising title challenge, the Gunners find themselves just one point behind current league leaders Manchester City with only three matches left to play. However, their pursuit of overturning the deficit at the top will have to be undertaken without the services of key defenders Saliba and Zinchenko.
Saliba has been sidelined with a back injury since sustaining it during Arsenal's UEFA Europa League defeat against Sporting CP in mid-March. Notably, the team's form has noticeably declined since his absence, with Rob Holding filling in the defensive role, and more recently, Jakib Kiwior demonstrating better performances in recent games. Unfortunately, Arsenal has only managed to keep one clean sheet since Saliba's injury, resulting in a loss of crucial nine points that could ultimately prove detrimental to their title ambitions.
In a more recent setback, Zinchenko has also become a cause for concern due to a calf injury. He suffered the ailment during Arsenal's impressive 2-0 victory over Newcastle United at St. James' Park. Zinchenko was substituted in the 61st minute of the game as a result.
The absence of Saliba and Zinchenko leaves Arsenal with a challenging task as they aim to secure the coveted Premier League title. The team must now rely on alternative defensive options and rally together to compensate for the absence of these influential players in the final stages of the season.
How Arsenal could line up without Zinchenko and Saliba for the rest of the Premier League season
Following Saliba's injury, Rob Holding's performances were disappointing, characterized by several subpar outings. However, the highly impressive Polish defender, Jakub Kiwior, has stepped in as his replacement and is anticipated to continue in that role going forward.
In recent weeks, Arsenal's defensive solidity has improved significantly with the inclusion of the 23-year-old alongside Gabriel. This partnership has notably enhanced the team's defensive structure, exemplified by their impressive clean sheet at St. James' Park.
At the left-back position, Arsenal boasts one of the premier league's top alternatives. Kieran Tierney is a high-quality choice for that role. While he may not adopt the same "inverted" style as Zinchenko, Tierney seamlessly integrates into the back four, offering elegance and composure. His presence adds a sense of class and stability to the team as they aim to maintain composure and composure in their performances until the end of the season.