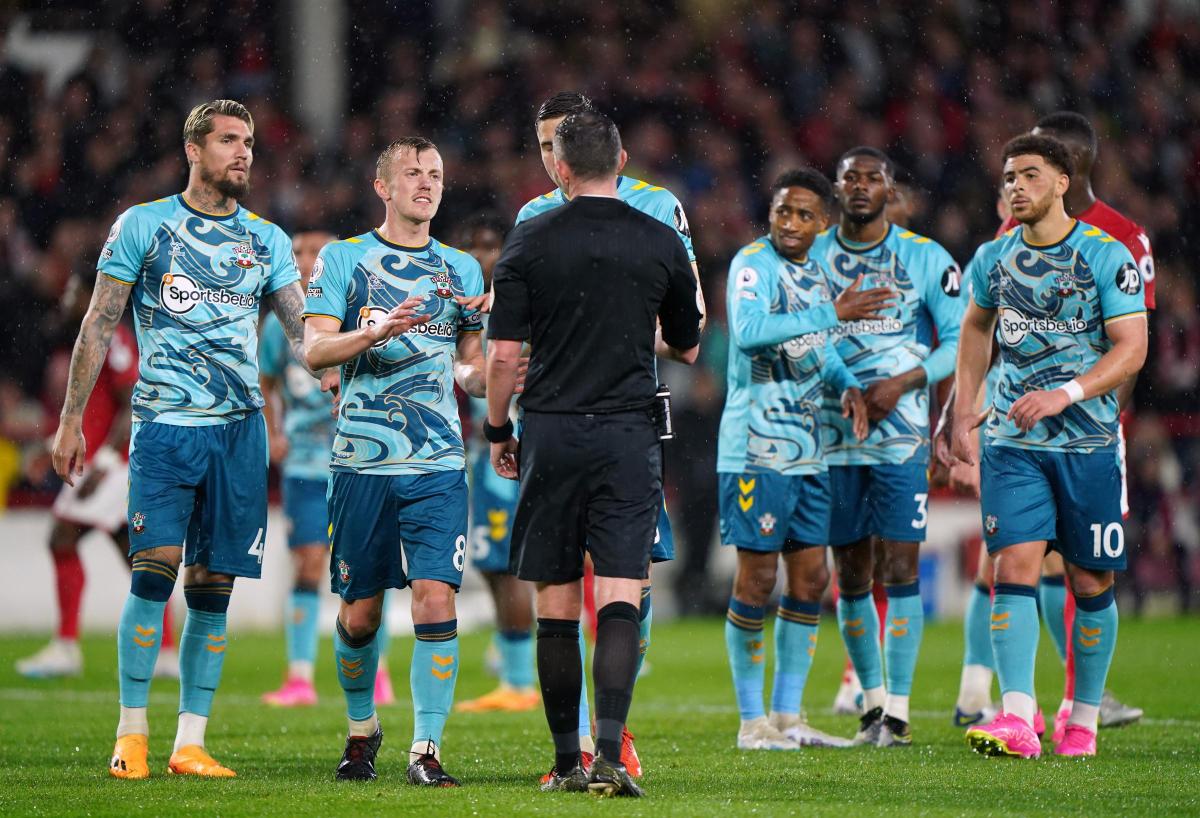 The 2022/23 Premier League season has only four matches left to play including this weekend
The relegation battle is tighter than it has even been in the history of the Premier League
Southampton might be the first team to be relegated this season should they fail to win this weekend
As the Premier League campaign reaches its crucial stage, teams are now experiencing either heartbreak or the fulfilment of their season-long efforts.
The relegation battle in the 2022/23 Premier League season has been nothing short of remarkable. With only three games remaining, seven teams still find themselves mathematically at risk of relegation to the Championship. Among these teams are Bournemouth, West Ham, Nottingham Forest, Everton, Leicester, Leeds, and Southampton.
Although Bournemouth and West Ham face the possibility of relegation, their current points gap provides them with a level of security, making it highly unlikely for them to be demoted given the extraordinary circumstances required. The real competition for survival primarily revolves around the remaining five teams.
The tension and anticipation are palpable as these clubs battle it out to secure their top-flight status for another season. With so much at stake, every match becomes a fierce test of character and determination. The remaining fixtures will undoubtedly be crucial in determining which teams will face the heartache of relegation and which will achieve their ultimate goal of staying in the Premier League.
Can Southampton get relegated from the Premier League this weekend?
As we approach the 36th round of Premier League games, Southampton emerges as the team facing the most precarious situation. Occupying the bottom spot in the league table, they have accumulated a mere 25 points throughout the season.
Their current position places them six points behind both Leeds and Leicester, who stand at 30 points. Additionally, they trail Everton, who currently sit above the relegation zone with 32 points, and Nottingham Forest, with 33 points. Everton, in particular, warrants close attention as they hover just above the threshold of safety.
To avoid mathematical relegation, Southampton must ensure they remain no more than six points adrift of Everton by the end of the weekend. However, if Southampton fails to secure a victory or even a draw in their upcoming home match against Fulham on May 13th at 15:00, their fate will be sealed. Even with a win against Fulham, they could still face relegation if Everton manages to defeat Manchester City in their respective fixture.
Leicester and Leeds, while immune to relegation this weekend, still possess the ability to push Southampton further towards their demise. If we discount Everton's chances and assume they suffer defeat against City, even a solitary point earned by Leicester and Leeds would render Southampton incapable of closing the gap.
Considering the upcoming matches, it appears highly probable that Southampton will succumb to a defeat against Fulham on home turf, leading to their relegation witnessed by their own fans. Their significantly inferior goal difference further compounds their plight, making it unlikely for them to escape relegation, even if they manage to stay within six points of safety by the weekend's end.
Which Premier League teams can qualify for Europe this weekend?
Tottenham finds themselves in a precarious position as their hopes for Champions League qualification could be shattered this weekend. They closely monitor the performance of Manchester United, as a victory for the Red Devils against Wolves coupled with a loss or draw for Tottenham against Aston Villa would eliminate Spurs from contention. With only two games remaining, they would trail United by a significant margin of eight or nine points, occupying the fourth spot.
Interestingly, despite trailing Tottenham by two points, Brighton still has a chance to stay in the race regardless of the weekend's outcomes. Even if Brighton suffers a loss against Arsenal and United secures a win, the Seagulls would accumulate 55 points compared to United's 66 points. Although an 11-point gap seems formidable, Brighton still has four games left to play, allowing them to compete for 12 points. While this would be a challenging endeavour, their lower number of games played so far keeps their hopes alive.
Unai Emery's slim Champions League aspirations hinge on anything other than a victory for Aston Villa and a defeat for Manchester United. Both Newcastle and Manchester United aim to secure places in either the Europa Conference League or the qualifying rounds of the Europa League, but their ultimate objective is Champions League qualification.
Despite the pursuit, neither Newcastle nor Manchester United can mathematically secure Champions League qualification just yet, although Newcastle can come remarkably close. If Liverpool suffers a loss while Newcastle emerges victorious, the Magpies would establish a six-point advantage over Liverpool, leaving the Reds with only six more points available to play for. Newcastle currently maintains a goal difference that is eight goals better than Liverpool's, further strengthening their position.
The battle for European spots remains intense, with each team striving to achieve their respective goals while keeping a watchful eye on their competitors. The coming matches will play a crucial role in determining the final outcomes and which teams will earn coveted European berths.