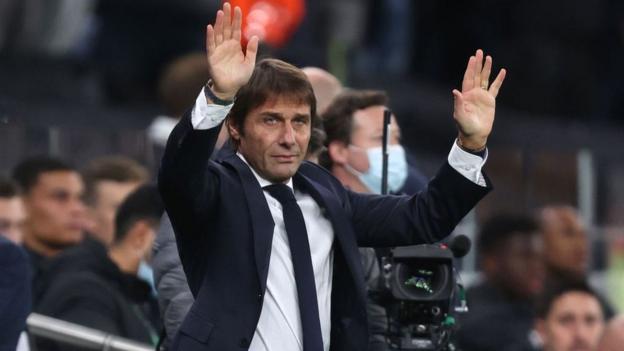 Premier League side Tottenham Hotspur have fired head coach Antonio Conte
Conte has been fired by the North London club less than two years after taking over
Just what went wrong for the former Inter Milan and Chelsea boss who won league titles for his two previous clubs
Antonio Conte has been fired by Tottenham Hotspur, confirming one of football's worst-kept secrets.
The Italian was fired on Sunday night, more than a week after criticizing his players' commitment after they let a two-goal lead slide late in their 3-3 draw at struggling Southampton.
Conte had long been anticipated to leave Spurs after his contract expired at the end of the season, but with results and performances continuing to deteriorate, chairman Daniel Levy has decided to take immediate action and make a change in the dugout.
Tottenham's 2022/23 season has been extremely disappointing, prompting the query, "Why did Conte fail?"\
While Conte is clearly a win-now short-term coach, there were reasons to think he could be a success at a club like Tottenham.
What went wrong at Tottenham Hotspur for Antonio Conte?
One of the Italian's greatest assets is his ability to extract every last drop of performance from athletes who might be considered average or unexceptional. Tottenham has a number of players who match that description.
This was proven true in his first season, with Emerson Royal, Eric Dier, Ben Davies, Pierre-Emile Hojbjerg, and Ryan Sessegnon all stepping up to help Spurs achieve an unlikely top-four finish.
Tottenham were regarded as a quick, direct, and streetwise squad by the summer of 2022. A frontline that included Dejan Kulusevski, Harry Kane, and Golden Boot winner Son Heung-min was regarded as one of the most fearsome in Europe, and they had previously faced Manchester City and Liverpool.
Spurs' summer window was deemed good-not-great at the time, and it has not aged well for a variety of reasons.
Fabio Paratici and his team were unable to persuade Alessandro Bastoni, their top centre-back target, to quit Inter, and had to rely on Clement Lenglet. Yves Bissouma and Richarlison are experienced Premier League players, but unlike January 2022 signings Kulusevski and Rodrigo Bentancur, they had never been taught in an Italian/Serie A style and had difficult debut seasons.
Spurs' first signing of the summer, Ivan Perisic, seemed to indicate that the club was ready to change their transfer strategy for Conte. The veteran Croatian began well in north London, but with so many miles on his legs, his form has plummeted, as is always the danger with these win-now moves for older players.
Spurs were still in the Premier League's top four at the time of Conte's dismissal, perhaps the greatest testament to his ability to grind out results when the club's world seemed to be collapsing.
Conte will not be venerated in the same way as Mauricio Pochettino, Martin Jol, or Harry Redknapp due to his disrespect for Tottenham, whether direct or indirect and this season's underperformance. However, he was not an outright failure and should not be grouped with his immediate predecessors Jose Mourinho or Nuno Espirito Santo.
This is a separation of the ways that both parties are required in order to re-find themselves. Conte can now travel to Italy for some much-needed rest, while Spurs can concentrate on finding a long-term head coach.