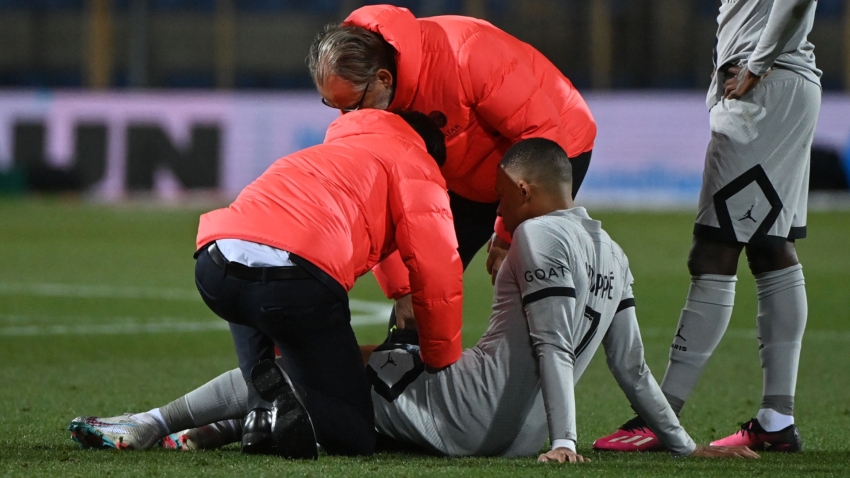 PSG paid a visit to Montpellier in the Ligue on Tuesday night and won the match 3-1
The Parisians however lost their star-forward Kylian Mbappe in the match on Tuesday
PSG boss Christophe Galtier has insisted Mbappe's injury is not serious heading into Champions League knockouts
Following his limping off against Montpellier, Kylian Mbappe's injury "does not look particularly serious," according to Paris Saint-Germain head coach Christophe Galtier.
Mbappe was taken off in the 21st minute of PSG's 3-1 triumph on Tuesday and grabbed his hamstring as he headed straight down the tunnel. Neymar had previously been ruled out of the Ligue 1 encounter due to muscle exhaustion.
The forward sustained an injury after missing a penalty and its subsequent retake for infringement by Montpellier. Despite this, his club went on to win the match thanks to goals from Lionel Messi, Fabian Ruiz, and 16-year-old Warren Zaire-Emery.
However, with less than two weeks until the first leg of PSG's Champions League last-16 tie with Bayern Munich, there was a lot of anxiety regarding some players' availability after the game when Sergio Ramos also left the game injured in the first half.
Galtier, speaking to reporters at his post-game press conference, allayed concerns regarding Mbappe and Ramos' wounds by saying: "For both parties, it doesn't appear to be very significant.
"We'll find out. They are undoubtedly two key players. There isn't much cause for concern based on what we said to each other and observed during halftime.
"Kylian took a blow behind the knee and on the muscle. Is it a contusion, a hematoma. We don't know yet. With the sequence of matches, we prefer not to take any risks.
"Sergio, when falling, hurt his adductor. We think it's not serious. He preferred to come off and not take any risks regarding the discomfort."
PSG won Ligue 1 last season, but head coach Mauricio Pochettino was fired for failing to lead the team to its first Champions League victory.
Galtier is attempting to prevent the same outcome, despite the fact that he claims he anticipated the pressure before taking the position.
Yes, automatically, when you sign for PSG, there is an obligation to win," he said.
"The Champions League requires you to be ready. We have players coming back, and we've just had a World Cup. I knew before coming that there was pressure."
Chelsea reportedly made a mistake with the required paperwork, preventing PSG from making a deadline-day move for Hakim Ziyech.
Galtier's response to the question of whether he regretted not inviting Ziyech in was, "You know it. Pablo Sarabia's departure needed to be filled.