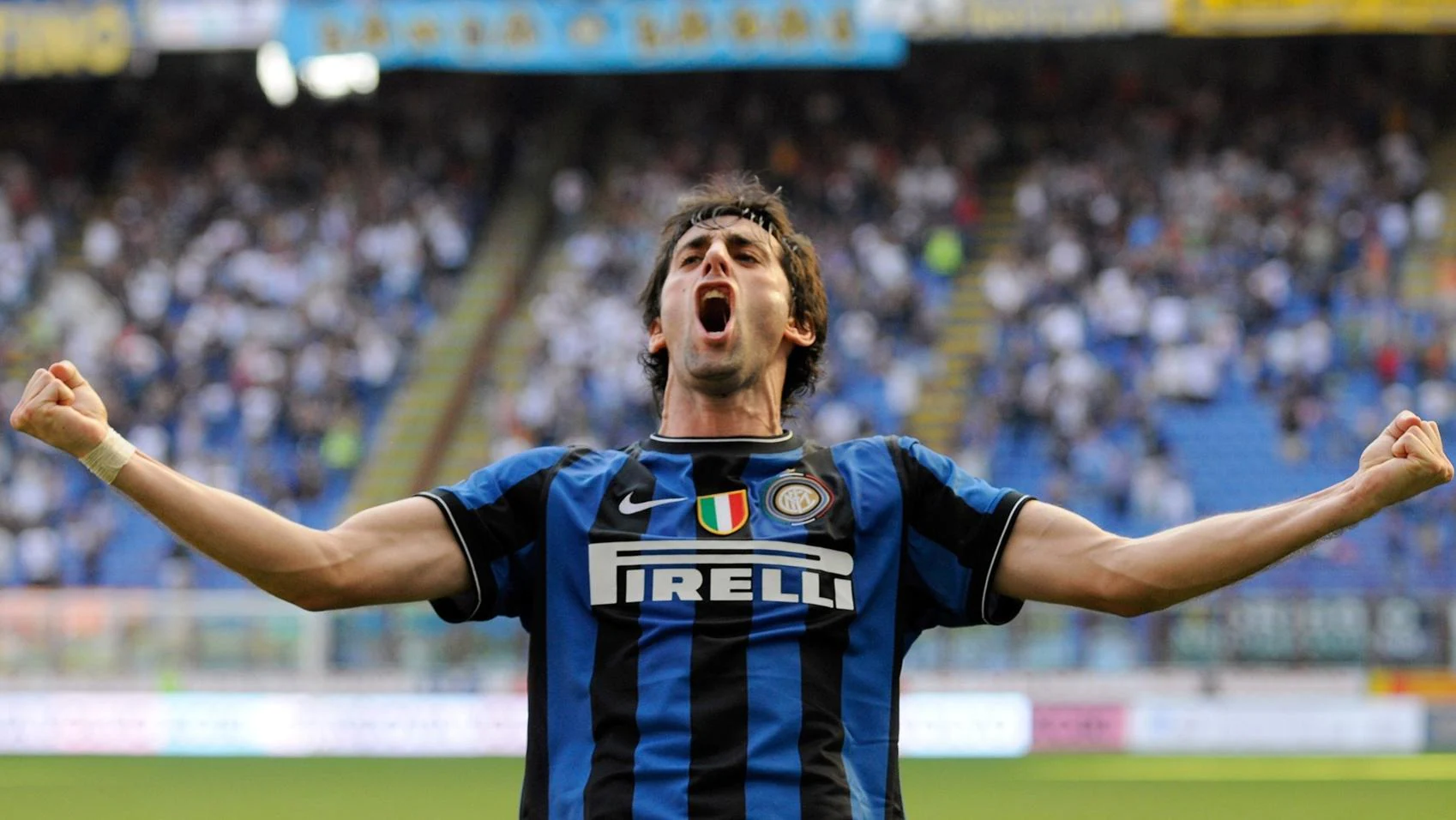 Diego Milito was one of the best strikers in the world during his career days in Europe
He joined Inter Milan in May 2009, alongside teammate Thiago Motta
The Argentine played a big part in Inter Milan's 2009-10 treble winning campaign 
Diego Milito is a retired professional footballer who is known to many football fans for his spell with Serie A team Inter Milan.
The 43-year-old was one of the best strikers of his generation, having averaged a goal in every two appearances he made in his entire career.
Milito was an ideal striker who every manager would wish to have on his team. The Argentine was a quick, dynamic and technically gifted football player. He possessed good vision and composure, not forgetting his eye for goal. He had the ability to score easily with either foot and was also good in the air.
Besides, Diego Milito, the Inter Milan legend, was also a good penalty taker. His goalscoring exploits helped Inter Milan win a historic treble in the 2009-10 season.
The lethal striker, who had the nickname El Principe (The Prince), began his football career back in his native Argentina. He achieved great success, winning some a lot of individual awards and trophies before ending his career. Diego Milito was inducted into the Inter Milan Hall of Fame in 2020.
Football Journey
Born in Bernal, Argentina, Diego Milito began his football journey in his native playing for Racing Club. He made his senior debut in the 1999-2000 season when he was 19 years old.
Milito impressed during his time with the Argentine first division team, and soon became one of the most loved players by the fans. He helped Racing Club become champions of Argentina and his next destination was a European team.
During his time in Argentina, he faced his younger brother, Gabriel Milito, who played for Racing Club's fierce rivals – Independiente.
According to Running The Show, the brothers' mother had to leave the stadium at one point during a match between Racing Club and Independiente. She couldn't watch his sons play as opponents in the feisty Avellaneda derby.
Milito joined Genoa for around 8 million euros at the beginning of 2004. He became an instant success in Italy, scoring 21 goals in his first season. He scored a total of 33 goals in 59 games and left after Genoa were relegated because of a match-fixing scandal.
Diego Milito landed in Spain, where he joined Real Zaragoza (initially on loan) and played alongside his brother. In his first campaign, he was the club's top scorer with 16 goals. One of his best performances came against Real Madrid in the first semi-final of the Copa del Rey. He scored two goals as Zaragoza thrashed Real Madrid 6-1.
Milito continued with his goalscoring prowess the following season, managing 23 goals. His tally was two less than La Liga's top goalscorer Ruud van Nistelrooy and three less than Francesco Totti, European Golden Boot winner. He soon became the club's captain after his brother secured a transfer to FC Barcelona.
Real Zaragoza were relegated at the end of the 2007-08 season, and Diego Milito returned to his former club Genoa. He picked up where he left by scoring in his debut against AC Milan. At the end of the campaign, he had managed 24 goals in 31 matches.
Diego Milito joined Inter Milan in May 2009, alongside teammate Thiago Motta. He quickly adapted in the new environment, and played a big part in Inter Milan's treble win. At the end of that season, he won a whole host of personal accolades, including UEFA Club Footballer of the Year and UEFA Club Forward of the Year.
Milito endured a difficult 2010-11 season due to injuries. However, the lethal attacker was at his best again the following season, scoring 24 goals. The Argentina international ended the 2012 calendar year as the top goalscorer in Italy with 28 goals.
Diego Milito had a difficult time for the remainder of his time with Inter Milan as he suffered from injuries. He returned to Argentina in 2014, joining his boyhood team Racing Club. The talented forward scored on his first match as Racing Club defeated Defensa y Justicia 3-1.
Diego Milito ended his legendary career in 2016 at the age of 36, after scoring 254 goals in 607 appearances.