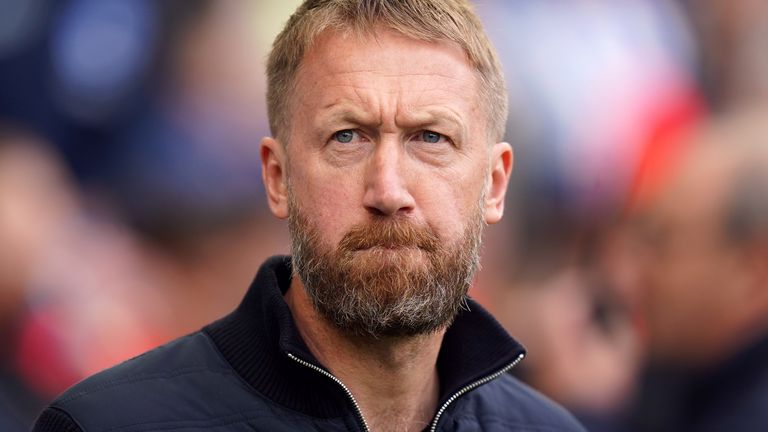 Chelsea is going through a poor run of form, and manager Graham Potter is at the centre of every discussion
The Chelsea boss has only managed two wins in 15 matches in charge of the Blues
Potter has admitted to feeling a lot of pressure due to the recent run of form and has admitted he recognizes the anger of Chelsea fans
Graham Potter has said that he recognizes the anger felt by Chelsea supporters over their recent performance.
Last week alone, the Blues dropped two games in a row, losing to bottom-of-the-league Southampton at Stamford Bridge on Saturday and Borussia Dortmund 1-0 in the first leg of a UEFA Champions League round of 16 match on Wednesday.
Chelsea is now 11 points behind the top four teams in the Premier League and is on the verge of being eliminated from the Champions League as a result of those losses.
Manager Potter has come under fire for the team's results, and in a press conference this week, he said that he understands why.
"I am not stupid or naive," the Chelsea boss said. "My job is to keep going and keep helping and supporting the team and take that criticism. I get it that when you are losing that there's always something you should do or change. I have always been this way, and it has gotten me to this point, but, at the same time, I know people want something different."
Potter also took the opportunity to explain some of the causes of Chelsea's poor performance, pointing out the need for time for young players acquired in the previous two transfer windows to acclimate to the Premier League as well as injuries as a problem.
"There is a transition, and there's factors but, at the same time, when the team is losing and we've had the results we've had, then you can also understand it," Potter continued.
"We've invested in some young players, if you look at Enzo [Fernandez], [Noni] Madueke and [Mykhailo] Mudryk, they haven't played that many games. They are learning to play in the Premier League.
"We're managing quite an unprecedented injury list – so you have to manage that in the Premier League. All that is true, but, unfortunately, when you lose, it is not what people want to hear."
The Chelsea board is reportedly still supporting Potter despite the poor run of form and has promised the former Brighton manager of their full support.
The board is reportedly not interested in sacking the boss, stating 'good results cannot be achieved with changing managers every six months.'
Chelsea players were given an off day on Sunday after Saturday's loss to Southampton, and reports state that they have also been asked not to report to training on Monday without an explanation.
The players are expected to return to Cobham training grounds on Tuesday to prepare for the weekend's big clash in the Premier League. Chelsea will make a trip to North London to take on Tottenham Hotspur at the Tottenham Hotspur stadium on Sunday, February 26 2023, a stadium the Blues are yet to concede a single goal in the League.