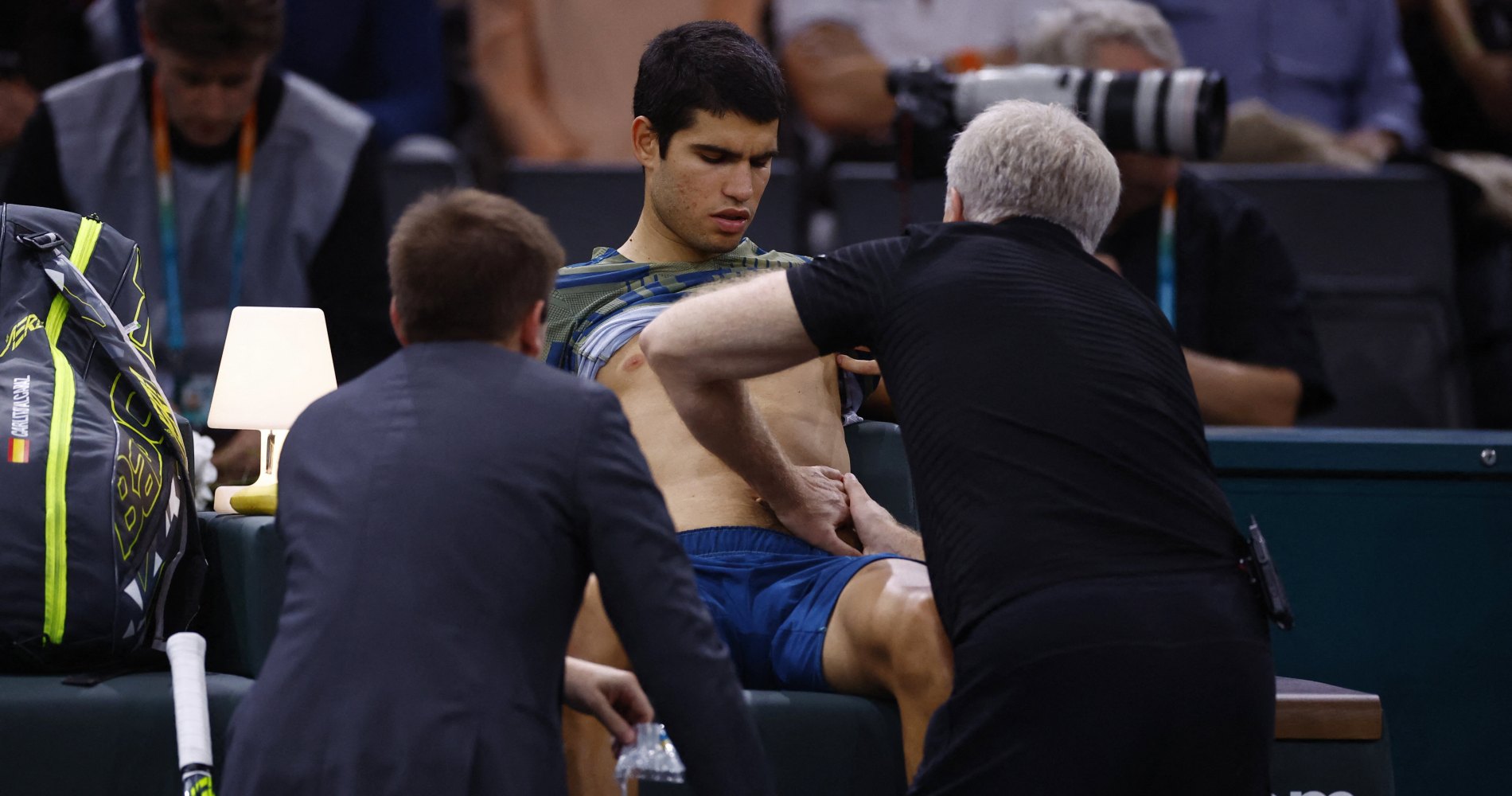 Carlos Alcaraz is highly unlikely to compete at the Mexico Open after his injury persisted during the Rio Open
His coach is against him playing in Acapulco, Mexico Open citing inadequate training
Alcaraz is battling a season of injuries in a season where he has many victories to defend
Carlos Alcaraz is highly unlikely to compete at the Mexico Open, and his coach Antonio Martinez Cascales feels switching from a clay court to a hard court without any practice is a risky move.
Alcaraz has had a recent history of injuries, missing the Australian Open owing to a hamstring issue and being forced to withdraw from the Rio Open ATP Finals due to an abdominal injury.
In Buenos Aires, he eventually made his clay court debut in 2023 and won the match. He then made a second run to the Rio Open final, which was also played on clay, where he lost to Cameron Norrie.
Alcaraz's leg issues were exacerbated against Norrie in Rio and it put his medical team on standby throughout the match.
Martinez said that he experienced a lot of discomfort during the semi-final and they advised that he exits but he was adamant and proceeded to the finals where he lost to Norie.
"We considered it [retiring], but he wanted to continue. There are players who find it very difficult to retire during the course of a match," Martinez told daily La Razon.
Should he play on Acapulco's hard courts at the Mexican Open, he will play against American Mackenzie McDonald.
He underwent an MRI on Monday and he is still waiting for the results to come out and know his fate.
His coach hopes it is a minor contracture but insists that Alcaraz could have a hard time playing in Acapulco at the Mexico Open due to surface change and inexperience in switching courts.
"But it's difficult for him to play in Acapulco because of the surface change and without having any previous training," noted Martinez.
Steve Flink, a revered tennis journalist advised Alcaraz to desist from playing many events. He said that this will likely stress his body even more especially after a long period of injury layoff.
Flink maintained that playing in Acapulco is a dangerous move for the Spanish teen and he is hoping that he will not err in flying to Mexico for the tournament.
Alcaraz will play in the hard-court Sunshine Double, the Indian Wells Open, and the Miami Open – all Masters 1000 events. He will then fly to France for the French Open which features the clay-court season.
He needs to be in his best form to defend his Miami Open victory and win the Indian Wells which he got knocked out of in the semi-finals.
The young tennis star also won Madrid and Barcelona events and later the US Open which he seeks to defend this season.