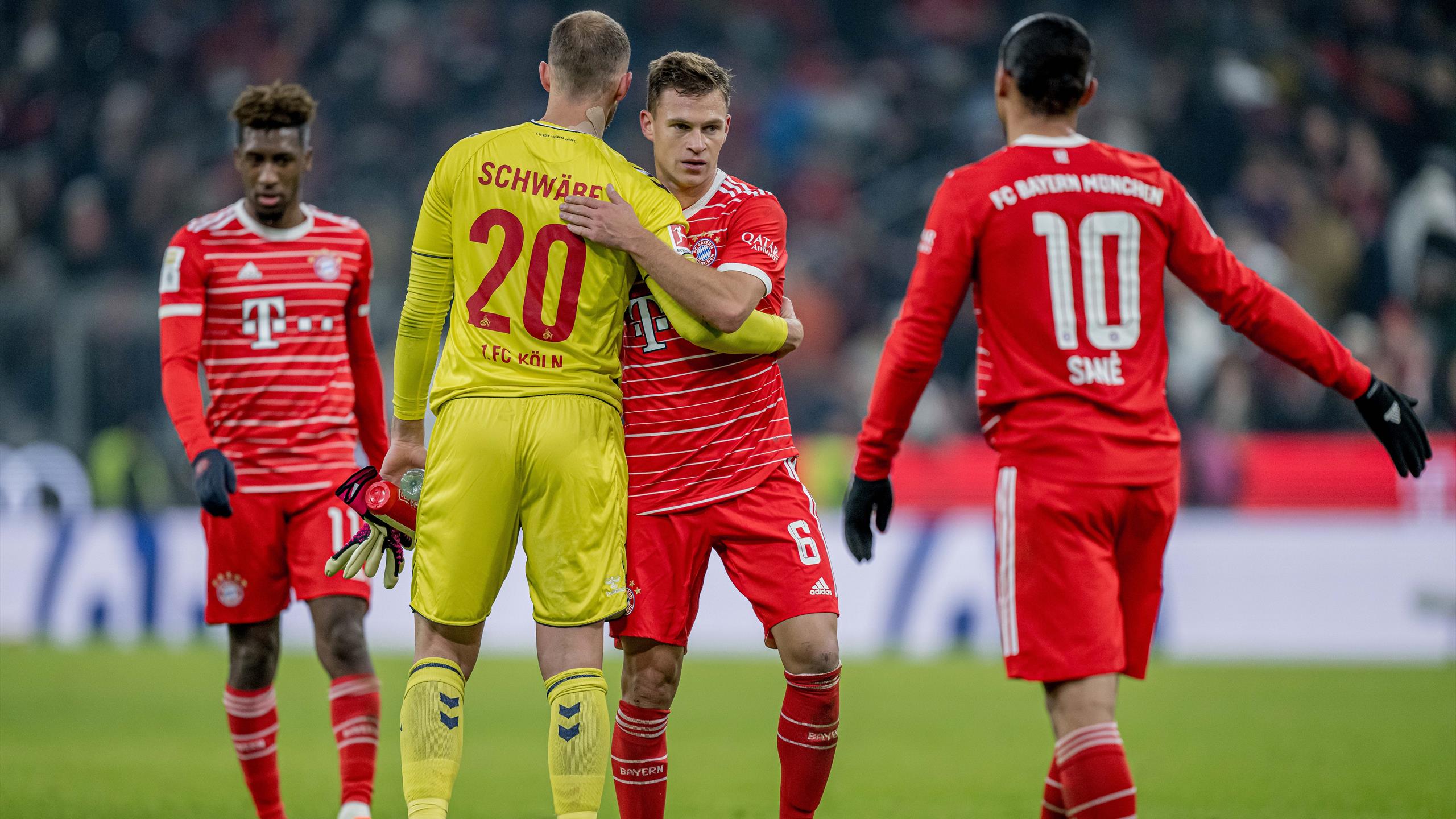 Bayern hosted FC Koln at the Allianz Arena on Tuesday evening in a Bundesliga clash
Bayern needed a win to go six points clear at the top of the Bundesliga table 
Koln took an early lead, and it took Bayern Munich a stoppage-time equaliser to salvage a draw 
Bayern Munich salvaged a 1-1 draw against Koln on Tuesday thanks to Joshua Kimmich's incredible 90th-minute equalizer.
Bayern had been on the verge of their first home league loss since last January before their captain took centre stage, though it was not enough to restore their six-point lead at the summit following RB Leipzig's 6-1 demolition of Schalke.
The Billy Goats took the lead early on thanks to Ellyes Skhiri, who scored twice in Koln's amazing 7-1 victory over Werder Bremen on Saturday.
However, Koln was under constant pressure after that and was unable to hold on to the victory when Kimmich scored a late goal from a distance.
The visitors came out firing from the get-go, and in the fourth minute, Skhiri took advantage of the first real opportunity by tucking in at the back post after Julian Chabot flicked on a corner from Florian Kainz.
Ten minutes later, Marvin Schwabe made a crucial stop to keep Serge Gnabry from scoring, but Bayern's defence remained woeful.
Just before the break, they were grateful to Yann Sommer, who made a crucial save on Kainz's squared pass as Denis Huseinbasic waited for a tap-in.
Bayern won the first half, but again, Schwabe saved Koln by turning away Leon Goretzka's fierce volley.
Ryan Gravenberch's agonizingly wide attempt and Matthijs de Ligt's long-range effort were blocked as Bayern, who had Kingsley Coman replace Gnabry at halftime, made a strong start to the second half.
Then, as a last-ditch assault began, Leroy Sane cut in from the right to test Schwabe, who afterwards acrobatically pushed Thomas Muller's header over.
However, Schwabe could only take action so far, and blocking Kimmich's 30-yard piledriver was going too far.
Draw offers encouragement to Leipzig
After Kimmich's spectacular equalizer, there will definitely have been some curses in the Leipzig team, as Die Roten Bullen had previously appeared poised to finish the matchday just three points behind the lead.
However, in actuality, this was still a positive outcome for Leipzig and the chasing pack and a negative outcome for Bayern. Even with a four-point lead right now, Bayern still has a chance to lose the title.
With 1.45 predicted goals against Koln's 0.81, and Kimmich's strike accounting for just 0.025 (or a 2.5% chance of scoring) and Ellyes' tap-in accounting for 0.6, it is safe to assume that on the balance of play Bayern were good value for at least 1.
Koln shouldn't be too disappointed with the outcome because they would have won if it weren't for an absolutely beautiful goal.
Chabot and Schwabe would have been essential if they had ultimately succeeded. The goalie, of course, made six saves, but his centre-back teammate appeared to be in the proper spot virtually the whole game, clearing the ball 10 times for a match-high and outdueling nine opponents, winning nine out of them but one.
Bayern are at home again on Saturday as they welcome Eintracht Frankfurt to the Allianz Arena. Koln go to Schalke on Sunday.