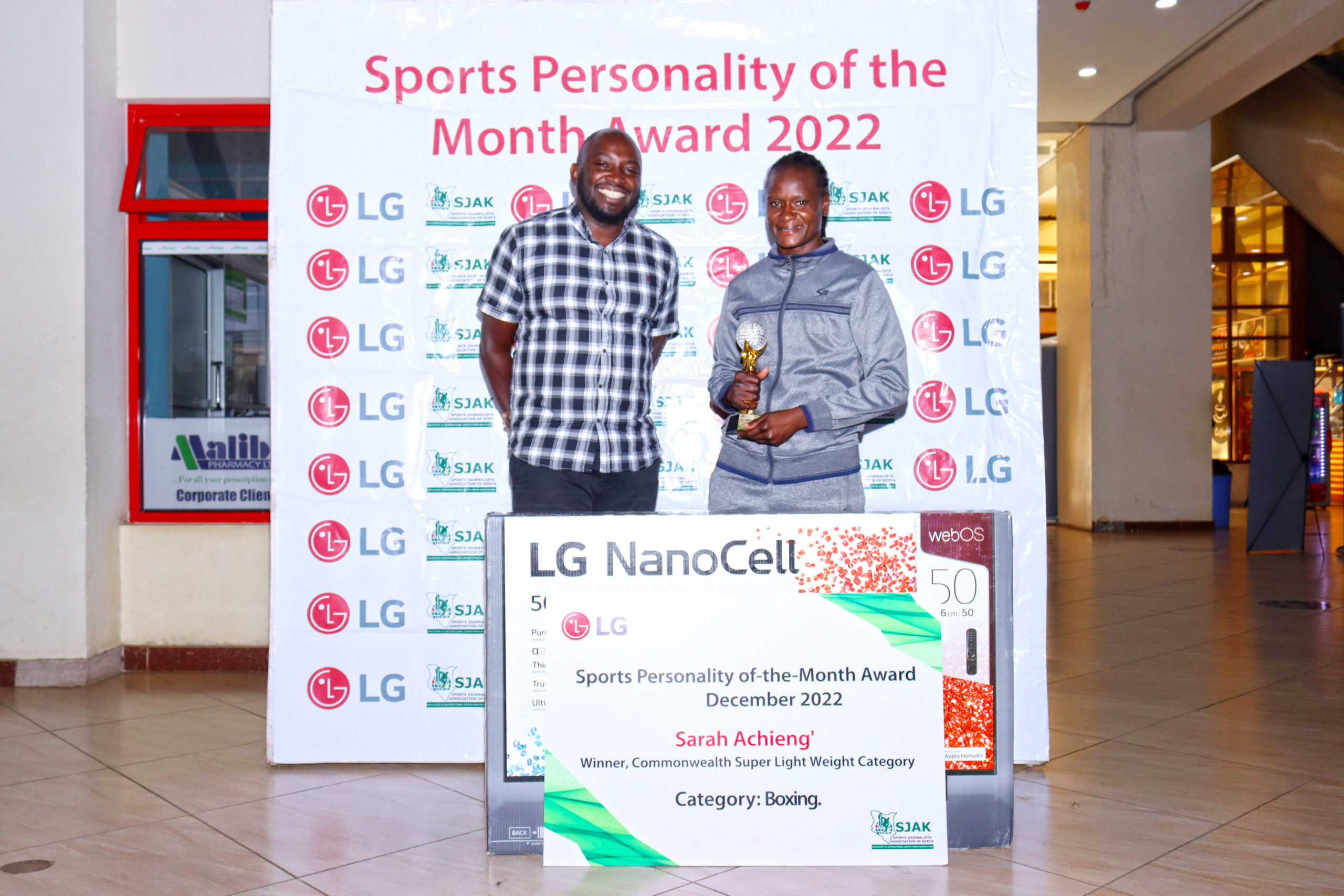 Achieng is the Commonwealth champion
She beat a strong field of athletes to win the December award
She is set to fight again next month
Commonwealth Boxing Council Champion Sarah 'Angel of War' Achieng' is the LG SJAK Sports Personality of Month of December 2023.
The Boxgirls Kenya lady pugilist earned the accolade after successfully defending her Commonwealth Super lightweight title against Zimbabwean challenger Chiedza Homakoma.
In winning the December award, Achieng carried home an LG Nano Cell smart TV worth KES 100,000 courtesy of title sponsors LG East Africa.
The soft-spoken Achieng' was all smiles after winning the coveted monthly trophy, becoming the fourth boxer to win the trophy after former WBC Champion Fatma Zarika, Judy Waguthii and Hit Squad mainstay Elly Ajowi.
"It's such a great feeling to win this award, more so, at a time I am preparing for my fight in Belgium next week. The award goes to show the hard work and determination we have achieved as Boxgirls, and I hope to continue working hard in my fights to take my career to the next level," Achieng' said after receiving the award on Thursday at the LG Showroom in Nairobi.
Coach has been instrumental
"My Coach (Irie Priest Onalo) has been instrumental in our training and indeed mentoring countless other girls from the sprawling Kariobangi to take up the sport of boxing. We owe him big tome," added Achieng'.
William Kamore, LG Content Manager on his part said: "It's been such a successful year for sports, as we have witnessed the diversity this Award has showcased throughout the past season and we are looking forward to renewing the award."
The 35-year- old hard-hitting boxer beat top nominees among them Chess National Champion Mehul Gohil, Roslidah Sumwa of Tennis and Collins Ndunda who won three medals at the Mombasa international Tong-ll-Moo-Do Championship.
Achieng knocked out Chiedza aka "Queen Tiger" in the eighth round at the Charter Hall, Nairobi to achieve the feat.
The 'Angel of War' took absolute control of the fight from the first gong taking full advantage of her back-pedalling opponent, shaking her with strong body and face punches.
Next fight set for Belgium next month 
Unable to withstand Achieng's stinging blows, Homakoma resorted to holding the sharper Kenyan boxer. Homakoma hardly shook Achieng with any telling punch as she was on the receiving end most of the time.
Achieng' will be vying for the World Boxing Association (WBA) tittle in Belgium on February 4 in the super lightweight category against home girl Belgian Oshin Deriew.
Achieng is a product of the revered Boxgirls Kenya, which is a community-based Organisation set up to build the work started by Coach Analo Anjere (popularly known as Priest).
Boxgirls has produced some of Kenya's most prolific lady boxers including trail-blazing Kenya amateur team star Elizabeth Andiego, who became the first Kenyan lady to play at the Olympic Games in London 2012.
Achieng joins the growing list of sports personalities who have laid hands on the LG title. Others include world marathon record holder Eliud Kipchoge, Faith Chengetich and Victoria