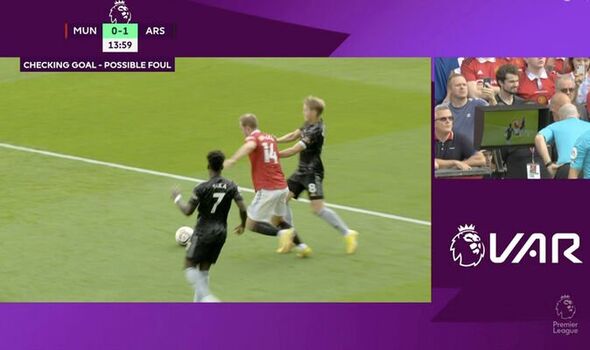 The VAR has been on the centre stage of Premier League matches this season
It has been revealed Premier League referees have made six wrong decisions so far this season
Topping the errors is Arsenal's goal against Manchester United back in September
Six wrong VAR decisions have been made by Premier League referees so far this season, with Arsenal's goal against Manchester United in September being the most significant.
An impartial team made up of three former players, a representative of the Premier League, and a PGMOL official reached this determination. The panel evaluates all significant match situations from the previous week of football and informs clubs each Thursday of any potential refereeing errors.
The Premier League has overturned 48 goals so far this season, with a panel finding six of them to be erroneous. The most significant of the goals on this list was Gabriel Martinelli's strike against Manchester United at Old Trafford in the 12th minute, which would have given Arsenal the lead had Martin Odegaard's foul on Christian Eriksen during the setup not been called.
United eventually won this game 3-1, so if the panel's judgment is accurate, Arsenal has every right to feel belittled.
Also on the list is Maxwell Cornet's late equaliser for West Ham against Chelsea, ruled out for a foul in the build-up by Jarrod Bowen on Blues goalkeeper Edouard Mendy. While this decision was more widely debated at the time than the Arsenal goal, West Ham will feel vindicated in the decision of the panel.
This season, Aston Villa, Newcastle, and Crystal Palace have all suffered as a result of poor decisions.
As the person in charge of raising Premier League refereeing standards, Howard Webb will be motivated to reduce that number and get it down to a much healthier total.
The former Premier League referee will speak about standards and expectations for referees with representatives of the league's teams in the next year.
Discussions over the prospective implementation of automated VAR, which was utilized during this winter's World Cup, are still ongoing.
The Premier League will return early next week after the conclusion of the 2022 FIFA World Cup in Qatar. The first match since World Cup will see Brentford host Tottenham Hotspur at the Brentford Community Stadium in the early kickoff of the boxing day.
The same day will see Brighton visit Southampton, Leicester City hosting on form Newcastle United at the King Power, Fulham making a short trip to Selhurst Park to take on Crystal Palace and then Everton welcoming Wolves at Goodison Park all at the same time.
The boxing day late kick-off will see Aston Villa play Liverpool at Villa Park, but Jurgen Klopp's side still have a match on Thursday against fierce rivals Manchester City in the EFL Carabao Cup. League leaders Arsenal will also be in action in a late kick-off match when they host neighbours West Ham United at the Emirates.
Manchester United and struggling Chelsea will both be in action on Tuesday, December 27, when they both host Nottingham Forest and Bournemouth, respectively, before Manchester City and Leeds United close match week 15 on Wednesday, December 28, at Elland Road.