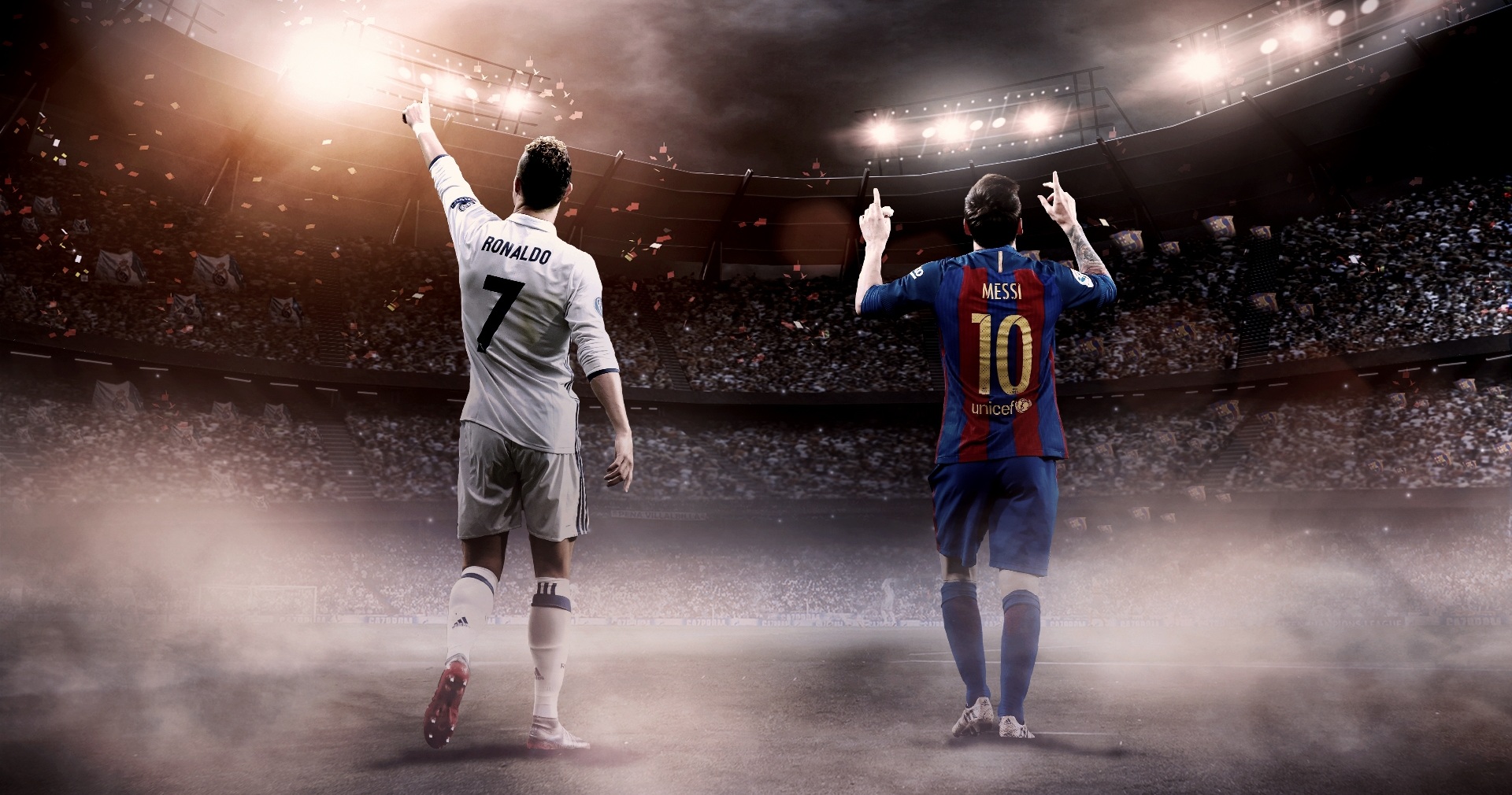 Lionel Messi or Cristiano Ronaldo.

You have to choose.

Football fans have argued for years about who is the best
We take a look into the old-age debate
Lionel Messi or Cristiano Ronaldo. You have to choose, apparently.
A large portion of contemporary football discourse has pushed us to choose between two of this generation's defining talents rather than value them equally.
They do, however, represent various ideologies. Messi is a natural talent capable of feats of magic that go far beyond what most human civilization has ever imagined. Ronaldo is a monument to perseverance and commitment to his craft, with a body meticulously sculpted in the gym.
If you even want to select a player, the player you select is entirely up to you. However, a few well-known figures in international football have previously argued in favour of one over the other.
Gary Lineker, a former player for Barcelona, tweeted after Messi scored his 600th goal for the club: "If he were just a goalscorer, it would be astonishing, but the fact he's also the best dribbler I've ever seen and as good a passer as I've ever seen makes him the best I've ever seen."
When asked to choose between the two, Ronaldo's former Manchester United teammate Wayne Rooney also chose the diminutive Argentine. They are likely the two greatest players to ever play the game, and Messi is, in my opinion, the best, as I have previously stated.
Opinions from Legends
Although many people will support Ronaldo in the argument, including Pele, who seems to change his mind about the subject as frequently as he changes his underwear, David Beckham and Ronaldinho have also chosen Messi.
Roberto Carlos, a former full-back for Real Madrid and a countryman of Pele, once remarked: "I watch him [Cristiano] train every day, and the way he works is exciting. He strives for daily improvement. The distinction with Messi is that.
"Leo is a phenomenon, but that side of Cristiano, of training, professionalism, focus, motivation, success… Cristiano has an advantage over all the others."
And it's obvious who Rio Ferdinand, Ronaldo's former teammate, prefers between the two.
After Ronaldo scored his 700th club goal in a 2-1 win over Everton, Ferdinand spoke to B.T. Sport, "700 club goals, that is more than I have appearances, probably almost as many as all of us in the studio [Joe Cole and Joleon Lescott] put together, almost. Phenomenal."
"He would have been hurting being on the bench before this game. He would have been sitting there thinking: 'I should be playing'. That is the answer.
"Ever a pro, no matter what age you are, he is still going out there with something to prove, and he is delivering."
The Stats
While it should be noted that the Manchester United star has played two more seasons than his Argentine rival, Messi, Ronaldo has just barely outscored him in club goals.
Throughout their careers, each of them has astonishingly scored over 690 goals for clubs, with the five seasons between 2009–10 and 2014–15 proving especially fruitful as they encouraged one another to reach new heights.
While Ronaldo currently leads in total goals, Messi has the upper hand in the scoring column, with a higher season average (37.9 to 35), after reaching a high of 73 goals in 2011–12, though his average fell after a lacklustre debut season at P.S.G. in 2021–22.
Ronaldo's highest season total was 61, which he attained in 2014–15. From 2010–11 to 2015–16, he consistently scored more than 50 goals.
Though Messi's rate slowed after joining P.S.G., it's interesting to note that while Ronaldo's season totals have somewhat decreased recently—he failed to surpass the 30-goal threshold in 2018–19 during his first season at Juventus—Messi's remained constant.
Messi is far superior to Ronaldo in terms of assists, and that gap has grown more pronounced as their respective roles have developed.
When deciding which player is the GOAT, the fact that Messi scores and assists so many goals is crucial, Ronaldo contributes his fair share, but the difference in this area is glaring.
Individual Awards
For the past ten years, Ronaldo and Messi's duel has been the defining aspect of modern football.
When Messi won his sixth Ballon d'Or in 2019, he overtook Ronaldo in the race and solidified his position as the winner in that category with his seventh in 2021.
Although Ronaldo has won more UEFA Player of the Year awards and FIFA's new "The Best" awards, Messi has received more league Player of the Year honours. Ronaldo has been recognized as Player of the Year in England, Spain, and Italy.
The fact that both players have appeared on the FIFPro World XI 14 times shows how closely contested the race has been. Messi has won the European Golden Shoe a record six times, two more than Ronaldo, and is marginally ahead of his rival overall.
Verdict
These athletes understand how difficult it is to maintain excellence. It's challenging enough to turn a string of solid performances into a successful season. It is incredible to have done it for a decade in the most challenging club competitions while also taking home international championships.
Messi or Ronaldo? I argue the topic should be Messi and Ronaldo, absolute G.O.A.T.s of the Game.