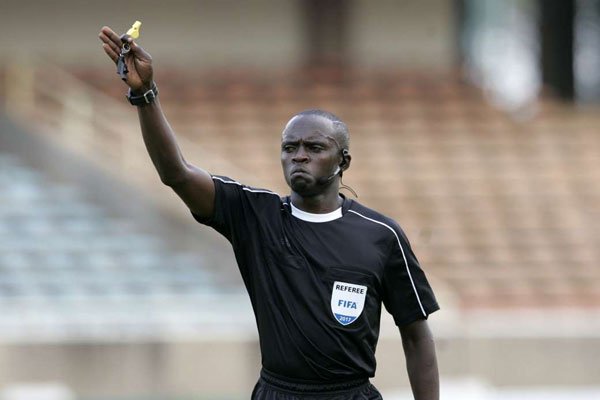 Peter Kamaku is one of the VAR officials named for CHAN
Kenyan officials have been in the cold for a year
The Africa Nations Championship is set for Algeria
The Confederation of African Football (CAF) has appointed FIFA referee Peter Waweru Kamaku as a Video Assistant Referee (VAR) for the African Nations Championship tournament (CHAN), set to be staged in Algeria from January 13.
Kamaku, a FIFA referee, and all other Kenyan officials were not considered for World Cup Qatar 2022 because of Kenya's suspension by FIFA.
Kenyan match officials have been in the cold since the suspension was effected in February and have lost opportunities at big tournaments and big matches, as well as income.
Commenting on his appointment Kamaku said it was a blessing. "It is a favor from above. This is good news for me; Africa is big and wide so it's an honor to be chosen. It's a chance to grow my career and it's also good news for the country as well. Hopefully, this will help inspire young people to become referees."
Kamaku, a lecturer at the Jomo Kenyatta University of Agriculture and Technology, thanked the government for restoring Kenya to the international football fold.
Thank government for playing role 
"I thank the government for helping to lift the FIFA suspension. This is a direct result of that action. It means Kenyan officials can now be selected for CAF and FIFA duty again."
AT the same time, another Kenyan referee, Mary Njoroge has been appointed to officiate at the playoff tournament for the FIFA Women's World Cup 2023, in New Zealand.
She is among 29 match officials selected from all over the world to officiate at the tournament.
Reacting to the appointment, Njoroge said the timing was perfect.
"This appointment couldn't have come at a better time. This is God. We needed something to give us hope after a very difficult period in our refereeing career and this is it," she said.
She also thanked the government for ending Kenya's International suspension.
"These are the moments we live for, I thank the CS for ending the impasse and making us available for international assignments again."
Officiated at the women's world cup 
Njoroge was also picked to officiate the FIFA Women's World Cup in France which ran from June 7, 2019, to July 7, 2019
She is the second Kenyan official to receive a high-ranking international assignment after Dr. Peter Kamaku was picked to officiate at CHAN in Algeria earlier this week.
The tournament is set to begin on February 17 and end on February 23, 2023.
With the return to international football, more Kenyan referees are expected to land appointments. The CAF Champions League and Confederation Cup matches will resume in February, while the qualifiers for the 2023 Africa Cup of Nations will be on in March.
Kenya as a country will however not be participating in any tournaments and the next engagements will be the qualifiers for the 2024 Africa Nations Championship and the 2025 AFCON.