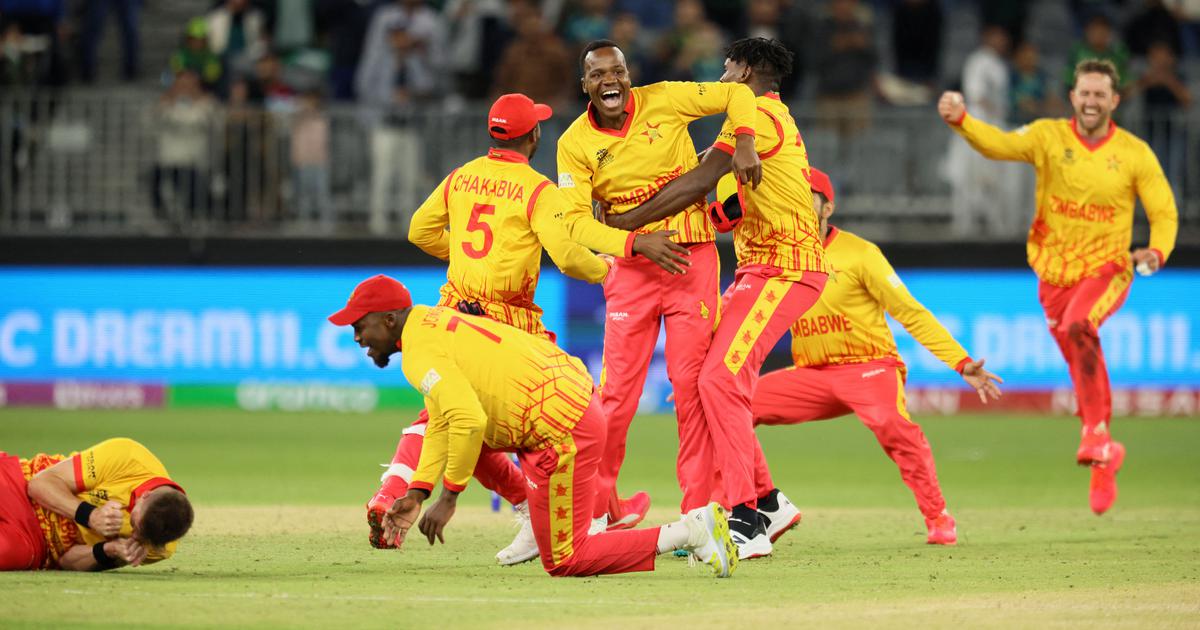 Zimbabwe defeated Pakistan by a single run on Thursday in what is arguably the biggest upset of the T20 World 2022. 

On the other hand, India went on top of Group Two after defeating the Netherlands by 56 runs to make it two wins in a row. 
Pakistan's hopes of qualifying from the T20 World Cup group stages are hanging by a thread after they lost to Zimbabwe by one run. 
The Shaheens came into the World Cup as one of the favourites with a fast bowling line-up and one of the best opening partnerships in cricket. 
A high percentage of cricket fans expected Pakistan to defeat Zimbabwe on Thursday evening. And after a good start, it looked like Zimbabwe had no chance at all.
However, Zimbabwe decided not to go down easily as they fought back strong, eventually securing a memorable win.
Zimbabwean bowlers produced an incredible performance to ensure Pakistan finished 129-8 while chasing 131 so as to win. 
It was Zimbabwe's first-ever victory outside the first round of the men's T20 World Cup. The Chevrons are now third in Group Two behind India and South Africa, who also won their Thursday fixtures. On the other hand, Pakistan are fifth in the group standings. 
Zimbabwe players showed their happiness after the win as they danced, sang and took photos with their fans. 
Speaking after the game, Zimbabwe's captain Craig Ervine said that they did an impressive job against Pakistan, just as they wanted. 
"It's so special, especially after the work we did to get into the Super 12s. We didn't want our tournament to end there, we wanted to come in and play some really good cricket against some top teams, and I think we did that exceptionally well today." Craig Ervine said, as per BBC. 
Sikandar Raza was the eventual player of the match in Perth. Pakistan are not yet out of the competition but have to win their remaining fixtures so as to proceed to the next level. 
India Defeat the Netherlands 
In another Group Two fixture played on Thursday, India defeated the Netherlands by 56 runs to make it two wins in a row. 
Electing to bat, India managed to score 179 for 2 and then restricted the Netherlands to 123 for 9. India's Virat Kohli, Rohit Sharma and Suryakumar Yadav all produced a solid display against the Netherlands in Sydney. 
During the match, Virat Kohli scored a brilliant, unbeaten 62 off 44 balls (3 fours, 2 sixes). On the other hand, Rohit Sharma made a significant contribution as he managed 53 off 39 balls. 
But it was Suryakumar Yadav's whirlwind 25-ball unbeaten 51 that posted the massive difference to seal India the victory. 
The win has moved India back to the top of Group Two. Virat Kohli's men will be looking forward to cementing their position on top of the group as they face South Africa on Sunday.
The Netherlands, who are yet to win a game, will face Pakistan on Sunday morning in a mouth-watering fixture in Perth.