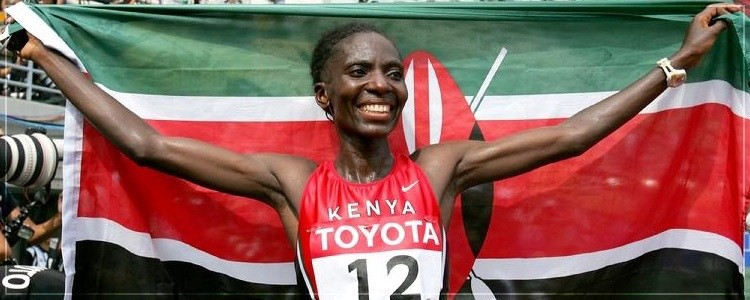 Athletes can get money by signing personal sponsorship deals apart from winning medals.
Medals in athletics are bonuses, and this might not be enough to sustain one all through, especially when competitions are not regularly
From the 1980s to 2008, the wealthiest Kenyan sportsman's net worth was about Ksh. 3.6 billion.
Kenya has been well known for producing the best athletes dominating middle and distance running for over four decades.
From the 1980s to 2008, the wealthiest Kenyan sportsman's net worth was about Ksh. 3.6 billion.
In this article, we narrow down to bring you a list of the top ten wealthiest athletes in Kenya as of 2022; though most of them are retired, according to the statistics, they are calm and fresh.
10. Martin Lel
Martin Lel is a professional Kenyan marathon runner.
He consecutively won the 2005 and 2007 London Marathons and held a personal best time of 2:05:15, placed at the London Marathon in 2008.
It is not clear what his net worth is, but it is estimated to be between $1 million and $5 million.
9. Asbel Kiprop
Asbel Kiprop is a renowned Kenyan middle-distance runner competing in the 1500 meters races.
He is the 2008 summer Olympics gold medalist in 1500 meters.
In 2011, 2013, and 2015 he won all the titles at the World Championships.
He failed a drug in 2017 after testing positive for a banned substance for four years.
His Networth is estimated to be between $1 million – $5 million.
8. Pamela Jelimo
Pamela Jelimo competes in middle-distance running, i.e. 800 meters
She was the 2008 Olympics Games gold medalist just when she was eighteen, making her the first and youngest Kenyan woman in history to win an Olympic gold medal.
Jelimo also holds both the 800 m junior and the senior African records.
It's unclear what her actual net worth is but estimated between $1 million to $5 million.
7. Catherine Ndereba
Catherine Ndereba is a Kenyan marathon runner.
Ndereba, in 2001 at the Chicago Marathon, broke the elite women's marathon record after clocking 2:18:47.
Her net worth is estimated to be around $1 million
6. David Rudisha
Rudisha is a Kenyan athlete competing in the 800 meters race and is considered the fastest man.
He came to fame through the 2012 London Olympics after setting a time record of 1:40:91 at the 2012 London Olympics.
His net worth is estimated to be $1 million.
5. Vivian Cheruiyot
Vivian Cheruiyot competes in track and cross-country races.
Cheruiyot has won several medals with multiple records during her running career, including the 2012 Olympic games, where she was a silver and bronze medalist in the 5000 and 10,000 meters, respectively.
At the 2016 Olympics, she won a gold medal in the 5000 meters with a new record.
Cheruiyot's net worth is estimated to be $1.5 million.
4. Julius Yego
Commonly known as Mr Youtube, Julius Yego was the first commonwealth record holder in javelin competitions. He was set at the Commonwealth Games in 2015, scoring his best of 92.72 meters.
Yego holds several javelin titles, including the 2012 All-African Games and the 2012 and 2014 African Championship in Athletics.
Though no source has indicated the exact net worth; however, it is estimated to be $2.2 million.
3. Eliud Kipchoge
This man Kipchoge from the Rift Vally region, is one of the best long-distance runners that Kenya has ever had.
He was the first human to run a marathon in less than two hours in Vienna, Austria, proving that no human is limited.
He has been in the limelight since the 2018 Berlin Marathon after he set a 42km marathon world record by clocking 2:01:39 hrs.
It is important to note that Kipchoge has won 12 out of the 13 races he has participated.
His net worth is estimated to be about $2.6 million.
2. Ezekiel Kemboi
Ezekiel Kembo specializes in the steeplechase competition.
He won the 3000 meters competition at the Summer Olympics in 2004, the 2009 World Championships, and the 2011 World Championships.
He also won the Summer Olympics in 2012 and the 2013 and 2015 World Championships.
He holds a personal best time of 7:55.76, placed in Monaco.
Additionally, Kemboi is among the four Kenyan athletes who won both the Olympics and world gold with Conseslus Kipruto, Reuben Kosgei, and Brimin Kipruto.
His net worth is estimated to be about $2.8 million.
1. Kipchoge Keino
It's not by surprise that Keino tops our list of the wealthiest Kenyan athletes.
Though he has retired from the field and track, Keino is the most sought athlete in Kenya, with his net worth estimated to be $3 million.