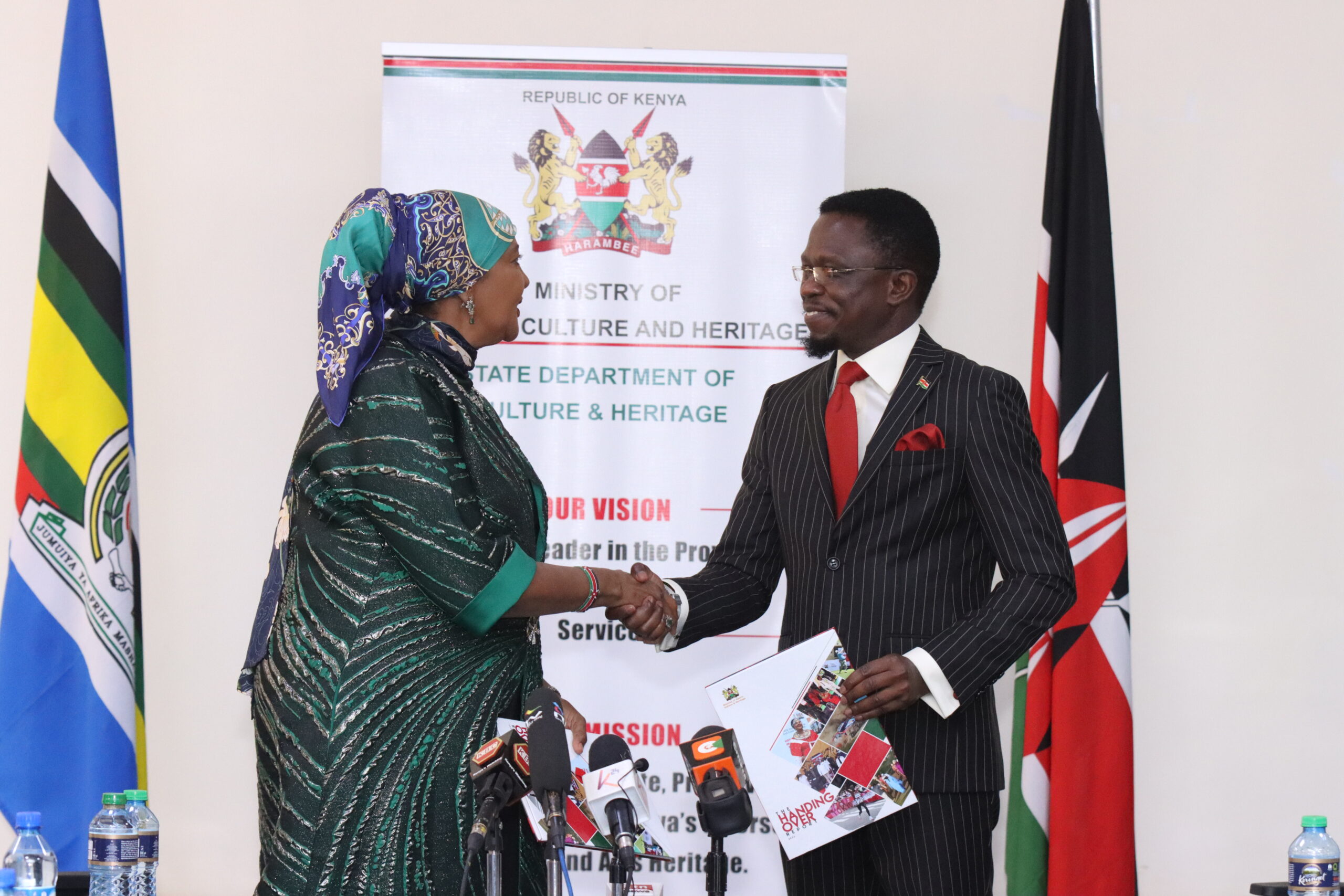 Ababu officially took over from Amina Mohamed
Kenya has been suspended by FIFA since February
Five Kenyan athletes have so far been banned by the AIU
Incoming Sports Cabinet Secretary Ababu Namwamba has said that the football mess that led to Kenya's suspension by FIFA as well as the doping crisis top his agenda as he took over the reins at the Ministry from Amina Mohamed.
Kenya has been under FIFA suspension since February this year after outgoing CS Amina Mohamed disbanded the Federation and installed a Caretaker Committee. This, to FIFA, was deemed as Government interference.
Ababu swung straight into action after he took over office on Friday and met with FKF boss Nick Mwendwa and CEO Barry Otieno as he seeks to understand the fiasco. The are set to a second set of meetings next week to finalize the issue.
Ababu has also disclosed that he has already been in contact with FIFA as a first step towards solving the mess.
"We have already been in contact with FIFA and we have started the conversation. I am ready to talk to everyone and I will have talks with the FKF officials. I have also received the reports and we will ensure that we listen to everyone. I promised during my vetting that this will be my first job when I assume office," Namwamba said.
Ababu receives reports
During the handover from Amina, Ababu was presented with a report from the Caretaker and Transition Committees and he says he will look at them and see what they have to offer.
"I have been sufficiently briefed by the CS and I believe I will be paying very keen attention to the measures proposed so that we can find a solution to this gridlock; a solution that is in sync with the call by President William Ruto to adhere to the fidelity of the rule of law," Namwamba said.
He added; "This is a priority for me and I will start working on it immediately. I promised that on day one I will work on this."
At the same time, the doping menace is another huge area of concern for Namwamba and he says he will work hard to ensure that culprits who are found within the doping syndicate are dealt with accordingly to eradicate the vice.
Stiff legislation
"Among the things we are going to do in terms of legislation is to elevate banned substances to the same caliber as hard drugs so that if you are caught, we will treat you as a trafficker in hard drugs, the same way someone who has been found with heroine or cocaine etc is treated," Namwamba said.
He adds; "We have such a fine image as a sporting nation and we cannot allow the greed and misconduct of a few people to destroy this hard earned image of Kenya. We are a fine sporting nation that plays by the rules."
Kenya has been on the international doping watchlist for the last five years and the latest cases have further increased the scrutiny on the country.
Meanwhile, outgoing CS Amina says she is proud of the work she put in place as she exits office.
"I could never have been more proud of the work that I have done during my time at the Ministry. We have achieved a lot and brought in many changes," she said.