Okutoyi's US Open dreams end in second round defeat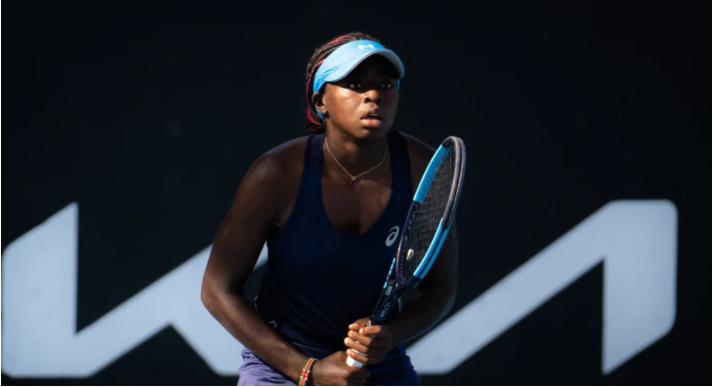 Okutoyi beat Germany's Carolina Kuhl in the first round
She lost to Australia's Taylah Preston in the second round
This is her fourth grandslam of the year
Kenya's Angela Okutoyi has lost by two sets to one to Australian Taylah Preston in the second round of the Australian Open, ending her dreams of reaching the quarter finals.
Okutoyi had targeted to do better than the Australian Open where she reached the third round, but couldn't complete her comeback against the Aussie in another tough duel.
She lost the opening set 6-2, but recovered in the second set to stun the eighth seed 7-6. But, the comeback was not to be as she lost the third set 6-1 and her singles dream came to an end.
She had earlier stormed into the second round at the Junior US Open after edging out German Carolina Kuhl by straight sets at the Flashing Meadows in New York.
Okutoyi, playing her fourth and final Junior slam, beat the German in scores of 7-6, 7-5 in a tough encounter to progress to the second round, improving on her earlier performance in Wimbledon where she couldn't progress past the opening round.
"It was a very difficult match because it was the second time I was meeting the same opponent. She played good and I played good too. The first time I lost in straight sets but this time I came strongly and I was very ready for the match. Winning means I picked lessons and I have improved," said the 18-year old after her victory.
She added; "I am happy to have started with a win and I did my best. Now I am focused on the second round and I am hoping to do better."
Playing her final Junior Slam
Okutoyi is playing her final Junior Grandslam tournament had said her target is to get to at least the quarter finals, beating her achievement in Australia where she reached the third round.
She started off the year with a third round exit in Australia, then exited the second round of the French Open and lost in the first round in Wimbledon.
However, in the British capital, she made history by becoming the first ever Kenyan woman to win a grandslam when she clinched the doubles title with victory alongside her Dutch partner Rose Marie Nijkamp.
After the singles loss, Okutoyi now swings her attention to the doubles, where she will once again team up with the girl from the Netherlands.
They start off their campaign with an opening round tie against the pair of Qavia Lopez (USA) and Johanne Christine Svendsen (Denmark) in the first round.
She hopes to do well in the doubles just as she did in Wimbledon.
"It was a tough game but now we focus on what comes up next which is the doubles," she said.
As from next year, Okutoyi who was last month named Kenya's best sportsperson in the month of July will switch her attention to trying her luck in the seniors.