Clash at the Castle; Dominik attacks Rey Mysterio and Edge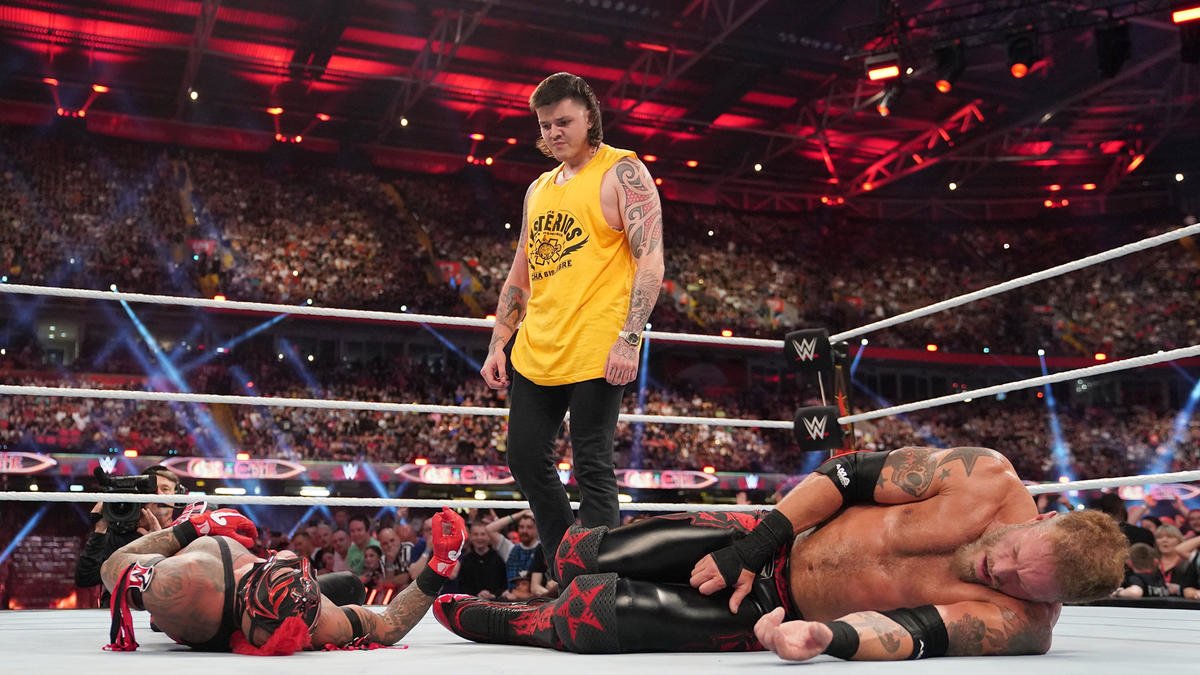 Rey Mysterio and Edge defeated Judgement Day at Clash at the Castle in Cardiff, Wales. 

However, what caused the attention of many is Dominik Mysterio betraying his father and Edge before walking away. 
Rey Mysterio and Edge defeated Judgement Day at Clash at the Castle on Saturday evening. However, Wrestling fans were shocked after Dominik Mysterio attacked his father and Edge while celebrating their victory. 
In a very entertaining match, Rey Mysterio and Edge faced Judgement Day's Finn Balor and Damian Priest at WWE Clash at the Castle. It was the first time Rey Mysterio and Edge had teamed up for a tag team match since November 2002.
The crowd was very happy singing Edge's name as he entered the ring wearing a luchador mask. Edge wore the mask to show solidarity with Rey Mysterio. 
Edge and Rey Mysterio vs Judgment Day
Rey Mysterio was the first in the ring battling Judgement Day's Balor. He dominated Balor, who eventually tagged in Priest. However, Priest wanted Edge and not Rey Mysterio.
The crowd cheered as Damian Priest pointed to Edge, who eventually got in the ring to face him. Priest was disrespectful to Edge throughout the match. He even spat at the former WWE Tag Team Champion. 
Edge hit an Edgecution on Damian Priest before nailing a 619 on Finn Balor. The crowd continued to cheer as Edge hit Damian through the ropes with a spear. 
Rey Mysterio's son, Dominik, played a role in the victory of his father and Edge. Dominik destructed the referee when Finn Balor was about to hit Coup de Grace. He got on the apron, but Rhea Ripley launched an attack on him from outside the ring. 
Rey Mysterio came to Dominik's rescue, who then held Balor's boots. Rey Mysterio immediately nailed the 619 on Finn Balor before Edge finished him off with a spear to seal the victory. 
Dominik Attacks His Father And Edge 
Edge and Rey Mysterio were celebrating their victory in the ring when Dominik attacked Edge. Dominik savagely kicked Edge below the belt, and the legendary wrestler immediately fell down. 
Rey Mysterio was not happy with what his son had done, and he showed it by shouting at him several times. However, Dominik didn't spare his father as well. He attacked Rey Mysterio with a vicious clothesline as the crowd watched in disbelief.
Finn Balor and his crew laughed as Dominik Mysterio walked away after hitting both his father and Edge. 
The crowd gave Edge and Rey Mysterio a standing ovation after Dominik had left. 
Will Dominik Mysterio join Judgement Day?
WWE fans were waiting for Dominik Mysterio to betray his father and Edge. However, we didn't expect him to turn heel after playing a big role in their victory. 
There is no possibility of Dominik Mysterio joining Judgement Day. The baby-faced turncoat just walked away after betraying his father. He didn't show any sign of solidarity with Judgement Day.