Track icon Usain Bolt to trademark signature pose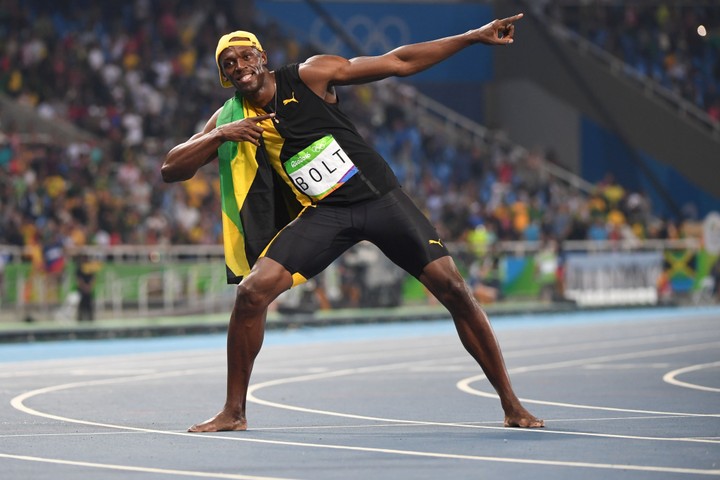 The filing suggests Bolt plans to use the logo on several products clothing, sunglasses, jewellery, bags, restaurants
The 36-year-old retired from athletics after the 2017 World Championships in London and is still the fastest man in history
Bolt won eight Olympic golds across three Olympic Games beginning in Beijing in 2008 and ending in Rio in 2016
Jamaican Sprinting legend Usain Bolt is keen to trademark his famous celebration pose and the retired sprinter has filed a patent at the United States Patent and Trademark Office last week.
Usain Bolt has won the Olympic Champion eight times and wants to trademark an image of his celebration showing the 'Lightning Bolt' pose, where he leans back with one arm bent and the other pointed towards the sky.
The world record holder in 200m and 100metres is keen to use these trademark logos on several places and items which include; Restaurants, Sports bars, shoes, clothing, and jewellery.
The logo in the filing presented by Mr. Usain Bolt resembles "the silhouette of a man in a distinctive pose, with one arm bent and pointing to the head, and the other arm raised and pointing upward".
Although the sprint legend retired from active athletics in the 2017, no athlete has broken the record, and remains the fastest man in the world.
"Given that Bolt is now retired from racing, it makes sense that he would look to expand his business empire," Josh Gerben, a Washington DC-based trademark lawyer, was quoted as saying by the BBC.
"The silhouette of his victory pose is recognized around the world.
"This trademark registration would enable him to offer the items listed in the application himself or license the right to use the trademark to third parties."
Bolt won eight Olympic golds across three Olympic Games beginning in Beijing in 2008 and ending in Rio in 2016 just before his retirement in 2017. Bolt still holds the world record in the 100m with an astonishing time of 9.58 seconds and the 200m with a time of 19.19 seconds.
With such a noticeable pose in the track and field world, it will be interesting to see if Bolt can put his brand into production on a grander scale like Michael Jordan's Jumpman silhouette or Shaquille O'Neil's Dunkman logo.
Since his retirement Athletes have not been able to beat his record and with the trademark underway at least his fans will get to see something familiar to his great runs finally.
The track has not looked quite as energetic since his exit in 2017, so it would be great to see a friendly face, or silhouette, being shown once again
Plenty of star athletes have their logos and image rights with the RF of Roger Federer and the CR7 of Cristiano Ronaldo of Man United being some of the most popular ones.
Nike's registration of the silhouette of basketball legend Michael Jordan is a global favorite.