Cristiano Ronaldo goes above Ten Hag's head demanding signings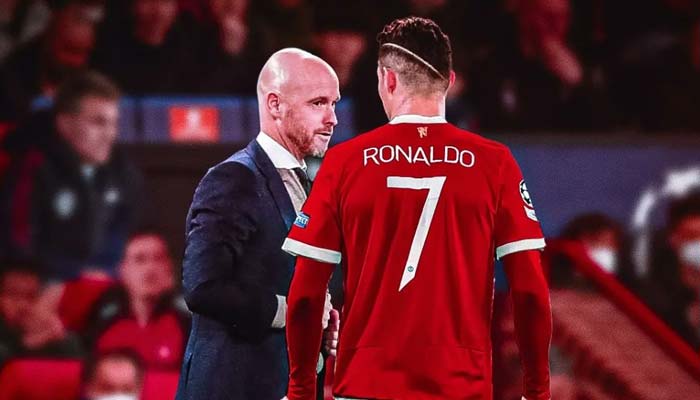 Manchester United have lost two of their starting Premier League games.
Manchester United signed two players from the Eredivisie with Lisandro Martinez arriving from Ajax and Tyrell Malacia from Feyenoord.
Man United is currently pursuing a move for Adrien Rabiot while their interest in De Jong is fading out
Under the backdrop of a poor start to the season, Cristiano Ronaldo has raised his voice to Man United's coach to sign at least players during this summer window transfer before it closes at the end of the month.
The Portuguese international is angered by the club's transfer business so far with reports linking the star striker to UEFA champions League clubs.
Anil Kandola, a Talksports analyst claims that several players alongside Ronaldo have told Erik Ten Hag to sign players. Marcus Rashford, Bruno Fernandes, and Ronaldo have communicated their feelings to the board and expect their demands to be listened to and effected.
There were big hopes for Man United going into the 2022-23 season following the appointment of Ten Hag as the club's new manager.
However, Manchester United has lost against teams that are expected to be fighting against relegation.
United lost their opening match of the campaign, 2-1 at home to Brighton. They followed that up last weekend with a humiliating 4-0 thrashing at the hands of Brentford.
Underwhelming transfer market
Man United's rather underwhelming transfer market so far is one of the reasons for this terrible start.
United has signed only four players, with two of these being free transfers in the form of Christian Eriksen and Under-21 player-coach Tom Huddlestone.
The other two signings came from the Eredivisie with Lisandro Martinez arriving from Ajax and Tyrell Malacia from Feyenoord. The former has struggled so far at center-back, while the latter is expected to be more of a back-up to Luke Shaw at left-back.
This has prompted Ronaldo, Bruno, and Rashford – among others – to go above Ten Hag's head and demand action in the transfer market.
Just how well this will go down with Ten Hag remains to be seen, given his authority has already been challenged numerous times by Ronaldo in recent weeks.
The Portuguese superstar failed to travel with the squad on their pre-season tour for family reasons, went home at half-time in the friendly against Rayo Vallecano, and has generally sulked so far this season.
With many speculating about Cristiano Ronaldo's departure from Man United, Ronaldo has termed the rumors untrue even though his agent Jorge Mendes has been selling Ronaldo to different Champions League clubs in Europe – this is according to Fabrizio Romano.
United are negotiating to sign Adrien Rabiot from Juventus, while their hopes of buying Frenkie de Jong from Barcelona appear low.
Man United continued push for the Rabiot signature has not been received well by its fans and this will not be likely a good business for Man United given the player's attitude and character which could affect the dressing room at this point when United is in the rebuild process.