Paul Roma challenges Ric Flair to another wrestling match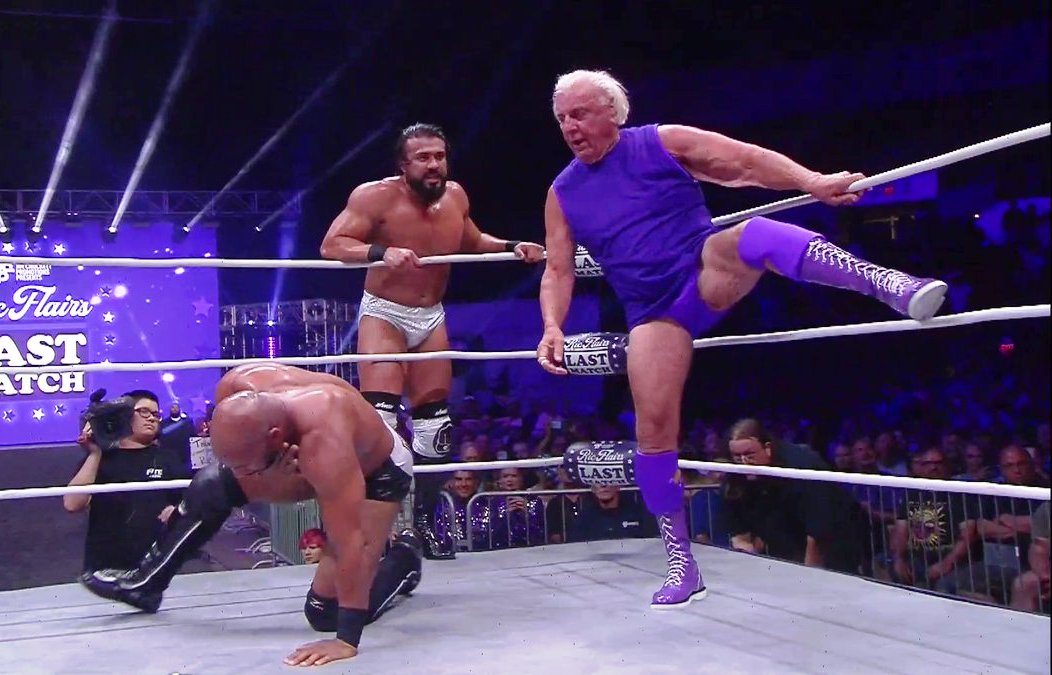 Former WWE superstar Paul Roma has challenged Ric Flair to one pro wrestling match. Paul wants to prove to Ric Flair that he was a Horsemen calibre. 

Ric Flair is yet to respond to Paul Roma's challenge. Flair fought his last match on July 31. 
Ric Flair declared that he was fighting his last match in the ring three months ago. On July 31, he teamed up with his real-life son-in-law Andrade Cien Almas and fought against Jay Lethal and Jeff Jarret. 
However, Paul Roma wants Ric Flair to wrestle one more match with him. Paul Roma was speaking to the Cheap Heat Productions Podcast when he challenged Ric Flair to face him in the ring.
"Why doesn't (Flair) wrestle me? He doesn't like me. He didn't think I was a Horseman, right? He didn't think I was Horseman calibre. He said it, so why doesn't he get in that ring with Pretty Paul Glory Roma?
Bring Tully (Blanchard). We'll bring him to ringside. Let me show you, and let me show the entire world how much a Horseman I really am. He's not going to do it. You know what? I'm challenging Flair. Yes, I'm putting it out there."
Paul Roma is a former professional wrestler. The 63-year-old made appearances with World Championship Wrestling and World Wrestling Federation between 1984 and 1995. He was a member of the Four Horsemen wrestling group and is a former PAPW Heavyweight Champion. 
Ric Flair is yet to respond to the challenge from Paul Roma. In his recent interview, the 76-year-old revealed he passed out two times during his final match last month.
He also took severe bumps and bled due to the severity of the match. However, Flair and his son-in-law won the tag team match in Nashville. 
Ric Flair appeared in the ring down in Puerto Rico six days after his tag team match victory. He brawled with Carlos Colon while El Idolo took on Carlito. WWC made an offer to Ric Flair to wrestle that night, but he turned it down. 
The Nature Boy revealed at To Be The Man podcast that he regrets declaring the tag team match his last wrestling match.
"I wish I hadn't said it was my last match; that's gonna get heat. Hell, they wanted me to wrestle in Puerto Rico on Saturday night. I said, 'Guys, I cannot get in the ring one week later.'
And the guy looked at me and said, 'Well, you know what, could retire in Puerto Rico, can't you?' No, no, no, that's not the point."
Ric Flair has enjoyed a successful wrestling career that has gone over 50 years. Many of his peers and journalists regard him as the greatest wrestler of all time. 
Flair wrestled at Jim Crockett Promotion (JCP), World Championship Wrestling (WCP) and World Wrestling Federation, which is now World Wrestling Entertainment (WWE). 
A 16-time world champion, Ric Flair is a member of the Professional Wrestling Hall of Fame.