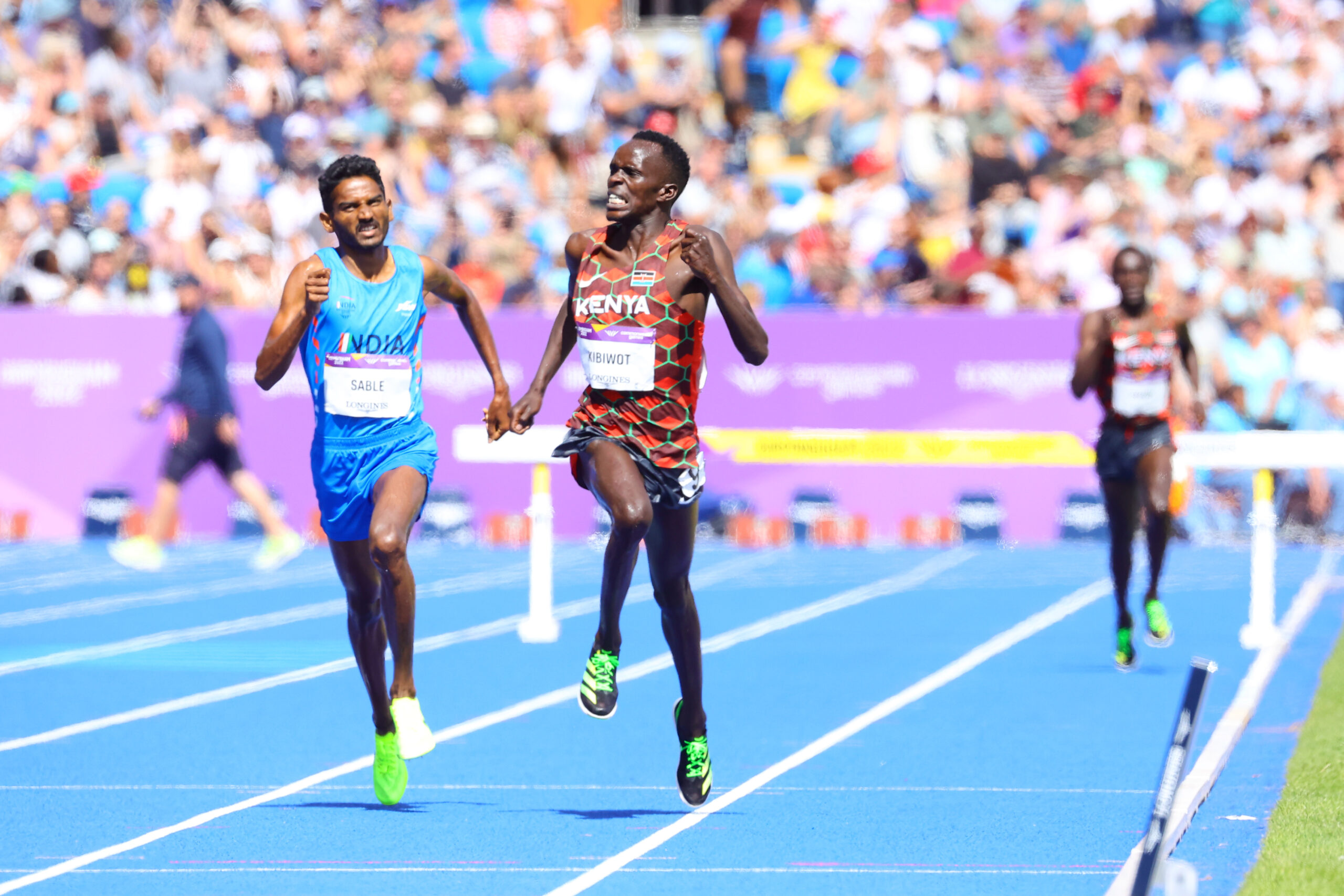 Kibiwott won gold ahead of India's Sable
Amos Serem finished third for bronze
Defending champion Conseslus finished sixth
Abraham Kibiwott clinched the 3,000m steeplechase Commonwealth Gold medal after fending off a last ditch push from Indian Avinash Mukund Sable.
The Kenyan timed 8:11.15 to win the race after outsprinting the Indian.
"It was a very tough race but I had told my colleagues that we should be wary of the Indian guy. We ran with him at the World Championships and I have also run with him in the Diamond Leagues and I knew he was strong," Kibiwott said after the win.
He added; "I had to work hard in the final 100m because we have already lost this title twice and we couldn't afford again. I am happy to have won and ensured the title remains with Kenya."
Serem hold on for bronze
Meanwhile, Amos Serem, the World Under-20 Champion from last year clinched bronze, with reigning champion Conseslus Kipruto drifting away to a sixth place finish with an 8:34.96 time.
"We had planned to take the podium sweep and ensure the title is back home. We planned well and I am happy that at least we have two medals. We didn't know the Indian's fight and we just realized he is in the middle of us. We had wanted a 1-2-3 finish," Serem said.
It all seemed to be going to plan as the three Kenyans were well perched in the lead with three laps to go.
However, with two to go, Kipruto who has just returned to competition this year after struggling with injury started dropping off and left the fight to his training partner Kibiwott and Serem.
Indian Sable slowly started eating up on their lead and at the bell, he was already perched between Kibiwott and Serem. But, Kibiwott managed to maintain a steady pace and at the home stretch, he seemed to be slowly fizzling away.
However, he just but managed to hold on for the gold, while Serem behind him battled to earn bronze.
Emily Ngii clinches Kenya walking race bronze
Meanwhile earlier on, Emily Ngii won Kenya a medal in the 10,000m walking race. Ngii clocked a new African record of 43:50.00 coming in behind India's Priyanka who timed a new Personal Best time of 43:38.00.
Australian Jemima Montag successfully defended her title, clocking a new Games Record and Personal best time of 42:34.00.
The top three had broken from the field very early on, with the defending champion showing her intention from early on. They stuck together for most of the race, but the holder broke away with nine laps to go, starting to create a huge gap that continued to almost half the length of the pitch.
With five to go, she was upfront all alone while Ngii and India's Priyanka shuffled the lead between them. But with three to go, the Indian decided tomake her move.
Ngii didn't have much left in her tank and with the fourth placed athlete almost 300m away, she seemed contended with the bronze and just maintained a steady pace, avoiding penalties to secure the bronze.
Ahead of her, Priyanka's speed had attracted one penalty, but she rectified her walking errors to secure the silver.