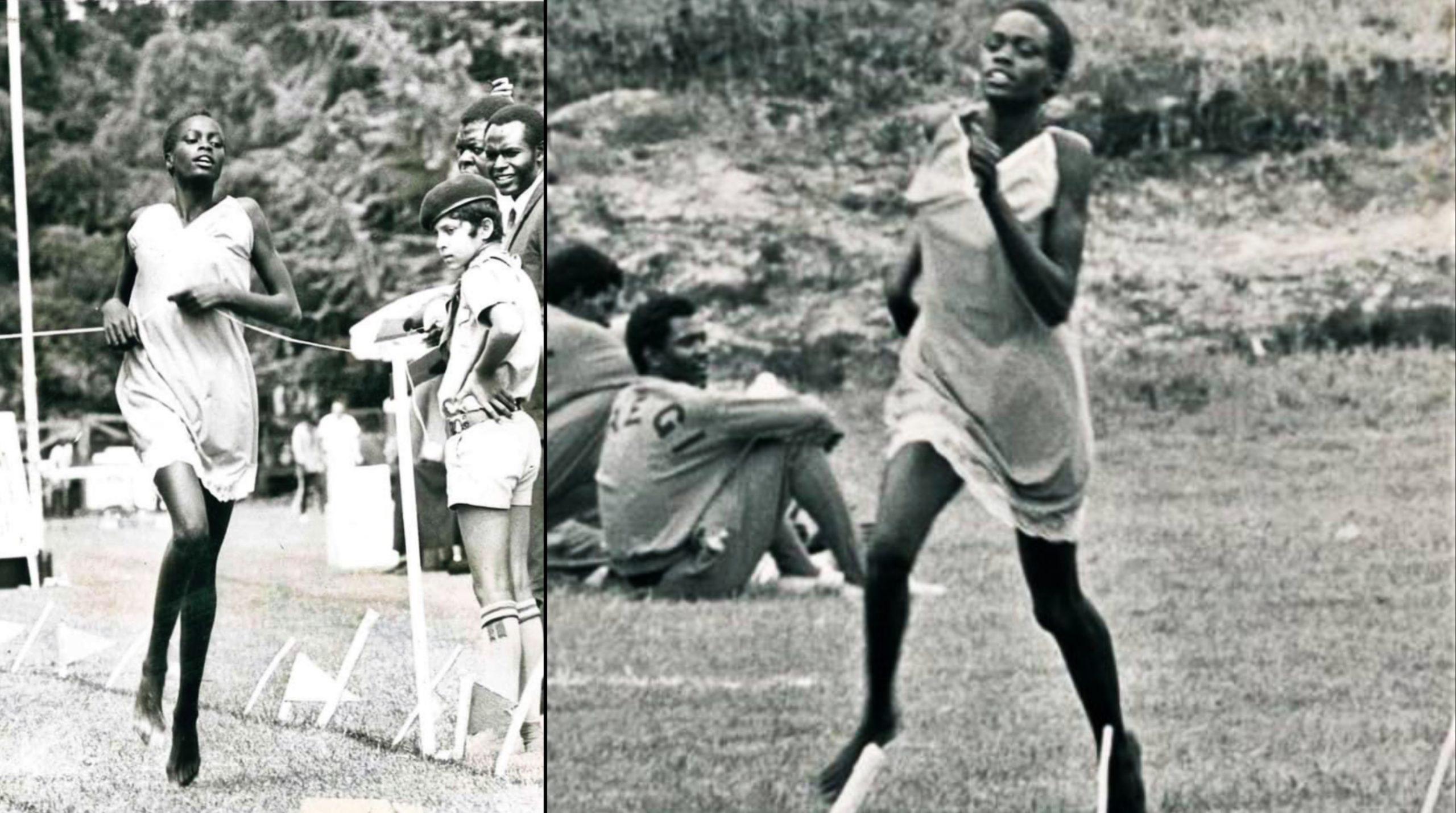 She is a champion athlete in every sense of the word
Chebichi first ran barefoot wearing a green petticoat and won
She became an instant sensation but got pregnant and cut her marathon career short
Legendary stories are told of great athletes, but none beats that of Sabina Chebichi marathon, popularly known as the runner on a petticoat.
She is a champion athlete in every sense of the word. She goes down the annals of history as Kenya's most resilient marathoner. Most people born in the 70s fondly call her the 'petticoat princess'.
This nickname came about as a result of her first marathon, which she took part in with nothing else other than a petticoat. Let's find out more about her.
WHO IS SABINA CHEBICHI?
Call her by her trade name; Sabina Chebichi marathon. She was born on May 13, 1959, in Trans Nzoia. Chebichi was the most talented runner at her school. She competed in a running competition in Kericho in 1962 and won.
She was just 14 years old when she ran without shoes since she could not purchase the right athletic kits she needed to run. But this never stopped her.
Chebichi won her first marathon in 1973, although she was barefoot and wearing nothing but a petticoat. That's how the 'petticoat' tag came about. Before the young lady became famous for competing in a race at her school, Mlimani Primary School, barefoot and wearing a green petticoat, no one had ever heard of the adolescent's extraordinary abilities.
She made history in 1974 by becoming the first Kenyan woman athlete to win a medal at the Commonwealth Games.
WHAT'S THE HIGHLIGHT OF SABINA CHEBICHI MARATHON CAREER?
After hearing reports in the media about a little girl competing without any equipment, Keya was awestruck.  Feisal Sherman, who was the Secretary of Kenya's Amateur Athletic Association (now known as Athletics Kenya) made a bold move.
He sent the young athlete a complete set of running shoes and apparel. Sherman couldn't help but admire Chebichi for following through with her passion for marathon when all odds seemed against her.
Sabina Chebichi marathon record shows she was the first Kenyan female athlete to earn a medal at the Commonwealth Games in 1974. She won bronze in the 800m Women's event at 2:02.61 minutes when she was just 14 years old.
Chebichi went on to compete in the 4 x 400 m Relay and the 1500m race. She first represented Kenya abroad this same year in Christchurch, New Zealand.
She scooped the 3rd position in 800 m race, thereby earning her bronze medal. Chebichi was selected to compete in the 1976 Summer Olympics, which were held in Montreal, Canada.
However, Kenya and other African countries decided to boycott the games in order to voice their opposition to the participation of New Zealand, which had sporting links with apartheid South Africa.
WHY DID SABINA CHEBICHI MARATHON CAREER END?
And after making headlines as Kenya's new athletics sensation, Chebichi became pregnant. This stopped her career and ended her participation in the sport.
According to an article titled "The History of Women's Sport in Africa," several African female athletes who achieved success on the world level as runners concurred that having children at a young age hindered their ability to pursue their athletic goals.
In an interview in 2015, former Olympian Ruth Waithera was quoted saying that girls who start rising in athletics and are subsequently interrupted by pregnancy never seem to recover.
Although Chebichi could not advance in her athletic career in the way that many would have desired, many people continue to take inspiration from her determination and endurance.
IS SABINA CHEBICHI STILL ALIVE
Nothing points to the demise of 63-year-old Sabina Chebichi marathon queen. However, her whereabouts remain largely unknown for decades now since she quit athletics to focus on raising her family.
Whether or not she is married remains a mystery. But she definitely is a granny now, wherever she is. She remains an inspiration for all and sundry. Chebichi embodies the famous saying by Eliud Kipchoge that no human is limited.
Lack of athletics did not stop her from actualising her marathon dream, and it made her popular. It's the reason many Kenyans feel proud and inspired by her athletes.