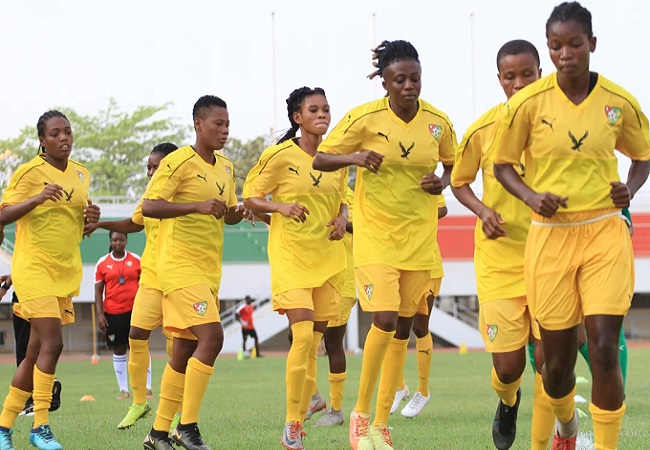 Togo are making their debut at the Women's Cup of Nations
They have been drawn in Group B
They begin their campaign against Tunisia on Sunday
Togo's Lady Sparrow Hawks, ranked 118th in the world, are making their debut at the Women's Africa Cup of Nations and are hopeful of making a good impact in Morocco.
They have been drawn in Pool B alongside perennial competitors Cameroon, Olympic-experienced Zambia and Tunisia, a tough group by all means, but one they are determined to get off from.
Togo started off their qualification journey with an emphatic 5-0 victory over Sao Tome and Principe, with the latter pulling out of the second leg.
In the second round, the Lady Sparrowhawks progressed to earn a maiden ticket to the Cup of Nations after identical 2-1 home and away wins over Gabon.
Brief history in women's football
The team played its first ever FIFA-recognised match in 2006 after which they played five more matches.
In their first game, on 19 February, Togo beat São Tomé and Príncipe 3–0, before winning 6-0 in the return tie a week later. In its next two games, Togo lost 0–9 and 1–3 to Congo.
The team was expected to participate in the 2010 African Women's Championship and was scheduled to play against Mali but withdrew before the competition started. The same occurred in the 2016 Africa Women Cup of Nations qualification process, where Togo was drawn with Algeria, but withdrew before playing any game.
The team was replaced by Ethiopia, and were excluded from participating in the 2018 edition in Ghana.
Togo returned to the international competition in the maiden edition of the WAFU Women's Cup in 2018, after 11 years of absence. They were eliminated in the group stage after suffering heavy defeats to Senegal, Mali and Nigeria. Afi Woedikou scored Togo's only goal in the tournament against the latter from a penalty.
Records and match results:
First international: Sao Tomé and Príncipe 0−3 Togo, (Sao Tomé and Príncipe, 19 February 2006)
Biggest win: Togo 6−0 Sao Tomé and Príncipe, (Togo, 26 February 2006)
Biggest defeat: Congo 9−0 Togo, (Brazzaville, Congo; 12 March 2006),
The Lady Sparrowhawks are coached by Kai Tomety. The former international turned coach has been overseeing the growth of the women's team in the past decade. She added a massive feather on her hat by leading Togo to their first ever qualification to the Women's Cup of Nations.
KEY PLAYERS:
Odette Gnimtegma
Odette will be another players who will be home away from home with the Togolese squad at the WAFCON. She plays her club football in the Moroccan topflight with Raja Ain Harrouda.
The 23-year old netted four goals in qualification, including a late winner against Gabon in the second leg.
Nathalie Badate
Badate is one of the longest serving players in the squad and has clocked a decade and a half with the Lady Sparrow Hawks and is currently the captain. The 31-year old currently plays her football with French club Tarascon FC.
Sabine Woedikou
The 27-year-old striker plays her club football with French second tier side Yzeure and comes into the WAFCON after a successful stin, having steered her team to a historic place in the Coupe de France final.