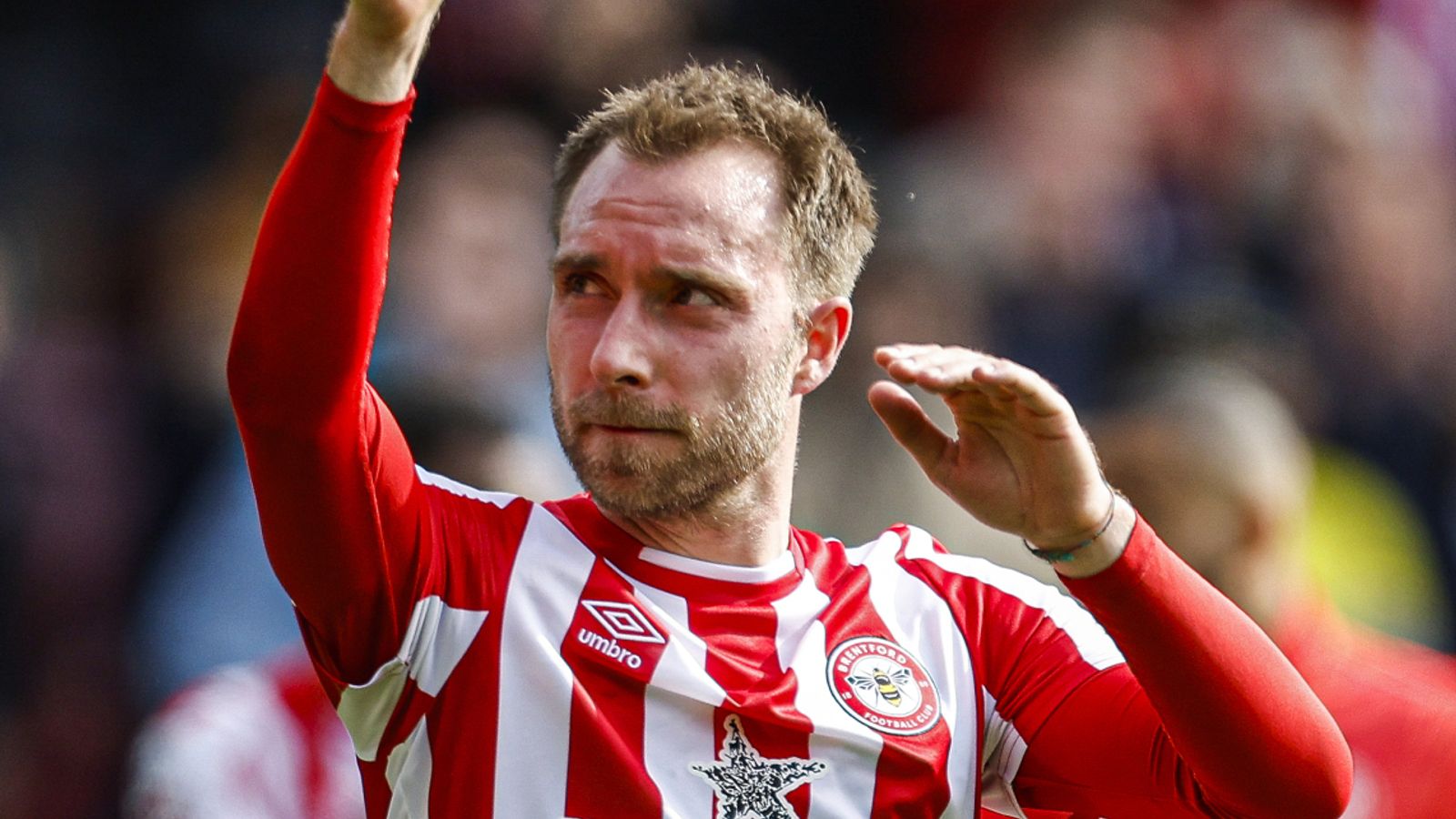 Christian Eriksen is available on a free transfer and seeks to try a Champions League challenge.
Tottenham Hotspurs, Newcastle United, Ajax, and Man United registered interest to sign the Danish international player.
Christian Eriksen and Tottenham Hotspur look like a perfect match, and it would be shocking if he signs elsewhere.
Christian Eriksen is in such of a new club after completing his contract with Brentford last season. The Danish International is a red hot candidate in this summer transfer with big European clubs chasing his signature.
Christian Eriksen's name hit the headlines last year after the midfielder's career almost came to an end when he collapsed on the pitch after suffering a cardiac arrest during a Euro 2020 match against Finland. But that is long gone.
Christian Eriksen was a regular starter of Inter Milan under the current Tottenham coach Conte before his life took a drastic turn of events that almost brought his footballing career to near death, Eriksen lost his contract with Inter Milan.
After many questions arose about whether the 30-year-old will ever play again, he defied all odds and returned like he never left, He Joined Brentford on a six months contract with extra adrenaline to regain his form and status.
Now the same player whom many tipped will never play again is a subject top many European clubs who are envying his services.
So where will Eriksen end? we take a look.
Tottenham Hotspurs
Under the management head of Antonio Conte, Tottenham Hotspurs are highly topped to land the services of Eriksen. Christian Eriksen having not left well with Spurs fans when he left for Inter Milan in 2020, He is reportedly half convinced that he can reunite with former coach Conte who did not get the best out of him at Inter Milan.
Christian Eriksen and Tottenham Hotspur look like a perfect match, and it would be shocking if he signs elsewhere. Eriksen is a fan favorite at Spurs, and his return will be welcomed fans by in both arms.
He is ready to compete again at the top level after discovering his top form at Brentford. On the other hand, Tottenham is also looking to add a goalscoring midfielder after selling Dele Alli and Tanguy Ndombele.
Manchester United
Manchester United are going through wide-scale changes under Erik Ten Hag and has emerged as the latest club to register their interest in Eriksen.
There's ample space for a creative midfielder after the departure of Juan Mata, Paul Pogba, and Jesse Lingard this summer. The Danish midfielder has been a long-time target of the United board since his Tottenham days, and this could be the right time to lure him to the Theatre of Dreams.
His arrival at Old Trafford will bolster United's midfield bench strength. Erik Ten Hag is the leading man behind United's pursuit of Eriksen. He might not directly slot into playing eleven, which could be Eriksen's only area of concern in choosing United as the next stop.
Newcastle United
Newcastle United has been active in the transfer market since the Saudi investment company takeover. They are looking to overhaul their squad in the coming summer transfer window, and Cristian Eriksen is another name linked to their never-ending transfer targets.
After Eddie Howe's special request, Magpies are seriously looking to lure him to St. James' Park.
The English tactician is looking to add a creative maestro in midfield, and there are not many better options available than Eriksen.
Howe has changed the club's dynamics since coming in January. He not only helped them survive relegation but took them to an 11th-place finish.
Christian Eriksen could become the face of revolution at St Jesus park, and Magpies are reportedly going to do everything to lure him to Newcastle United.
Brentford
The Bees helped Eriksen break the shell and successfully return to football in the winter transfer window when no one trusted him.
Brentford ended their 2021-22 campaign on a high with five wins out of the last eight games, and it was the Danish midfielder who played a pivotal role in their resurgence.
Thomas Frank desperately wants the Danish midfielder to continue his chapter at Brentford Community Stadium. He registered one goal and three assists, but his influence on the game stands out. He became a fan favorite in his short stint. Christian Eriksen might not get a lucrative contract, but fans' love is above all.
Ajax
The Amsterdam club has been one of the most prolific teams in Europe in the last few years. They have one of the brightest talent pools, with Anthony, Jurrien Timber, (although linked to Man United), and Lisandro Martinez in the ranks. Eriksen is looking to test himself in the Champions League again, and Ajax could be the right place.
Christian Eriksen started his career with Ajax only, and his homecoming would be a perfect fairytale story. However, at the age of 30, he might not be tempted to go back to the Eredivisie; instead will be looking to join a more challenging project.