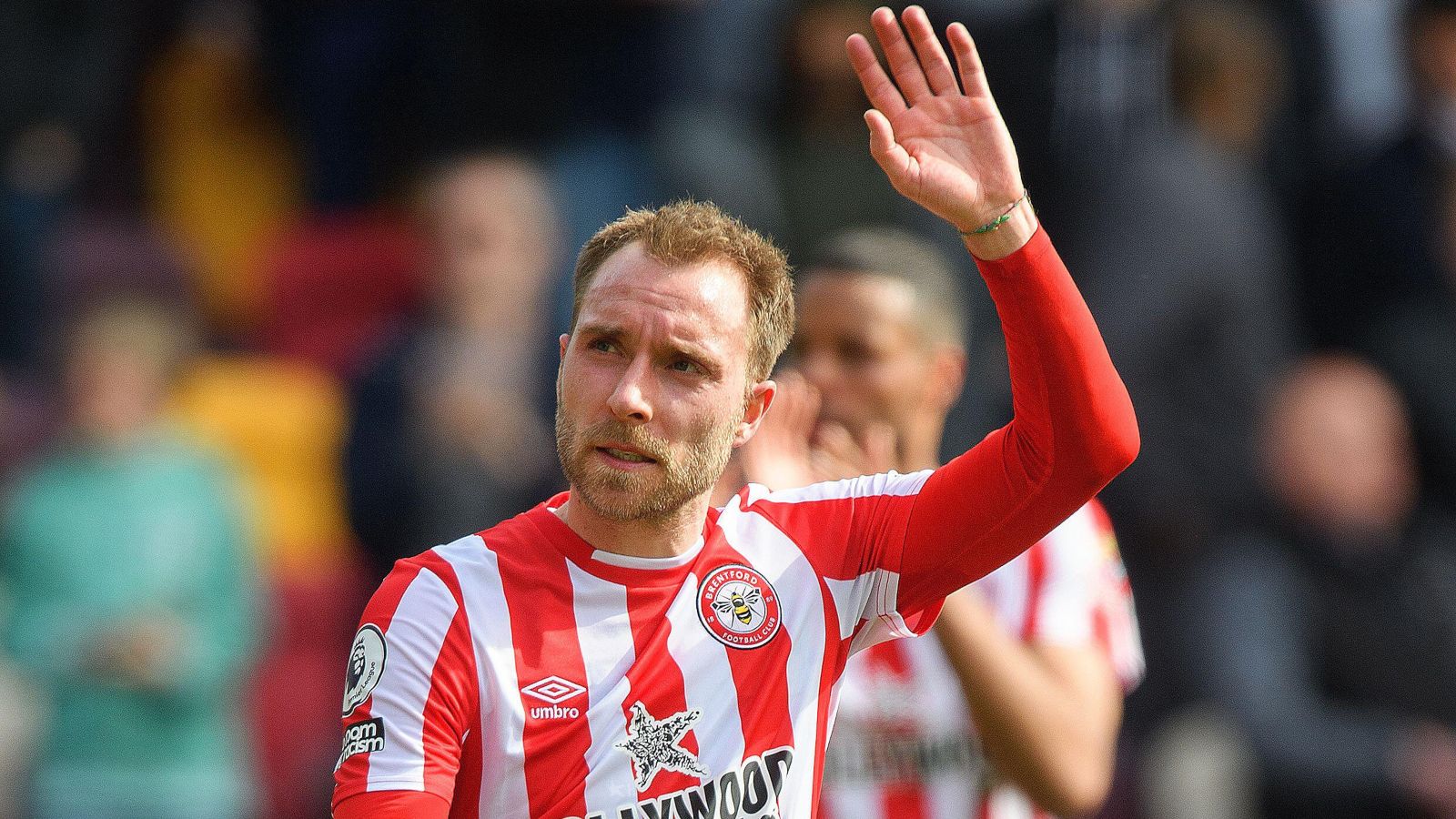 Christian Eriksen's return to professional football was one of the most compelling storylines of last season.
The 30-year-old finds himself at a career crossroads just one year after suffering a cardiac arrest at Euro 2020.
The 30-year-old averaged a goal or assist every 187.5 minutes for Brentford last season
Not content with merely making it back on a pitch, Christian Eriksen showed up for Brentford on a six-month contract, registering one goal and four assists in 11 Premier League appearances.
His performances generated interest from more than just the Bees.
Recent reports claim Manchester United and Tottenham want to sign Eriksen as a free agent this summer with Newcastle also mentioned as potential suitors. All this while Brentford's contract offer remains on the table.
The 30-year-old finds himself at a career crossroads just one year after suffering a cardiac arrest at Euro 2020. He has options.
But which team would be the best fit for Eriksen? The Danish international still has the perfect skill set for the modern game, as demonstrated by his successful spell at Brentford. It might make most sense for Eriksen to stay at Griffin Park, but he might never get another opportunity to prove he can still perform at the elite level.
United needs another midfield creator and Eriksen would fit the bill.
The 30-year-old averaged a goal or assist every 187.5 minutes for Brentford last season – this is a better average than any registered by a Manchester United player. Only Bruno Fernandes (195 minutes per goal/assist) came close.
On top of this, Eriksen created 2.9 chances per 90 minutes – this too was a better tally than any United player.
It's not yet known which formation Erik ten Hag will use as Manchester United manager, but his track record at Ajax suggests he will need midfield creators who can both carry the ball in quick transition and pass through an opposition low block.
Whether as a number 10, a left-sided attacker or even an advanced midfielder in a central trio, Eriksen would be a useful squad member.
The right system at Spurs?
There's also reason to believe Eriksen would be a good fit for Spurs.
Antonio Conte's 3-4-2-1 system would give the Dane the freedom to operate behind a central striker – this is Eriksen's best position.
Harry Kane, Dejan Kulusevski and Son Heung-min would be ahead of the 30-year-old in the Tottenham pecking order, but Conte needs options to compete on four fronts next season.
Eriksen is in the 79th percentile for progressive carries per 90 minutes (5.08), something that would help him integrate into a Spurs side that likes to play in quick transition.
Given that Rodrigo Bentancur and Yves Bissouma's role in Conte's team is to drive the ball forward, it's even possible that Eriksen could be used in a deeper position, although his defensive numbers suggest he couldn't be relied upon to break up opposition moves as Spurs need in this area of the pitch.
Brentford the safer option?
Of course, if Eriksen wants regular game time in a 4-3-3 formation, and isn't fussed about playing in Europe next season, staying at Brentford might be his best option.
It certainly would be his safest option considering he already knows Thomas Frank's system and approach is a good fit for the Dane's profile as a player.
Frank has built a dynamic, forward-thinking team as Brentford's boss, but the Bees need technicians who can make the most of the ball – Brentford had the sixth-lowest average share of possession per match in the Premier League last season.
They play in quick transition, but also have guile when the game is slowed down.
In many ways, Brentford is built for Eriksen who gave the Bees a different dimension after signing in January. The 30-year-old joined Frank's team at a time they risked becoming somewhat predictable and so it would be mutually beneficial if the pair picked up their relationship again this summer.
However, the lure of some of the Premier League's biggest clubs could prove too strong.
The Eriksen/Saint-Maximin partnership
Newcastle would surely want Eriksen to play more game time than either Manchester United or Tottenham and the Dane would certainly bring a lot to Eddie Howe's team.
Their 4-3-3 shape would allow Eriksen to play on the left side of a central trio where he would have the space to carry the ball forward.
This is the role Joelinton performed to great effect for the Magpies in the second half of last season, but the Brazilian could be shifted over to the right side of the midfield trio to make space for Eriksen.
There would be potential for Eriksen to forge a partnership with Allan Saint-Maximin down the left.