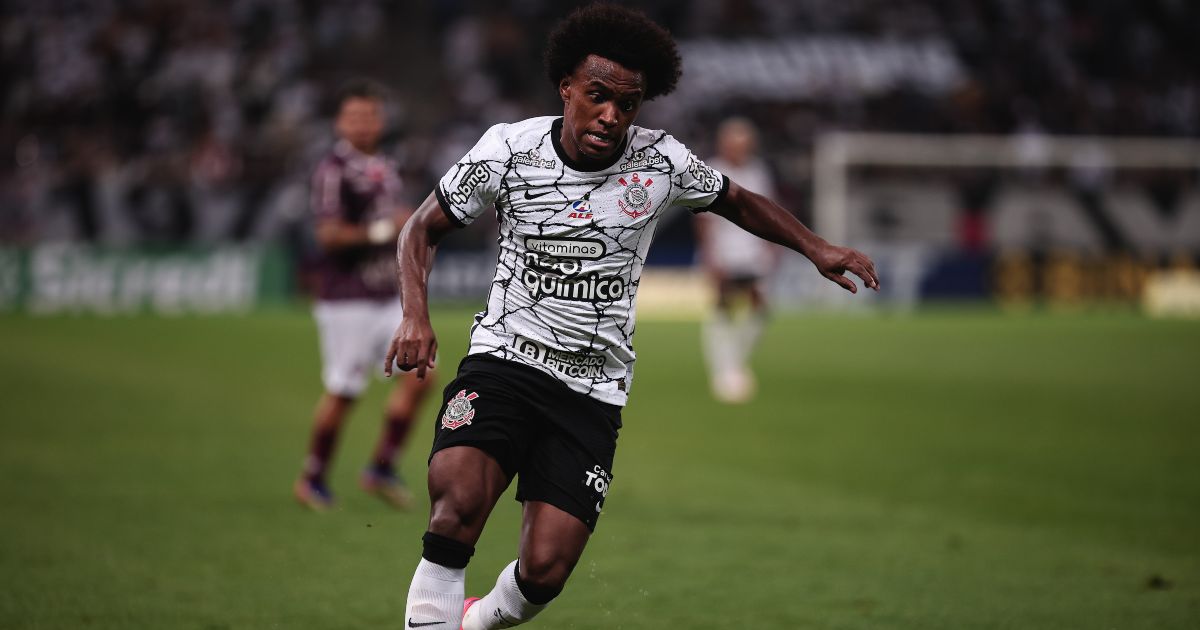 Willian has only one goal and one assist in his name since his return to Corinthians, the superstar appears to struggle to find his form

Willian's return to action with Corinthians was delayed immediately after signing, as a two-week suspension hit him for not following COVID-19 protocols

Some supporters have begun to turn on Willian with a minority taking their grievances well beyond acceptable boundaries

Willian and his family became the target of online abuse and received several threats
Willian, a Brazilian midfielder, returned to his childhood club Corinthians after an unsuccessful spell at Arsenal last August. Those close to him described the move as a dream come true.
Willian struggled to match the form he displayed during his seven seasons at Chelsea, where he won two Premier League titles at the Emirates.
By the end of his time with the Gunners, both the club and Willian were eager to part ways, and Willian agreed to terminate his contract.
That move cost him a reported £20 million in lost wages, but it did pave the way for him to re-sign with Corinthians, his first club back in 2006.
It was charged as a triumphant homecoming, with Willian's father telling reporters at the time, according to ESPN, that "there are some things money can't buy." "It's priceless to play for Corinthians."
However, things haven't gone as planned for the Willian camp nine months later.
A slow start to life in Brazil
The Goal team recently took a look at Willian's progress since returning to South America – and the news isn't good.
Willian's return to action with Corinthians was delayed almost immediately after signing due to a two-week suspension failing to follow COVID-19 protocols.
As a result, he could not make his debut until mid-September, which isn't ideal given that his last appearance for Arsenal was nearly five months ago.
Willian's contributions to his new team were underwhelming, owing to a lack of match sharpness.
In a string of poor performances last season, he only managed to play the full 90 minutes once in nine appearances and failed to score in any of them.
First-team opportunities have been more plentiful this season. On the other hand, Willian has only one goal, and one assist to his name since his return.
In the semi-finals, Corinthians were knocked out of the Paulista state championship by fierce rivals Sao Paulo, which naturally displeased their fanbase.
Some fans have begun to turn against the club's new signing, with a small minority voicing their rage far beyond acceptable limits.
Willian took a brave stand earlier this year, using his massive public profile to condemn the epidemic of fan violence ravaging all Brazilian football levels in 2022, leaving several players injured or even hospitalized in a series of shocking incidents.
 "Nothing is happening to [the aggressors]. They keep on doing this," he said on Instagram in March during a stinging attack on the authorities' inability to act.
"The authorities tolerate this. I have learned that we cannot complain about what we tolerate.
"I am here to say we are outraged by this situation. We have to join together to combat violence in football."
Soon after, he and his family became the target of online abuse and received many sickening threats.
"One said that he would set fire to his car and targeted Willian on Instagram," the player's father revealed. "There, he talked about his daughters and his family."
Such chilling words prompted Willian to confine his family to their Sao Paulo home and are thought to have made the player seriously consider his future in Brazil.
Willian also took extreme measures, such as hiring security personnel to accompany him to Timao's training sessions and even considered leaving the club and Brazil entirely due to concerns about his family's safety.
However, he has since decided to stay for the time being.
Meanwhile, the veteran appears to be struggling to find his rhythm on the field after a lengthy absence from the game.
Willian, who is still only 33 years old, is likely to have dozens of new suitors in Europe keen to secure his services.
His return to his homeland was supposed to be the happily ever after to an impressive career. However, nothing could be further from the truth as things currently stand.