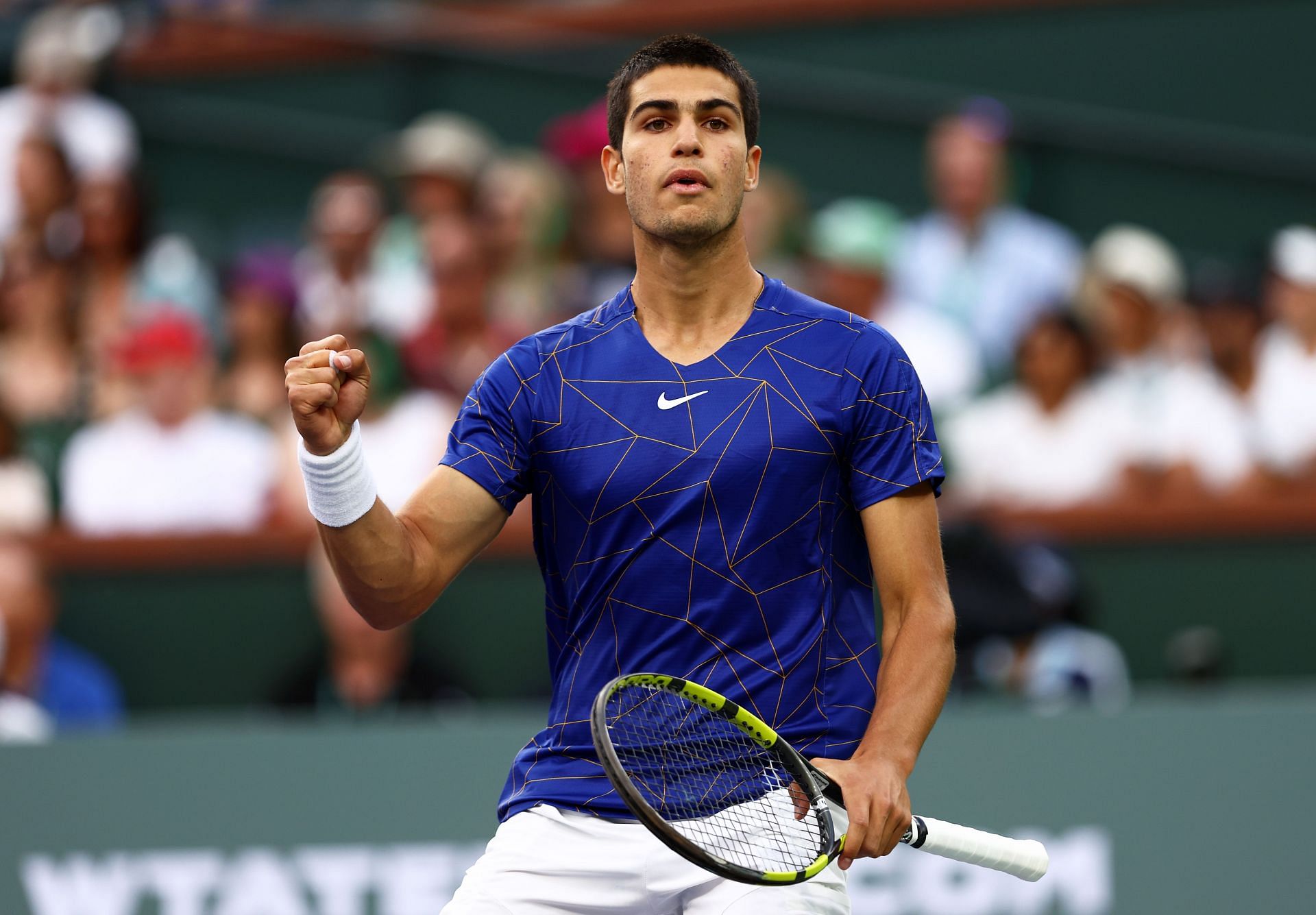 Carlos Alcaraz made history by winning the Miami Open 2022 tournament.
He is only 18 and has won both the ATP Master 500 and ATP Masters 1000 tournaments
Alcaraz who hails from Spain says he looks up to Rafael Nadal for inspiration
He is now set for a Grand Slam win
At just 18 years, Carlos Alcaraz has made history by winning the Miami Open 2022 tournament.
No one thought he could end up with such a huge victory amidst big names in tennis who fell off midway. Today, Alcaraz is enjoying the status of 'King of Miami'.
Alcaraz became the first Spaniard to win the Miami Open title in the event's 37-year history. He beat Casper Ruud 7-5, 6-4 on Sunday to claim the title of "King of Miami" status.
In his first ATP Masters 1000 final, Alcaraz was able to control his nerves and fight back from a sluggish start to win the most important title of his young career.
But who is he? Where was he born and when did he start playing tennis? Sportsleo answers all these questions in a jiffy. Therefore; read on.
WHO IS CARLOS ALCARAZ?
Carlos Alcaraz was born on May 5 2003 in El Palmar, a village in Murcia, Spain. He grew up in a family of six – three other siblings and his parents Carlos and Virginia.
WHEN DID CARLOS ALCARAZ START PLAYING TENNIS?
He beat fellow countryman Albert Ramos Violas in the singles main event after obtaining a wildcard at the Rio Open in February 2020 when he was 16 years old.
At the age of 17, Alcaraz qualified for the Australian Open's main draw, becoming the tournament's youngest male singles player.
He floored Botic van de Zandschulp in straight sets in his Grand Slam debut before Mikael Ymer saw him through to round two.
After defeating Adrian Mannarino as a wildcard, Alcaraz became the youngest match-winner in the Madrid Open's history breaking Rafael Nadal's record from 2004.
On his 18th birthday, he was defeated by five-time champion Rafael Nadal in the second round. He then became the youngest player of the top 100 tennis players in the world when he won the 2021 Open de Oeiras III Challenger tournament.
This remains another of his biggest career victory to date. Alcaraz also made his debut at the French Open in 2021. He beat Nikoloz Basilashvili for his first Grand Slam match.
He also beat top seed Albert Ramos-Violas in the ATP finals of the Plava Laguna Croatia Open in Umag in July 2021 to reach his first ATP final.
After that, he defeated Richard Gasquet to win his first ATP title, becoming the first 18-year-old to win the event.
He made his debut at Wimbledon but Daniil Medvedev knocked him out.
WHAT INSPIRES CARLOS ALCARAZ?
The Spaniard teen attributes his Miami Open victory to inspiration from
Nadal, the King of Clay.
Carlos Alcaraz has watched Nadal's big matches and learned a lot from how he plays.
Nadal came from months of injury and scooped his 21st Grand Slam at the Australian Open in January. He also sailed through to Indian Wells finals but developed chest problems and eventually lost the game.
He opted out of the Miami Open to rejuvenate. However, Alcaraz says Nadal inspires him so much that he even called him after the Miami Open win.
The world No.11 says his focus is now on winning major Grand Slams, he told Tennis365.
"I wanted to win an ATP 500 and I did it, then I wanted to win an ATP 1000 and I did it too.
"I am not afraid to say that I want to win a Grand Slam. I know it is going to be a difficult path because you are playing against the best players in the world for two weeks, but I am not afraid I will try to win a Grand Slam."
Though the comparisons to Nadal are inevitable, Alcaraz prefers to avoid them. He aspires to be a household name, and his game differs greatly from Nadal's.
Alcaraz combines the talents of some of Spain's most famous players like Nicolas Almagro, Pablo Carreo Busta, and other great defenders.
He resembles Almagro's prime in that he plays in a creative, offensive manner. When it comes down to it, Busta is more like the other one than the other. Although Alcaraz is more confident when he attacks, it's worth noting that he still has a lot to learn.
At the US Open, Alcaraz's best major performance to date came when he was forced to quit in the quarterfinals due to an injury.