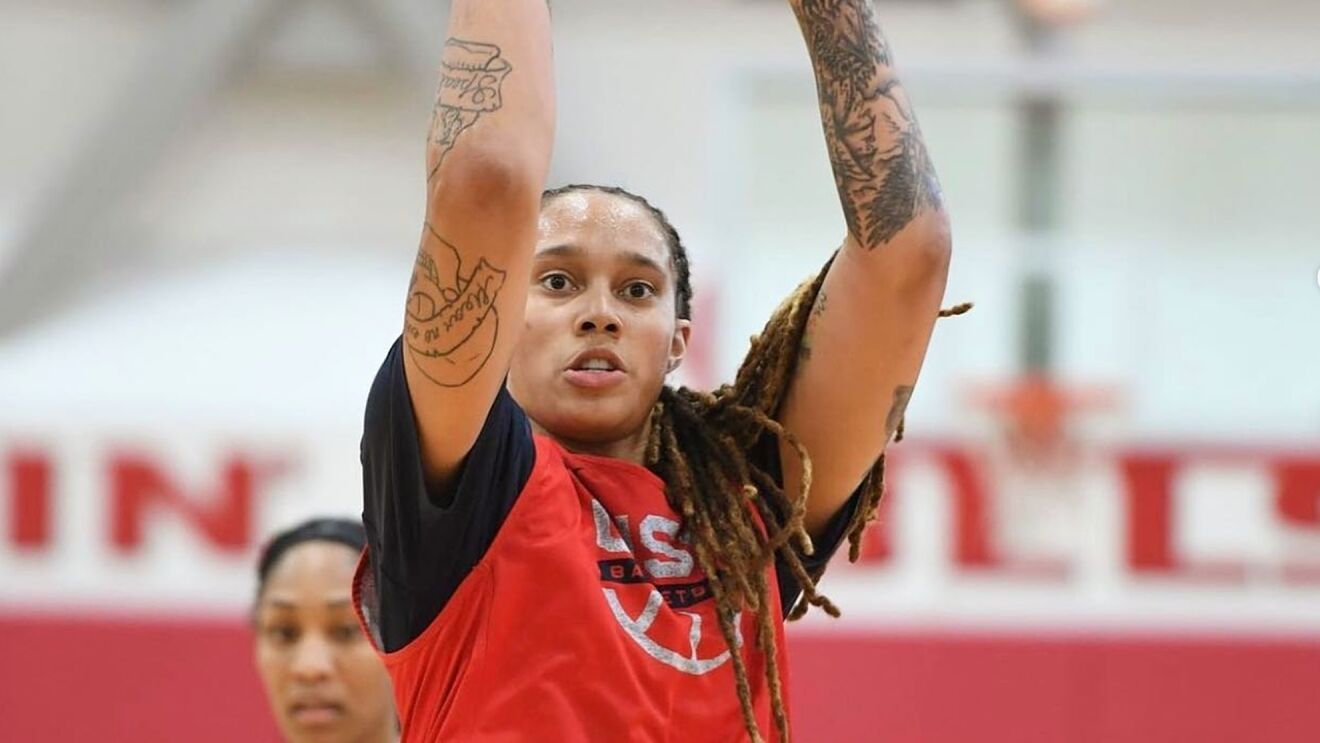 Brittney Griner, the seven-time WNBA All-Star player was detained by a Moscow court until May 19
Griner is accused of entering Russia while in possession of vape cartridges containing hash oil
She was arrested in February and remains in jail
Brittney Griner, the seven-time WNBA All-Star player will remain in detention in Russia until May 19 over possession of vape cartridges containing hash oil.
TASS, a Russian news agency, Khimkinsky court in Moscow's ruled that Griner be held for at least another two months.
"The court granted the petition of the investigation and extended the term of U.S. citizen Griner's detention until May 19," TASS stated.
Griner is being housed in a cell with two other women who have never been convicted of any crime according to Ekaterina Kalugina, an official from the semi-official Public Monitoring Commission.
Kalugina said that Griner's only problem was that the prison beds were too short for her 6-foot-7-inch frame.
The Russian Customs Service reported earlier this month that a Phoenix Mercury player was held in February after arriving at Moscow's Sheremetyevo Airport on a flight from New York City.
The department did not identify the player. An examination of the player's luggage showed cartridges containing "liquid with hashish oil," and the customs office announced a criminal case had been initiated.
Exactly when Griner, a WNBA player in Russia during the winter off-season, was taken into custody remains a mystery.
Phoenix Mercury said it loves and supports Brittney. However, its biggest worry is her safety, physical and emotional health, and her safe return home.
USA Basketball added that Griner "has always behaved herself with the highest professionalism" during her time with USA Basketball,
The Biden administration has sent an embassy team to work on Griner's case, US Secretary of State Antony Blinken stated during a joint press conference with President Maia Sandu of Moldova.
Griner has won two Olympic gold medals with the United States national team, in 2016 and 2021, respectively.
After Russia claimed to have imprisoned a U.S. player last month for possessing vape cartridges containing hash oil, U.S. basketball officials indicated that they were closely following the situation around Griner.
On Saturday, the United States issued a travel warning for Russia. The US also stated that its Embassy in Moscow had limited capacity to help individuals.
This is in the wake of Russia's February 24 invasion of Ukraine and Western nations' sweeping sanctions.
Griner is one of the greatest female basketball players of all time. She was a Baylor Lady Bears basketball player from Waco, Texas.
Her 2,000 points and 500 blocked shots make her the only NCAA basketball player to accomplish the feat.
The AP Player of the Year and Most Outstanding Player of the Final Four were awarded to the three-time All-American winner in 2012.
Rivals.com ranked Griner as the best high school basketball player in the US in 2009.
The 2009 Phoenix Mercury All-American team included her. In 2012, she won the ESPY Award for the Best Female Athlete.
Nike inked a sponsorship arrangement with Griner in 2013. Griner stands at 6'9″ (206 cm) and wears a men's US size 17 shoe. Her arm spread measures 87.5 inches (222 cm).
At the 2016 Summer Olympics in Rio de Janeiro, Griner captained the United States' women's Olympic squad.
Her second Olympic gold medal came in 2021, when she was selected to represent Team USA at the 2020 Summer Games in Tokyo.