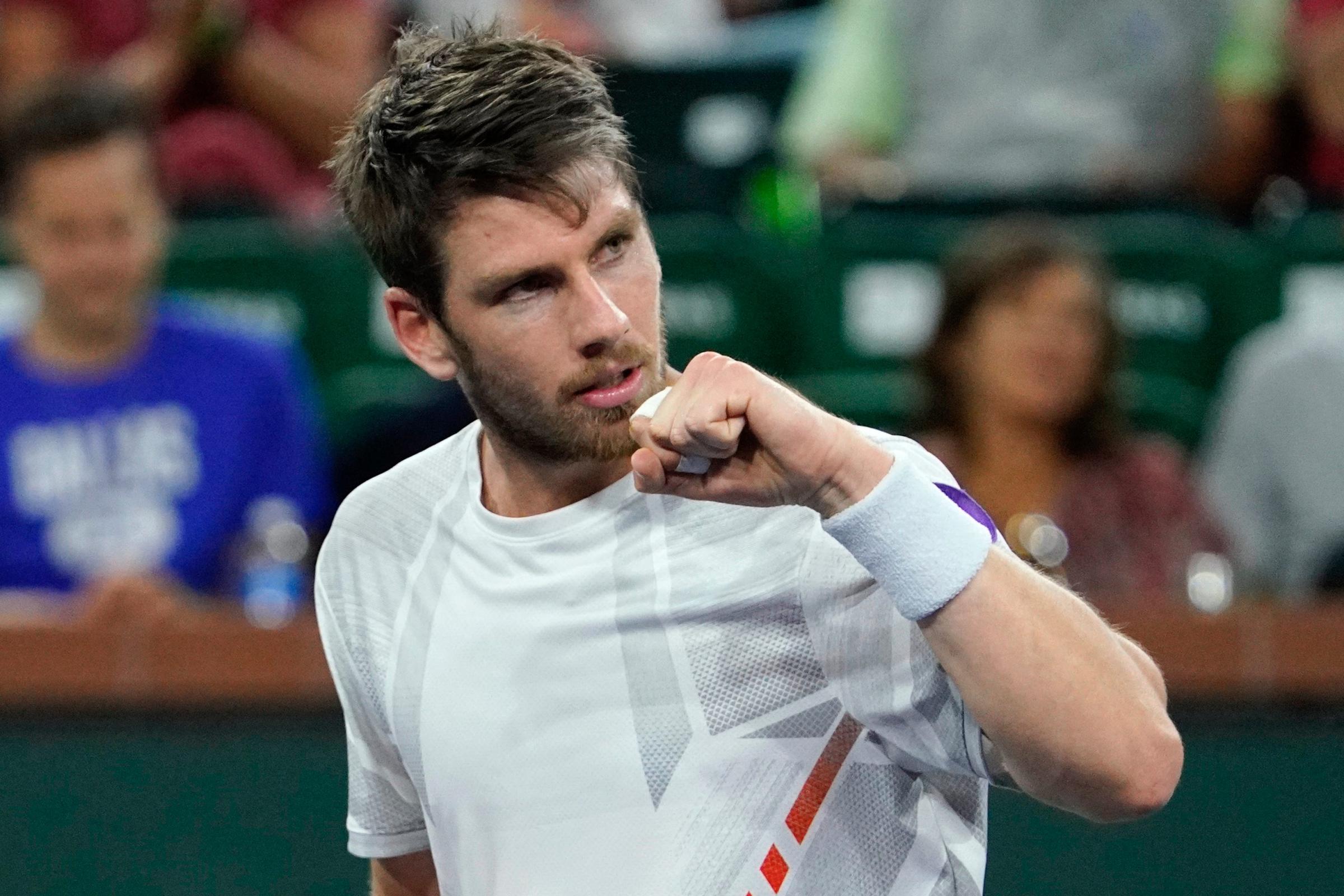 Cameron Norrie beat Jenson Brooksby on Wednesday in the fourth round of the BNP Paribas Open
Norrie became the first British player to win the Indian Wells tournament in 2021
He is hopeful of retaining this title although he faces a daunting task ahead
Indian Wells defending champion Cameron Norrie is not letting anything come in his way of retaining his title after defeating Jenson Brooksby on Wednesday.
Norrie who became the first British player to win the Indian Wells tournament in 2021 beat Brooksby in the fourth round of the BNP Paribas Open.
Back-to-back breaks put the No. 1 British player up 4-0 and she served out the set.
As he took a 0-40 lead in the second set, Brooksby raised his game despite Norrie saving five break opportunities – the American won 2-0.
But Norrie doubled up to lead 4-3 in the fifth game, only for Brooksby to fight back.
Nevertheless, in game nine, the world No. 12 broke for the third time and served it out to love for the victory.
After Gael Monfils' 7-5, 6-1 loss of Daniil Medvedev, Carlos Alcaraz will take against the Spaniard in the following round.
On March 14, Norrie called out Indian Wells officials saying he deserves more respect than he got – and as a defending champion.
Norrie began his title defence on Stadium 5 on Saturday. Norrie breezed by Pedro Martinez in straight sets, 6-3, 6-3, in his first match.
He told BBC 5 Live Sport he was never shown love by virtue of playing at Stadium 5.
"I think I wasn't shown any love, it didn't show much respect. Any other tournament, that's fine, but I feel like defending champ should deserve a little bit more than Stadium 5," said the 26-year old Brit.
Norrie won the Masters and is on the cusp of breaking into the world's top 10.
Facundo Lugones, Norrie's coach, claims that little has changed in his life because the Brit wants to keep a low profile.
Lugones Norrie is respectful and takes care of his team.
"He keeps a low profile. He's very relaxed, warm, a good friend, respectful, and he looks after his team," his coach told ATP Tour.
Last year, Norrie admitted he's gunning for the No. 1 spot. Reaching the top-10 is a realistic option for Norrie but he will have to take his game to another level in order to become a Grand Slam champion or reach the No.1 ranking.
"Even if he gets into the Top 10, he will still be just as down to earth," said Lugones.
"He will continue to have the same friends and treat everyone the same. I think that even if he were No. 1 in the world, he would still be the same humble person".
Norrie defeated Nikoloz Basilashvili in three sets, 3-6, 6-4, 6-1, to become the first British man to win the renowned Indian Wells tournament.
Norrie left Indian Wells with a new career-high ranking of 16 after finishing third in the previous year.
In addition to the minor matter of winning the fifth most important annual tournament in the world, he secured his second career ATP title.
Carlos Alcaraz will take the court next after the Spanish teenager upset Gael Monfils.
Monfils is the man who beat top seed Daniil Medvedev – 7-5, 6-1 in the previous round.